One in four children in Scotland are living in poverty, new research has shown.
More than 220,000 young people are affected, with families struggling to get the basics to survive and having to make the heartbreaking decision each day as to whether it's more important to heat the house or cook a meal.
In a special report, which will be shown on STV at 7.30pm on Thursday, Scotland Tonight will highlight how coronavirus is turning the lives of families with children upside down.
Child poverty rising steadily
Child poverty across the country has been rising steadily over the past five years, leaving some of the poorest families ill-equipped to deal with the pandemic.
Most recent research, published this week by the End Child Poverty coalition, shows it has risen in nearly every Scottish local authority since 2014/15.
The research, by Loughborough University, revealed that levels of child poverty ranged from one in seven children in the Shetland Islands to nearly one in three in Glasgow, once housing costs were taken into account.
Child poverty is defined by people living below 60% of median income after housing costs.
Children from low-income families are more likely to experience poorer physical and mental health and have fewer opportunities in the future, with the pandemic making things harder for families who are struggling financially.
'Sometimes it was a case of feeding the kids and seeing what's left'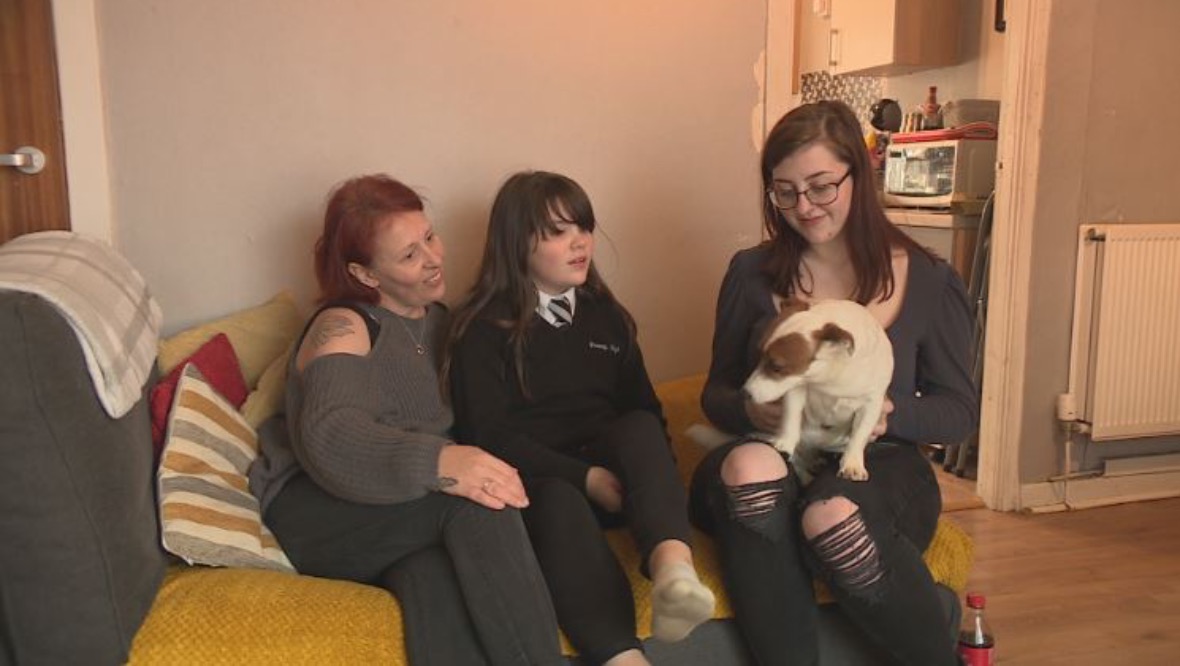 Melanie and her partner Dean have eight children between them. They fell on hard times this year when the lockdown left Dean unable to work.
Melanie told STV News: "Sometimes it was a case of feeding the kids and seeing what's left.
"It sounds awful to look at it like that, but sometimes it was a case of stealing a few chips before it went onto the plate and hoping there was bread left at suppertime that you might get a bit of toast."
Charities like Aberlour provide essential support to struggling families.
Melanie said: "When we had started to struggle our worker had actually said 'is everything okay?', and at first I was saying 'we're fine, we're fine, we're fine'.'
"And then when things started to get really bad, I did finally say to her 'what is it you can offer because we are getting to the point here, you know, where my partner and I are going without food. We're sort of eating leftovers almost because the kids come first.'
"And it was at that point that she said 'stop being silly. This is here, there's absolutely no shame.'
"I actually had some of the neighbours say 'why didn't you say because we could have told you as well because we've been getting that.'
"And it made me feel a bit better to know there were other families in the same position."
'It was like a suicide plan for us'
For those who have come to Scotland as asylum seekers, there are added pressures when trying to provide for a family.
Olivia came to Scotland from Zambia in 2005. She has a four-year-old son, Reece, who needs a lot of extra support.
Olivia said: "I had Reece in 2016 and found myself homeless.
"We started on £25 a week which was a torture really. It was like a suicide plan for us. I kept telling Reece 'I'll change this for you, I'll change this for you.' But inside I was hurting, and knowing that the father wasn't there, I didn't want to let him down."
Around 39% of children in lone parent households live in poverty, compared to 19% for those in coupled families.
Olivia is now finally living in permanent accommodation after moving ten times since arriving in Scotland.
In ethnic minority households, 40% of children are living in relative poverty compared to 23% in white households.
Olivia said: "I started with nothing. It's my second year in that accommodation, but I still have a kitchen that has an open floor, there's no mat.
"I've only covered my son's room. There were no wardrobes brought in, so all this was through charity donations".
'It's just living groundhog day every day'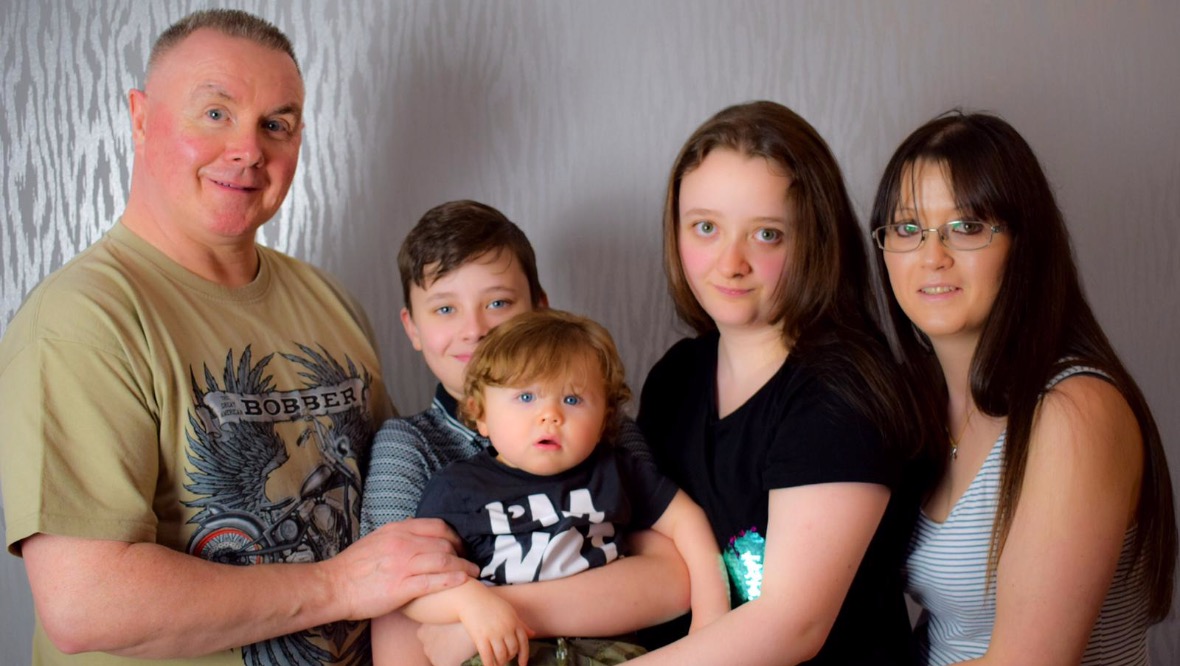 Children who have a disabled family member are twice as likely to live in poverty than those where no one has a disability.
Kelly and Tom care for three children. Kelly's eldest, Nicole, has severe learning disabilities.
Tom said: "Nicole needs to be supported in everything. You can't leave her to do anything.
"For us, it's just living groundhog day every day. Tiredness is a big factor and having Covid in March was one of the hardest things to get through because we were the ones that had Covid and she was the one that didn't and we kept her isolated for three weeks."
Tom was put on furlough when the country locked down in March. The family were then helped by Enable Scotland when things got tough.
Kelly said: "I would feed the kids first and then if there was nothing I would just feed them, I would go without."
Tom said the charity was a lifeline.
He said: "We really had to pull in the belt as much as possible. But when Nicole went to the hub and we started to receive these food parcels out of nowhere – we didn't apply for food parcels, we didn't apply for any kind of help, it just appeared – we needed it and it came in really, really handy.
"I felt bad. I really did feel bad because we thought there was more people more deserving than us."
You can watch the full report on child poverty and the pandemic on Scotland Tonight at 7.30pm on Thursday.
STV News is now on WhatsApp
Get all the latest news from around the country
Follow STV News
Follow STV News on WhatsApp
Scan the QR code on your mobile device for all the latest news from around the country