Face coverings and the Covid passport scheme are to remain in place, despite Scotland being "through the worst" of the Omicron wave, Nicola Sturgeon has confirmed.
The First Minister made the announcement during a Covid update at the Scottish Parliament on Tuesday.
Sturgeon explained that despite the country being "on a good track" following the easing of measures introduced in December, there is a need for continued care and caution.
"It seems reasonable based on the data to conclude that we are now through the worst of this wave of Omicron," she told MSPs.
"That has enabled the removal of virtually all the additional measures that we introduced in December and a return to normality in much of everyday life.
"In particular, the updated guidance on home working supported a partial return to the office in recent days, with hybrid working where appropriate.
"These changes have all been very positive for individuals and for businesses and mean we're on a good track at this stage."
"To stay on this track, though, continued care and caution remains necessary."
The First Minister confirmed that the requirement to wear face coverings in certain settings, and the Covid certification scheme, will remain in place "for now".
She continued: "Although the number needing hospital care is reducing, it is still in the hundreds each week and pressure on the NHS remains significant.
"So continuing to take basic precautions will help us keep the virus under control while enjoying the return to normal life.
"That is why some baseline protective measures – such as Covid certification and the requirement to wear face coverings in certain settings – will remain in force for now.
"And it is also why we continue to recommend that we all take lateral flow tests before mixing with people from other households."
The SNP leader outlined the importance for everyone to benefit from a return to greater normality.
She said: "As well as reducing our own individual risk of getting Covid and therefore helping to stem transmission, these basic measures will also provide some reassurance for those who are at the highest risk of serious illness if they get Covid.
"It is important that everyone benefits from a return to greater normality.
"Collective behaviours that could force those at highest risk into effective isolation while the rest of us get back to enjoying normal life would not be acceptable."
Scottish Conservative health spokesman Dr Sandesh Gulhane raised concerns over the impact of the requirement for young people to wear face masks in classrooms.
He said: "The mandate for face masks in classrooms is continuing to hamper young people's education.
"Pupils are wearing their masks for seven hours a day, while adults can sit in a pub freely without a face covering.
"Does the First Minister not appreciate what the Government is putting kids through by keeping this rule in place?"
Sturgeon responded: "I think most people understand the difference between adults in pubs and children in schools.
"The former of course is voluntary, the latter is not, and adults have higher vaccination levels than young people because we started vaccinating young people later than adults.
"So that is why it is right I think, and has been right, to take a different approach there."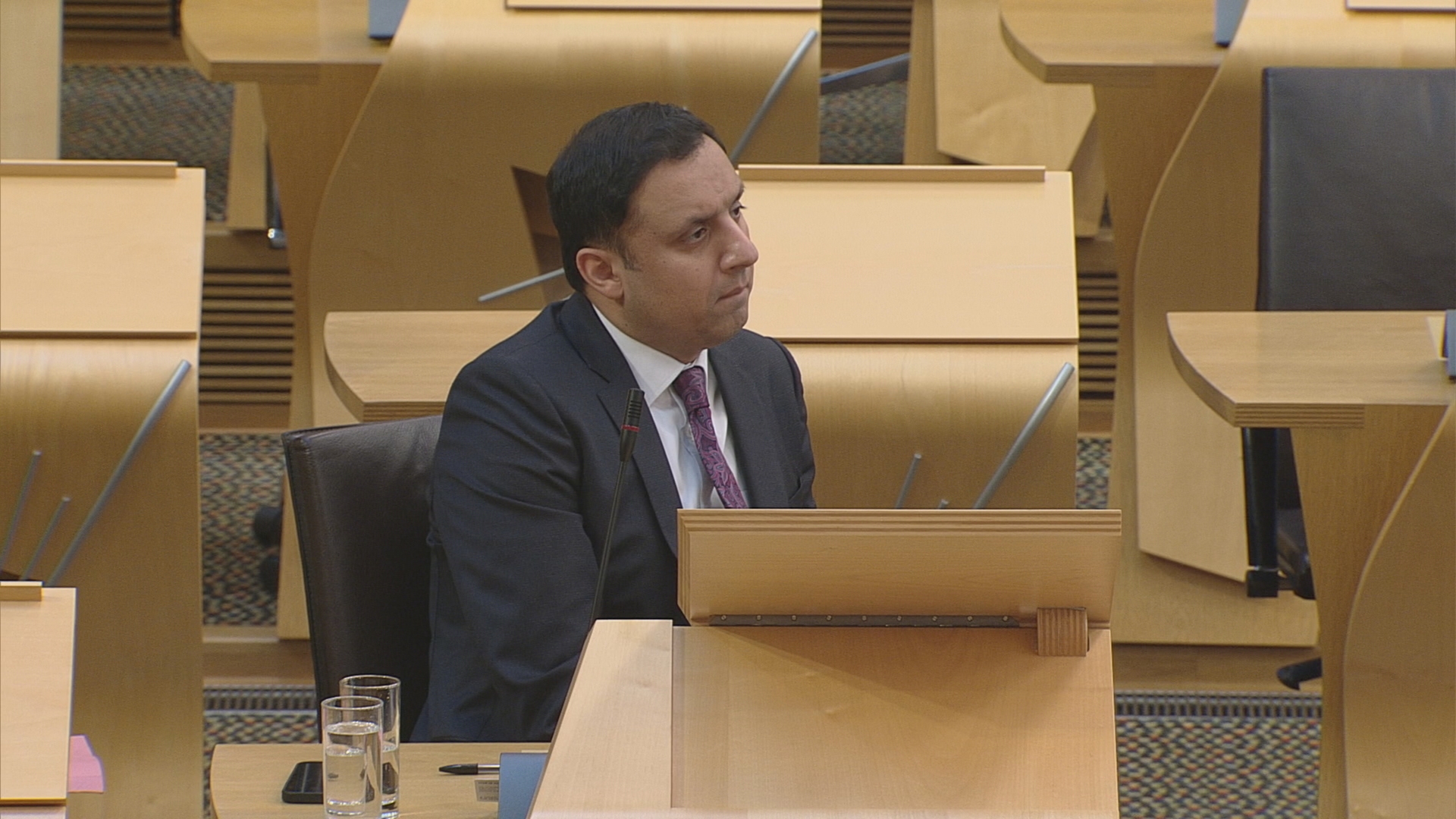 Scottish Labour leader Anas Sarwar urged First Minister Nicola Sturgeon to take action to ensure that people are not cut off from their loved ones in care homes.
"Nowhere has there been greater failings during this pandemic than in our care homes, but yet again, no mention of care homes in the First Minister's statement," he said.
"From the transfer of positive and untested patients, to the lack of PPE, the Government allowed care homes to become the epicentre of the pandemic with tragic consequences.
"A third of all deaths in this pandemic have been in our care homes. Then for months, despite restrictions starting to ease, care homes remained locked down.
"We know the harm and trauma caused by keeping care home residents cruelly cut off from their loved ones, but even now, families are being locked out."
Sturgeon responded: "I can say as the person who has led the Government's response since the outset of this pandemic, we have sought to take the best decisions based on the best evidence we had at any given time to keep those in our care homes as safe as possible."