A quadruple amputee who fought back from the brink of death is taking on the North Coast 500 on a second-hand scooter as part of a fundraising challenge.
Corinne Hutton, from Lochwinnoch in Renfrewshire, was the first patient in Scotland to have a double hand transplant after suffering acute pneumonia and sepsis, which left surgeons with no choice but to amputate her hands and both legs.
After being fitted with prosthetic legs and a pioneering hand transplant surgery in 2019, the 52-year-old is embarking on the adventure in a bid to raise money for the amputee charity she founded, Finding Your Feet.
Ahead of sepsis awareness month in September, Corinne will be set off from her charity's premises in Paisley on August 22 and plans to complete the 500 mile road trip in seven days.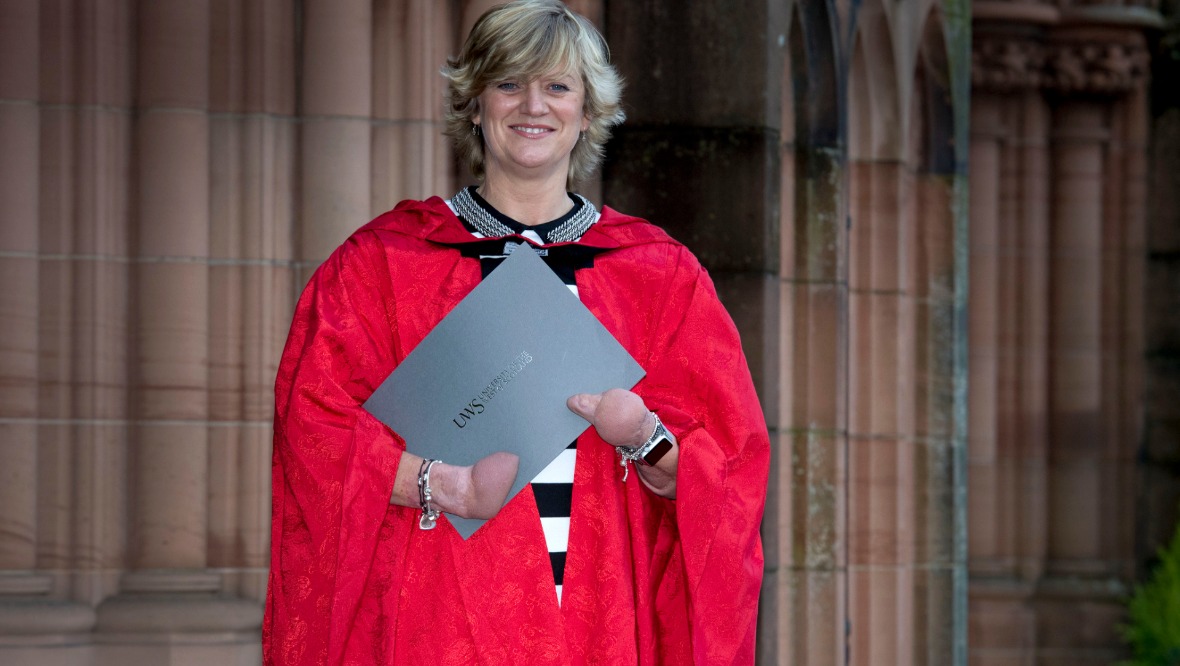 She told STV News: "I just want to do the things that I wanted to do previously and haven't been able to do.
"I used to bike before I lost my legs, so a part of me wants to get back to being a biker.
"I have talked about doing it for years, and I'm not getting any younger.
"It's my job to show people what I can do and get out my comfort zone."
Corinne, who will be riding the trail using a second hand AJS 125cc, maintains near 100% functionality in her hands but admits the challenge will require a "massive effort".
She added: "My doctors tell me that I have 95% functionality in one hand and 75% in the other.
"That sounds great, but it still requires massive effort for me to keep my muscles engaged for longer periods of time.
"I've used this wee bike before, and managed to go up to 60mph once, but that was downhill with a lot of wind behind me.
"Although the bike can only go about 40 miles before I need to fill it up, which presents a challenge in itself.
"So it will be interesting to tackle a motorway on this wee thing.
"On the bike I'll be working the acceleration, which will involve a lot of twisting my wrist, and the brakes, and the indicators.
"Who knows, maybe I will end up with a dodgy wrist."
Ms Hutton, who received her third honorary doctorate this year, has already completed the London Triathlon and became the first female quadruple amputee to climb Mount Kilimanjaro.
Corinne says that surprising people is one of the driving forces behind her continuing challenges.
She said: "I want to show people that you can still be you after amputation.
"That's the main thing.
"I just love doing things that people don't expect me to do.
"There's so much you can do if you push yourself."
To donate to Ms Hutton's cause, visit https://findingyourfeet.net/cors-nc500.