Some people with disabilities are waiting more than a year for vital adaptations to be carried out on their homes, STV News has learned.
The time taken to get handrails fitted or bathrooms converted in social homes differs greatly between councils, figures reveal.
In Fife, the average wait for a handrail is just five days, but that soars to 76 days in Angus, according to the results of a freedom of information request.
Other figures suggesting a postcode lottery show that making a bathroom big enough for a wheelchair takes an average of 521 days in Aberdeenshire, but only 41 in Orkney.
Families waiting for adaptations told STV News that long delays were having a detrimental affect on day-to-day life.
'He tried really hard, but in the end there wasn't time'
Sianhan Smith loves being outdoors and used to enjoy walks with best friend Steve Barnes, who had cancer.
She was his primary carer, but earlier this year his illness deteriorated rapidly, meaning his home needed to be adapted quickly.
"From going up a Munro, seven weeks later he couldn't get up his stairs," she said. "He needed railings, he needed different forms of transport, he needed his bathroom changed.
"He really tried hard to get these things, but in the end there wasn't the time or the means."
Steve, who died in September, spoke to STV News earlier this year, expressing concerns over the time it was taking to get his house adapted.
"Time is the most important thing to me," he said. "I don't have a year, it seems to be either 'wait or pay for it yourself'."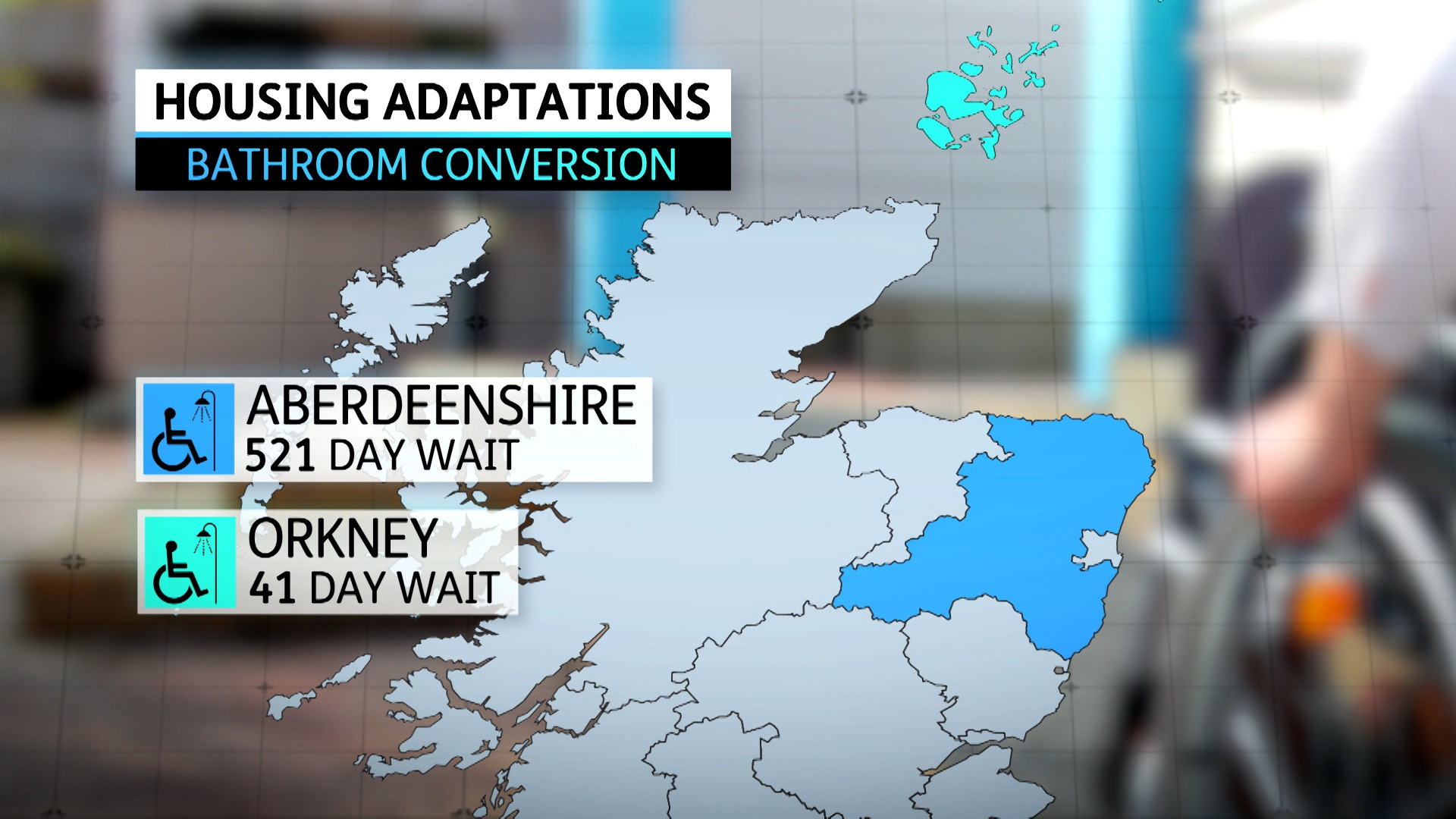 Sianhan is now campaigning for change to make sure other families don't face the same frustrations as Steve.
"Things need to be done quicker," she said. "Even basic things like handrails, which he needed as soon as he came home, he had to wait weeks for."
'No money in the pot'
Other people waiting for vital changes to their homes include those who have become immobile following injuries, and the elderly.
George Mitchell cares for his 15-year-old son Luke, who has Angelman Syndrome and can't walk or talk.
Their doorways are too narrow for Luke's current wheelchair, which he's growing out of quickly.
George said: "I've been told that there's no money in the pot and that we'll have to wait until June.
"He fills the chair he has now and he's growing at a rapid rate. My hands are tied as there's no money to do the job.
"Without a bigger chair to move him safely, or wider doorways to get it through, I simply can't care for him, it's not physically possible."
Charities say the problems have been exacerbated by the pandemic and a rising cost of materials, but stressed that the problem wasn't new.
Jenny Miller, from Promoting a More Inclusive Society, said: "When you're caring for someone 24/7, we need to make things as easy as possible for people who are caring.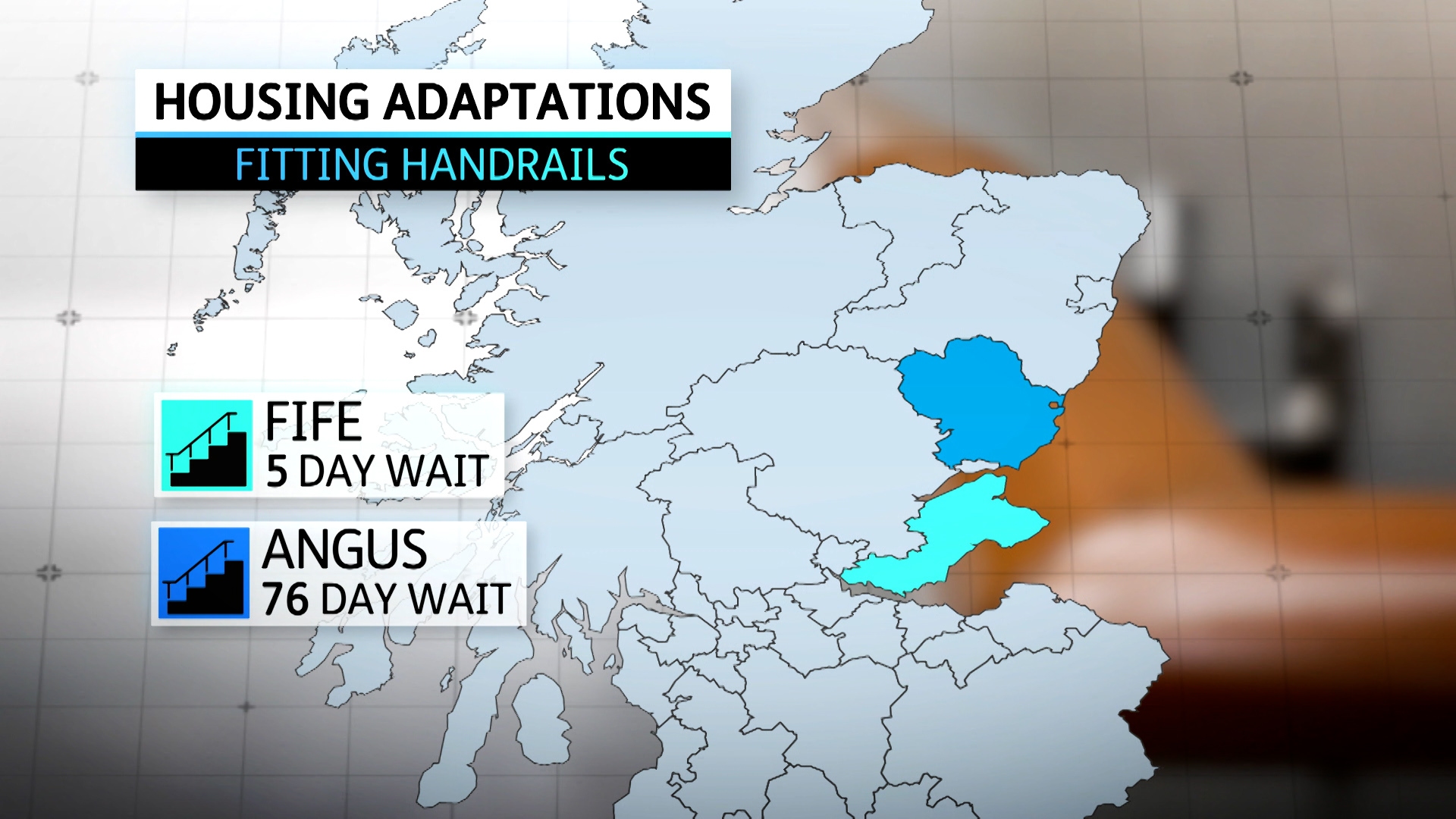 "This is not an new issue, but we have seen a rise in referrals from families since the pandemic.
"I think this is a bigger issue than just adapting. Adapting takes a lot of money, but if we built things with access in mind, we wouldn't have to adapt hundreds of houses."
What is the Scottish Government saying?
A spokesperson said: "Wherever possible, all new affordable homes are designed to be flexible to meet people's needs as they change over time, including people with disabilities.
"We have also issued new guidance for local authorities to deliver more wheelchair-accessible housing, and councils will soon have to report annually on targets for how many accessible homes they have delivered.
"However, we know there is an issue with the way adaptations are being delivered locally and are looking at how the process can be streamlined.
"We are also accelerating work to increase the supply of accessible and adapted homes, bringing in a new Scottish Accessible Homes standard."