Disability Equality Scotland said it has been inundated with with calls and messages from distressed members of the public following a clampdown on maskless shoppers by supermarkets.
The organisation said it is "deeply concerned" over claims that some customers have been refused entry into stores despite being exempt from wearing a face covering due to their disability or health condition.
A number of supermarkets – including Morrisons, Sainsbury's, Tesco, Asda and Waitrose – announced earlier this week they were taking a tougher stance against those who refuse to wear a face mask without a medical exemption.
Sainsbury's also said it would challenge those shopping in groups, although customers with children or carers would not be refused entry.
The supermarkets have tightened measures following complaints that social distancing rules were not being adhered to in stores across the UK.
Shopworkers' union Usdaw also claimed retail workers on the frontline were suffering "increased abuse".
After the crackdown was announced, Disability Equality Scotland said an elderly person was refused entry into their local supermarket for not wearing a mask despite staff having previously recognised that they were exempt due to their disability.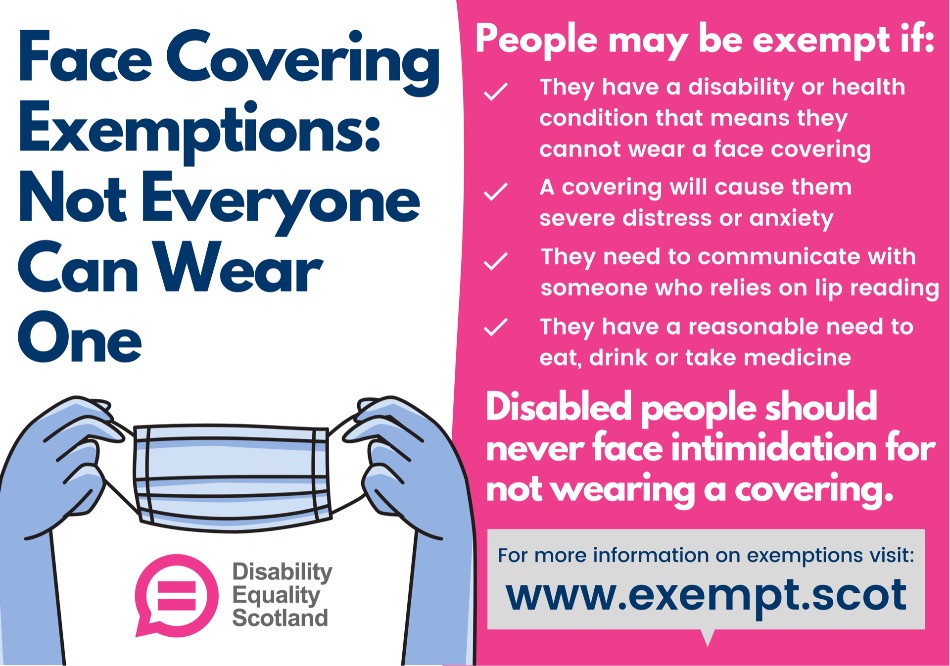 Disability Equality Scotland CEO Morven Brooks said: "I am utterly appalled by the shocking messages we have received from disabled people over the past week as a direct response to the change in stance from supermarkets regarding face covering exemptions.
"I would like to remind retailers and the public to be respectful of circumstances when people cannot wear a face covering.
"Staff can simply approach people to ask if they can wear a face covering and if they are exempt this should be accepted."
People who meet the exemption criteria can request a card by completing the online form or by calling the free helpline on 0800 121 6240, which is open 10am-3pm, Monday to Friday.