Carol Topper says she hit rock bottom when she was diagnosed with early onset dementia.
The 55-year-old thought she was dying and couldn't stop crying.
But thanks to the power of music she has now done all her 'greeting' and is enjoying life again.
Carol is an ambassador for the charity Playlist for Life, which encourages people diagnosed with dementia to create unique, personal music playlists to boost their mood and evoke happy memories.
"You've no idea how happy it makes me," she told STV News.
"I don't need to think about anything, I don't need to remember I've got dementia, I can just put my playlist on and I'm singing and dancing.
"It's made a massive difference to my life."
Now, on World Alzheimer's Day, Playlist for Life is calling for health and social care workers to learn how to swap medicine for music to support people living with dementia.
The charity is working with carers and nurses to encourage the use of personalised playlists with residents and patients living with dementia.
It says staff at one care home near Glasgow using the playlists reported a 60% reduction in the use of medication to calm anxiety for those with the condition.
And that's something Carol, who is cared for by her husband Malcolm in Carnwath, South Lanarkshire, can relate to.
She said: "I've got songs from when I was at primary school and I've got songs from my first ever big disco, and right through to my daughter Heather's first concert, taking her to see the Spice Girls, and all our wedding songs.
"Honestly, it's such a wonderful thing, it makes you so happy. I've got my playlist in my earphones and I can take it out to my shed, Malcolm has built me a pink shed, and I take it out to the shed and I do my art and just sing my heart out."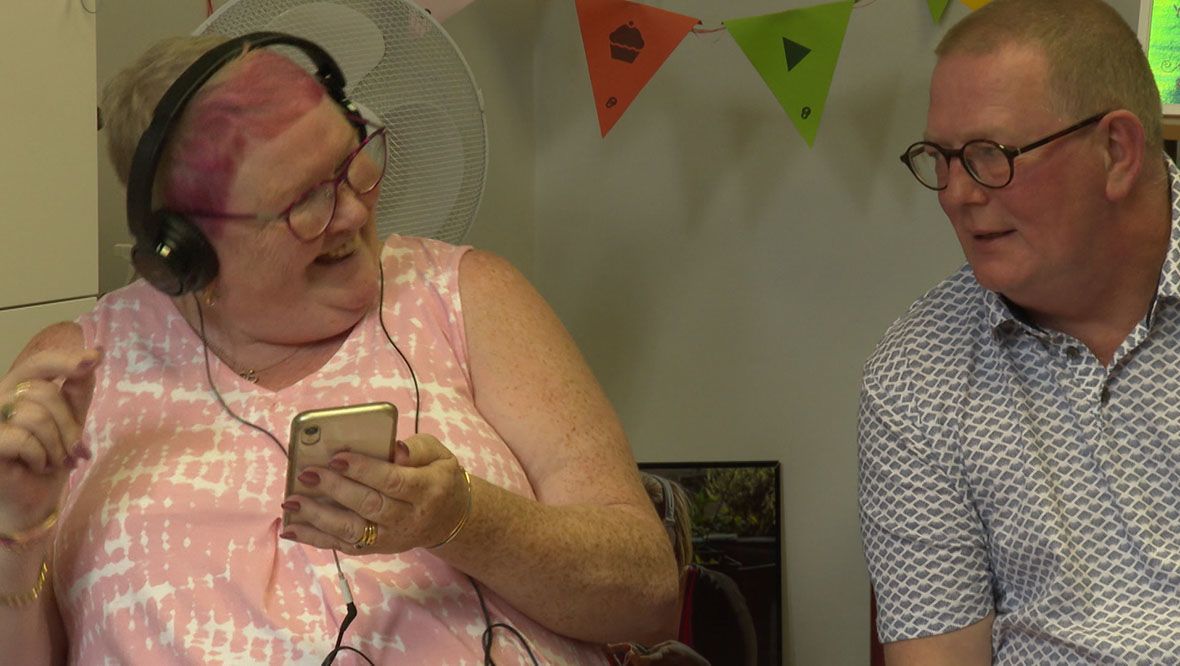 Malcolm, who became depressed while caring for Carol, has made his own playlist and says the initiative has breathed new life into their relationship.
"Carol was very down before we had the playlist," he said.
"She just went into a world of her own and we lost a lot of our conversations, it was very difficult to have a conversation with Carol because all I was getting back was one-word answers.
"But as soon as we got the playlist put in, and the memory book as well. We've only been married 17 years, so Carol's got a lot of memories I don't know anything about, the memory book is for me.
"When the music starts I can then start a conversation about that particular memory and Carol, just like that, comes to life, it's a lightbulb moment, and for me the playlist is the closest thing for a cure to dementia that you're going to get.
"If she didn't have a playlist she would have gone into a deep depression."
Power of music
Working with care homes, NHS wards and higher education institutions across the UK, Playlist for Life trains health and social care teams to use music as the first line of treatment before medication.
Michelle Armstrong-Surgenor, executive director of Playlist for Life, said the power of music in helping dementia patients was never more evident than during the coronavirus pandemic.
She said: "Everyone has their own story to tell through the music that brings back memories from their life. This is also true for many people living with dementia, and certain songs have the ability to calm anxieties and provide comfort.
"Working with health and social care professionals in particular, we have found that personalised playlists can benefit both the person living with dementia and the care professional.
"Finding the musical soundtrack of someone's life helps strengthen relationships and allows the caregiver to see the person beyond the dementia diagnosis, through the music that is important to them."
Laura and Colin
Laura McConnell's uncle, Colin McDowall, had an industrial accident when he was 26-years-old. He was electrocuted twice while working on railway lines in London.
He was taken to the city's Royal Free Hospital and underwent brain surgery. The prognosis was not good but Colin survived and he has learnt how to walk, talk and recognise people once again.
He eventually moved in with his sister and her family. Colin doesn't have an official dementia diagnosis but many of the symptoms of his condition are similar.
"My parents took him, my mother is Colin's sister, so he became our wee brother really even though he was older," Laura told STV News.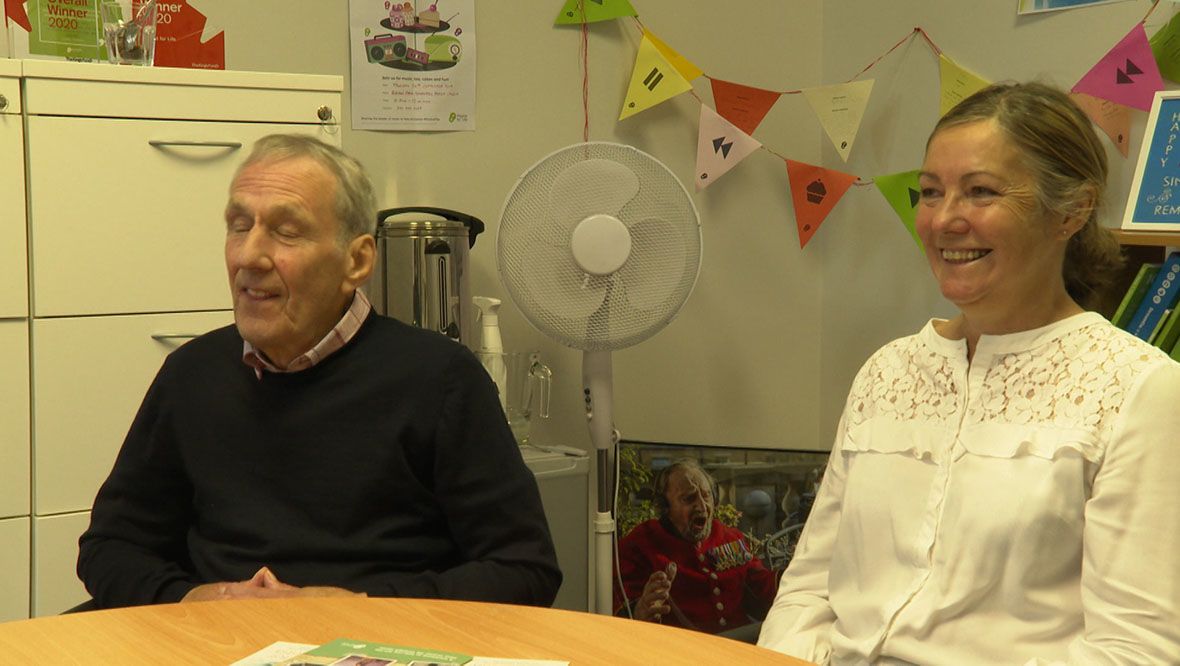 "He's come on leaps and bounds – the big problem is the memory and he's partially blind, he's got tunnel vision.
"Colin loves music, it changes him when he hears music. When he hears something he starts dancing, even if you're in Tesco.
"It's wonderful as a carer to see him so happy. It's not just his mood, it's his whole being, the way he walks after it, he's more talkative, it's wonderful."
Colin says he enjoys every minute of creating his musical playlists
He said: "Every little thing I do in there I love to do because it's great, I really love it.
"I keep trying to think of who sung it and where I was. I can remember who sung it but I can't remember their name, I can see them. It really does boost my mood."