More than 2900 people have died in Scotland with confirmed or suspected coronavirus.
Of deaths linked to Covid-19, 43% to date have occurred in care homes – 1195 in total.
Weekly National Records of Scotland (NRS) statistics show 2795 deaths as of Sunday where Covid-19 was mentioned on the death certificate.
And speaking on Wednesday, Nicola Sturgeon confirmed 83 more deaths of lab-confirmed coronavirus patients reported in the last 24 hours.
That takes the total this week reported by the Scottish Government through Health Protection Scotland (HPS) to 132, suggesting the most up-to-date death toll is at least 2927.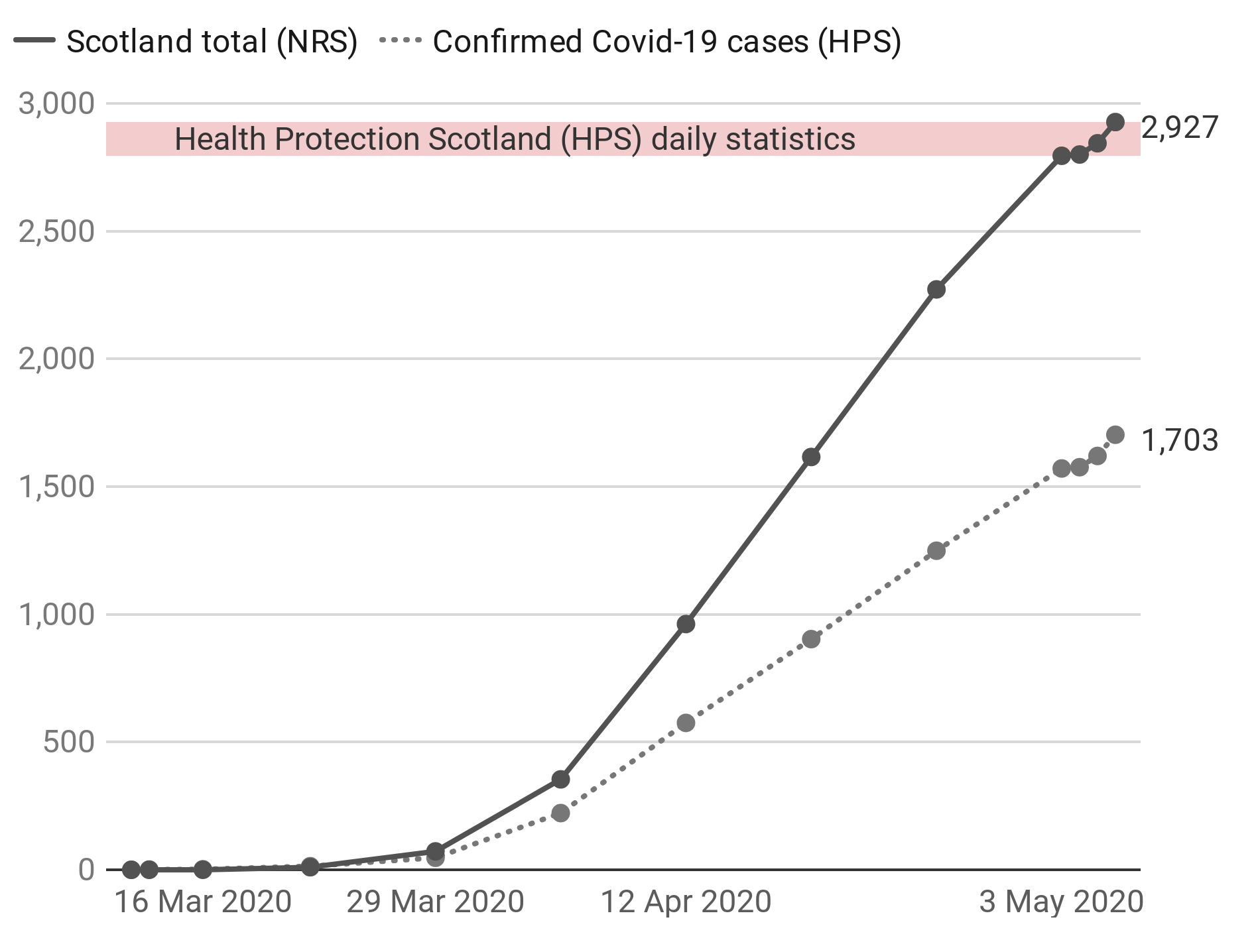 It comes after Office of National Statistics (ONS) on Tuesday showed confirmed and suspected Covid-19 deaths across the UK had risen to more than 32,000 – the highest death toll in Europe.
In the last week, the most deaths linked to coronavirus in Scotland happened in care homes – 59% of the total, or 310 – while 37% were in hospitals and 4% were at home or a non-institutional setting.
Covering all deaths involving Covid-19 to date, the proportion has risen to 43% in care homes, although the most deaths have still occurred in hospital – 49%, or 1383 deaths – and 8% happened in a home or non-institutional setting.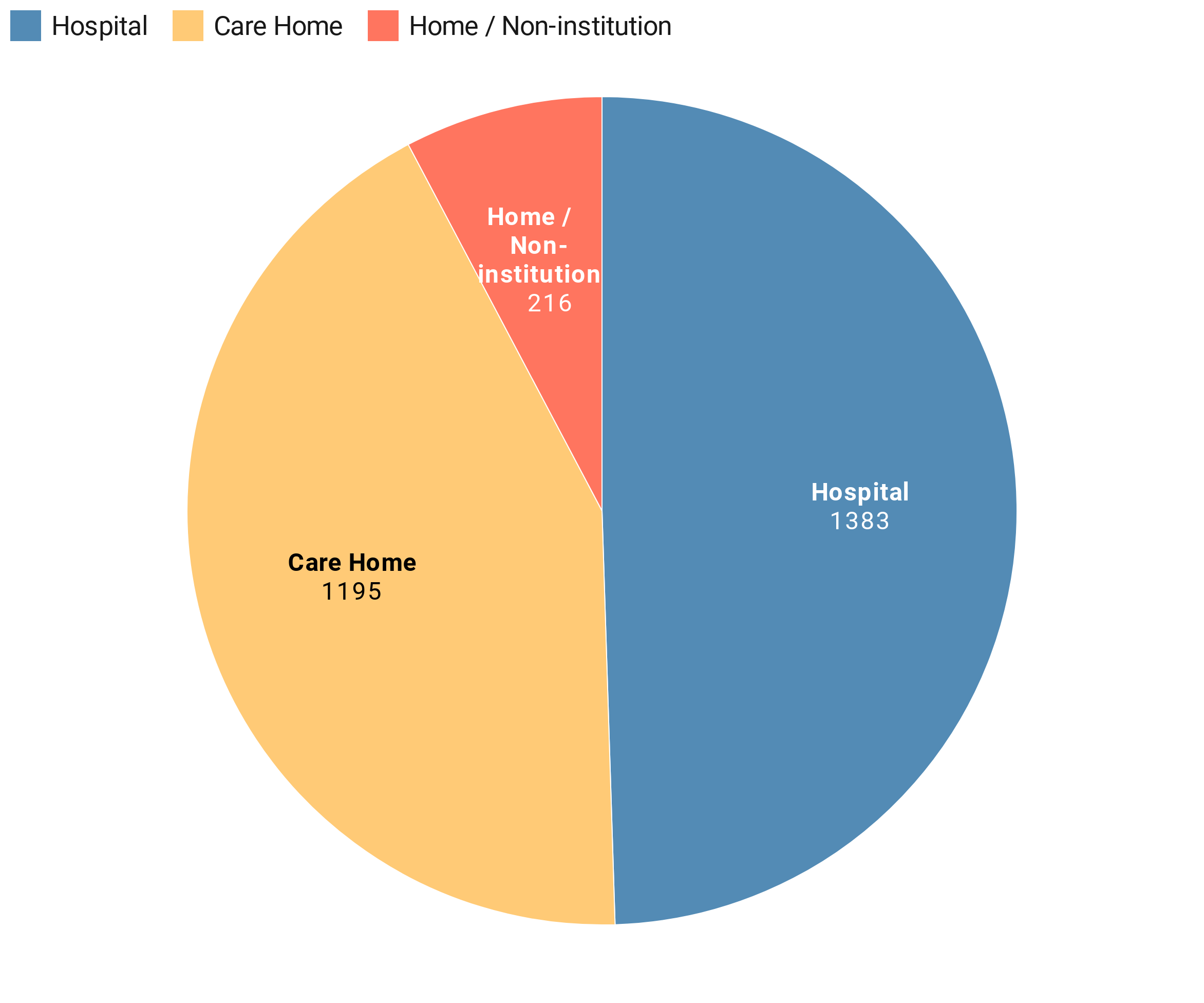 In the week ending May 3, a total of 523 deaths relating to coronavirus were registered, a decrease of 135 from the previous week – the first drop since the outbreak began.
Coronavirus-linked deaths as a proportion of all deaths had risen to 36% in the previous week but fell to 31% in the week ending May 3.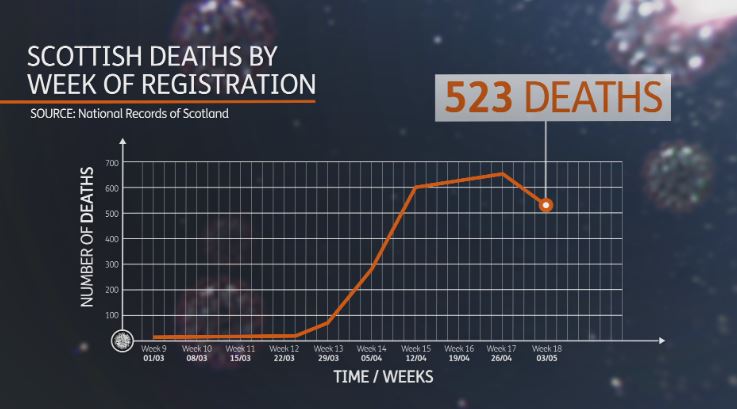 The total number of deaths registered in Scotland from April 27 to May 3 was 1673 – 594 (55%) more than the average number of deaths registered in the same week over the last five years, 1079.
But this is a decrease of 163 from the number registered the week ending April 26.
Of these 594 excess deaths, 83% were deaths where Covid-19 was the underlying cause of death.
Three quarters of registered deaths involving coronavirus were people aged 75 or over.
Of all deaths to date naming Covid-19 on the death certificate, 52% were men and 48% were women.
In terms of deaths per 10,000 of population, the highest mortality rate is in Inverclyde – which has the largest share of Scotland's most deprived areas – on 12.7.
Other local authority areas with substantial pockets of poverty – like West Dunbartonshire, Glasgow and Dundee – have death rates above the national average.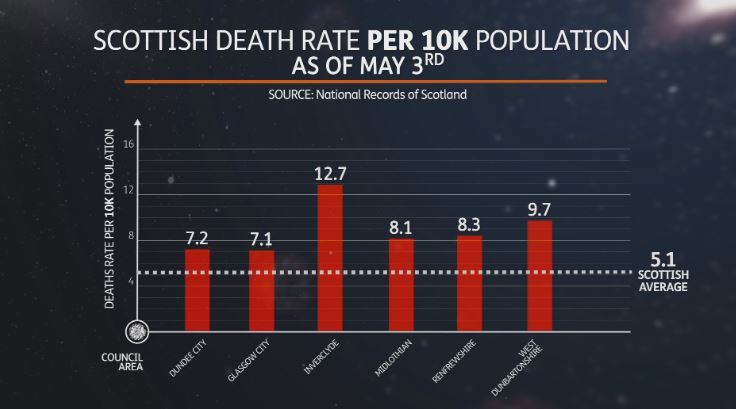 The First Minister also confirmed a total of 12,709 positive cases of the virus in Scotland – up 272 – in the last day.
But overall hospital admissions of people with confirmed or suspected Covid-19 fell by 24 to 1632.
And patients in intensive care decreased by 15 to stand at 89 across Scotland – the lowest number since March 28.
Speaking at First Minister's Questions, Sturgeon was challenged by Scottish Tory leader Jackson Carlaw on whether Scotland would leave the lockdown at the same time as the rest of the UK or at a different pace.
Carlaw suggested UK-wide "clarity of messaging" has been key to the four-nation strategy against coronavirus so far and should remain so when it comes to easing lockdown restrictions.
The First Minister replied: "Nobody needs to convince me about the importance of clarity and simplicity.
"I want as much consistent messaging as possible and I've tried very hard to do that."
But she said Covid-19 has spread differently in different parts of the UK, with reproduction rates differing, and only way to judge easing the lockdown was based on public health and public safety.
"If someone says to be it has to be UK-wide at all costs, I will say it's the wrong starting point," Sturgeon said.
"If someone says to me it needs to be Scotland-centred, I will say that's the wrong starting point."
The First Minister also became visibly moved answering a question from Labour MSP Neil Findlay, who "pleaded" with her to stop elderly people with Covid-19 from arriving at care homes.
Seeming close to tears, she urged Findlay not to ask questions in a manner which suggested the Scottish Government was "not trying to everything we can to do the right thing".
Sturgeon said those who are in hospital with coronavirus must have two negative tests before being discharged.
Those who are in hospital for other reasons will be placed in isolation for 14 days when they enter a care home if they have not received their Covid-19 test results.
Pete Whitehouse, director of statistical services at National Records of Scotland, said: "Every death from this virus is a tragedy.
"These statistics, alongside the other important evidence being made available by the Scottish Government and Health Protection Scotland (HPS), are valuable to the understanding of the progress and impact of the Covid-19 virus across Scotland.
"These latest figures show that for the first time, since reporting of registered deaths relating to Covid-19 began for the week beginning March 16, there has been a reduction in Covid-19 related deaths from the previous week – down from 658 to 523 Covid-19 related deaths."