There have been more than 2200 deaths in Scotland involving coronavirus, according to official weekly figures.
A total of 2272 deaths have been registered in Scotland where Covid-19 was mentioned on the death certificate, according to National Records of Scotland (NRS).
That's a rise of 656 on the previous week.
The weekly NRS figures count deaths of both confirmed and suspected coronavirus cases and go up to Sunday, April 26.
They are tallied differently to the daily statistics produced by Health Protection Scotland and published by the Scottish Government, which only include confirmed Covid-19 cases.
Speaking at the Scottish Government's daily briefing on Wednesday, Nicola Sturgeon said further 83 deaths of confirmed cases have been reported in the last 24 hours.
The First Minister also confirmed for the first time that 11 NHS and social care staff have died since the pandemic began.
She further announced positive cases of the virus in Scotland have now risen above 11,000 – to a total of 11,034, a rise of 313 on Tuesday.
The NRS figures show more than a third (39%) of deaths involving Covid-19 occurred in care homes, a rise of 6% on the previous week.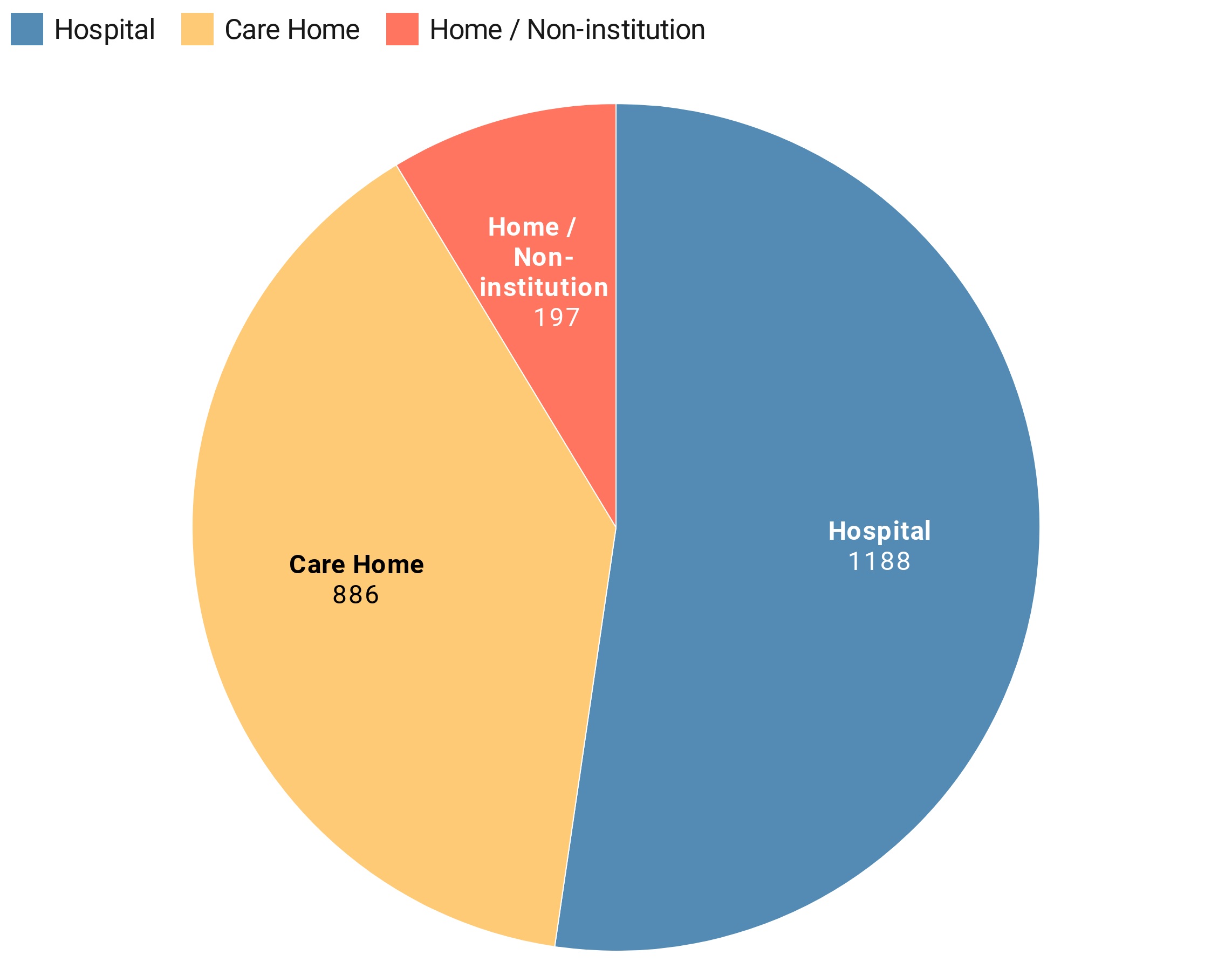 Just over half (52%) of deaths were in hospitals while 9% were in a home or non-institutional setting.
Almost three quarters (74%) of coronavirus-linked deaths were of people aged 75 or over.
In the week ending April 26, 313 deaths (52% of the total) linked to coronavirus happened in care homes.
Addressing this at the government briefing, the FM said the rise "partly reflects" a decline in hospital deaths.
Sturgeon also highlighted another fall of patients in hospital with confirmed or suspected Covid-19, with a a total of 1727 in Scottish hospital overall – down 27.
Intensive care admissions are also down by 12 to 114, the lowest number since the end of March.
The First Minister also said that since March 5, a total of 2521 patients have been discharged from hospital as they recover from the virus.
Deaths involving coronavirus as a proportion of all deaths have more than doubled from 14% in the week ending April 5 to 36% in the week ending April 26, according to the NRS statistics.
The total number of deaths registered in Scotland in the week ending April 26 was 1830, which compares to an average for this week over the last five years of 1087.
Of these 743 excess deaths, 85% (631) had Covid-19 as the underlying cause on their death certificate, while 10% (71) came from an increase in dementia and Alzheimer's deaths and 6% (42) were due to an increase in deaths from other causes.