Ten more people with coronavirus have died in Scotland, taking the death toll of those confirmed to have the disease up to 903.
There has been a rise in confirmed Covid-19 cases of 367 in the past 24 hours, taking the national total to 8187.
However, there has been a slight fall for the second consecutive day in intensive care admissions while general hospital admissions are stable.
Counting weekly figures from National Records of Scotland which tally suspected as well as confirmed Covid-19 deaths, around 1300 deaths are linked to the virus to date.
There tend to be fewer deaths reported by hospitals at weekends.
A total of 1797 people are in hospital with confirmed or suspected Covid-19 – a rise of four – but eight fewer patients are in intensive care, a total of 174.
The National Records of Scotland registered a total of 962 deaths as of last Sunday where Covid-19 was mentioned on the death certificate.
There have been a further 337 deaths reported so far this week in the daily statistics, suggesting the most up-to-date total is at least 1299.
Across the UK, a total of 596 people with the virus have died in the last 24-hour period, taking the overall death toll in Britain past 16,000.
Speaking at a Scottish Government press briefing on Sunday, health secretary Jeane Freeman said Scottish ministers had not been consulted on a reported three-step process to lift lockdown measures allegedly under discussion in Westminster.
A number of Sunday newspapers reported lockdown measures could be relaxed from May 11, including the re-opening of schools and some retailers.
The claim was rebuffed as "not true" by Cabinet Office minister Michael Gove in an interview on Sky News.
Addressing this, Freeman said: "We have committed to publishing later this week our initial thinking on how Scotland plots our way forward.
"This will focus on the issues that have to be weighed up, and the changes that will be required for society to adapt as safely as possible to the presence of the virus.
"We confirmed only three days ago that the existing lockdown would continue for a further three weeks and we will use that time to assess the evidence and the options before we make any further decisions."
The health secretary asked people to continue to follow the current lockdown rules.
Cases, hospital and ICU admissions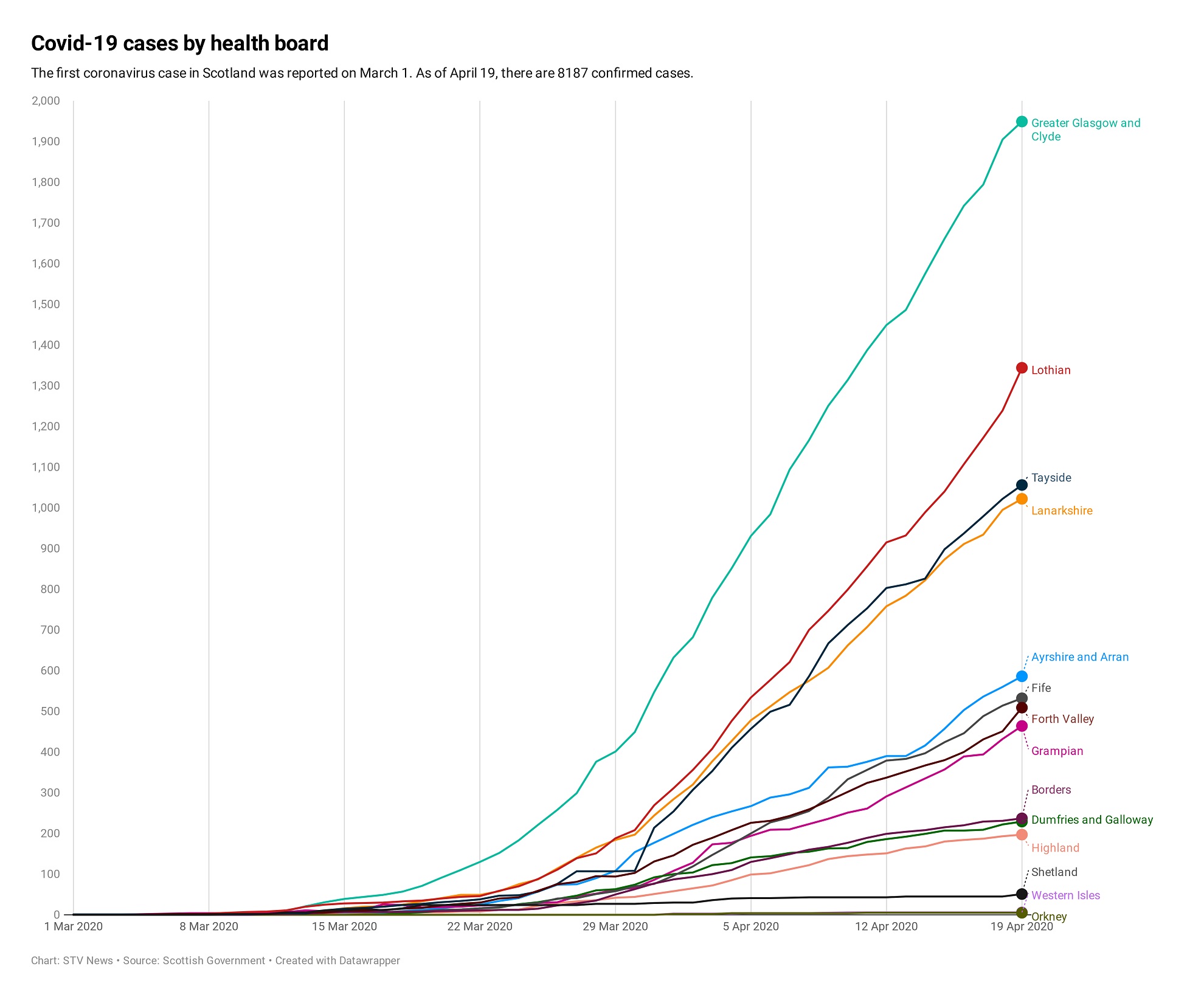 NHS Lanarkshire has become the fourth health board area in Scotland to report more than 1000 confirmed Covid-19 cases.
There are 1022 coronavirus patients in Lanarkshire, a rise of 27 on the day before.
The most fresh cases are found in the Lothian area, with 105 new coronavirus patients taking the health board's total to 1344.
NHS Greater Glasgow and Clyde is close to having 2000 confirmed cases, currently on 1949 (an increase of 44).
There are now more than 500 cases in Forth Valley, with the health board reporting 509 confirmed – a rise of 58 in the last 24 hours.
Six new cases have been reported on Shetland, taking the islands' total to 51.