By Louise Scott and Kevin Scott
A journalist who flew back to Scotland to visit her dying dad has described her distress at being stuck in a quarantine hotel during his last days.
Claire Herriot landed in the country from red-list Turkey earlier this week after receiving news that her dad, Gordon, was nearing the end of his life at the Queen Elizabeth University Hospital in Glasgow.
Under current Scottish Government rules, arrivals from red-list countries are mandated to quarantine in a hotel for ten days but temporary release can be facilitated for people visting relatives receiving end-of-life care.
But Claire has only received a one-off compassionate visit to see her dad, which she found to be an upsetting experience that has been exacerbated by her enforced isolation at a hotel in Edinburgh.
She said: "I came back on the understanding I have a one-off compassionate visit. My logic was I'll do that visit as soon as possible and then I'll have seen him and if he does die at least I will have seen him.
"When I got back from the hospital I was very upset because as far as I was concerned I was potentially seeing my father for the last time under these circumstances – and he didn't understand why I was leaving, he seemed to think my concern was he was going to give me germs, so that was upsetting because that obviously wasn't what I was trying to convey to him but he didn't really understand.
"So when I got back to the hotel I was so distraught and distressed that I decided it's not enough to just see him once. I won't get out of here again potentially until August 7 and I've got letters from doctors supporting my request to leave isolation for a compassionate reason, saying he's unlikely to still be alive on August 7, so that is how I found myself in this situation."
Claire is now calling on the Scottish Government to let her visit her dad in hospital again, as well as provide support for her deteriorating mental health.
"I am a patient as well because I am saying that my mental health is suffering in this situation," said Claire.
"They have left documents in this hotel room, which say if you, the person in quarantine, if your mental health is suffering to such a degree that you need to leave quarantine then that can be evaluated and so far I'm not being able to get that evaluated, so I'm saying I make that threshold and therefore I should be able to leave and that's where it is getting difficult.
"Had I not got that visit agreed I wouldn't be in this hotel room. Under those circumstances I would rather have stayed in Istanbul with my partner and been with him when I got this news, rather than being alone in hotel quarantine. My partner's American, therefore, he can't come to the UK from a red zone, he's not got a British passport.
"I'm just really shocked by the responses I've had from the Scottish Government. I feel like they're not getting it. There's been some movement on the possibility of seeing my dad again but I have to wait for further tests, for the results of further tests to come back, and I don't know if he's still going to be alive at that point. I also feel like for myself that I meet the threshold of a very substantial detriment to my health of being in this facility and I can't access the help that they're telling me is available."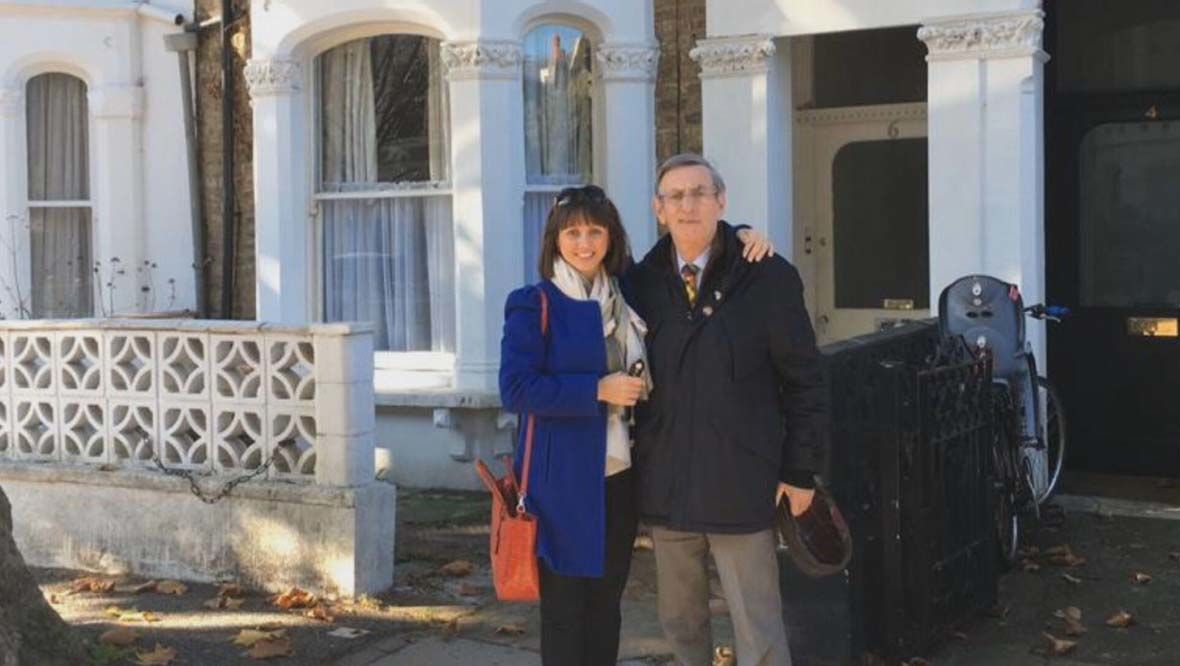 The Scottish Government said Claire had been provided with a plan to visit her father upon arrival in Scotland and is willing to facilitate a way of allowing her to see him again.
A Scottish Government spokesperson said: "We recognise the need to facilitate temporary release from managed isolation in order to support family visiting for those receiving end of life care. This is why the regulations do allow for an individual who is quarantining in Scotland to see a close family member or friend for a visit when relating to the end of a person's life.
"Ms Herriot was provided with a visit to see her father upon arrival in Scotland and we are more than willing to facilitate a visit plan to enable Ms Herriot to visit her father on subsequent occasions. We have said Ms Herriot may visit her father upon day two and eight provided she has negative test results.
"However, the current regulations require that persons authorised to make end of life visits must return to managed isolation following the visit.
"International travel restrictions including the use of managed isolation remains necessary to limit the importation of the virus and variants of concern.
"There are very limited exemptions to the quarantine rules. Overseas travellers are urged to be aware of the international travel restrictions in place before they travel."
Scottish Conservative shadow health secretary Annie Wells, said: "This is a heartbreaking story and SNP ministers must step in urgently. There are clear grounds for the government being flexible on a case like this.
"With travel restrictions easing, there are cases where exemptions to quarantine rules should be made. This is one of them."
STV News is now on WhatsApp
Get all the latest news from around the country
Follow STV News
Follow STV News on WhatsApp
Scan the QR code on your mobile device for all the latest news from around the country