A father-of-three who paid more than £10,000 to smugglers to make a three-month journey from Syria to the UK has spoken of the "mental torture" he faced after being told he would be sent to Rwanda.
The 27-year-old was detained having been rescued by the coastguard whilst crossing the Channel after the inflatable boat he was on carrying 40 people began to sink.
He was taken to the Brookhouse Detention Centre near Gatwick where he was told his claim for asylum would not be considered in the UK.
Instead, he would be sent to Rwanda, officials told him.
From detention, he was allowed to make a single phone call – which he made to his sister who lives with her family in Glasgow.
A lawyer in the city then applied for bail and, despite Home Office objections, the application was successful.
Speaking to STV News, the man explained that he is unable to return home to Syria.
His wife and children are still in the country, but he hopes to apply for refugee status to bring them to Scotland.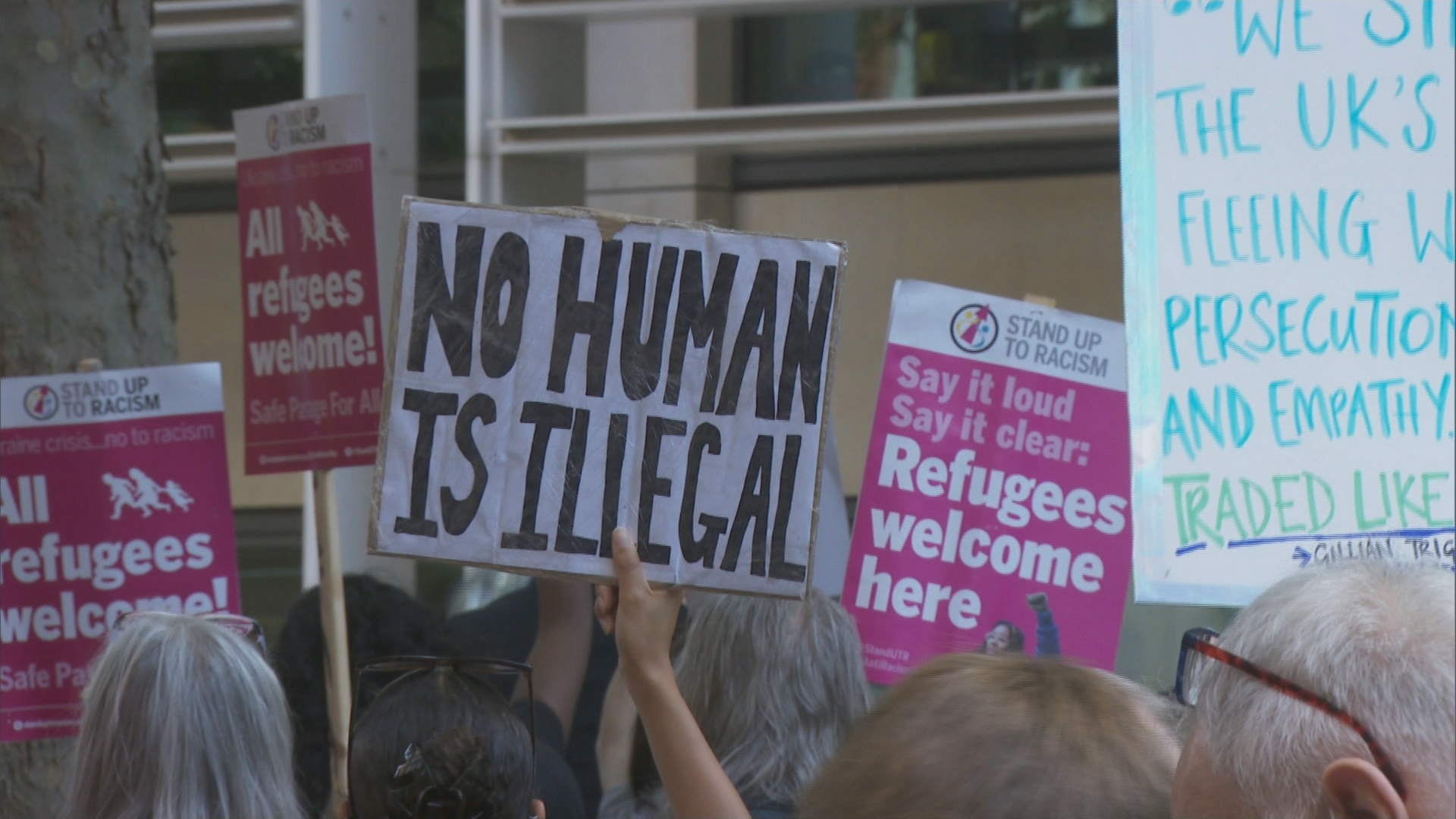 "We were on our way to save our lives and now you want to send us to Rwanda," he said.
"I can't describe it – it is like mental torture."
The immigration lawyer who represented him, Kyle Dalziel from Latta and Co, said that there is now a chance for his case to be looked at from a Scottish perspective.
"What makes this case quite unique is that in the event the detailed representations are refused and it then goes to a judicial review, that'll be in the Scottish court, it'll be in the Court of Session," said Mr Dalziel.
"So, it gives a chance for the case to be looked at through Scottish eyes."
"The people who are immoral in this case are the people traffickers trading in human misery"

Foreign secretary Liz Truss
The first flight carrying migrants from the UK to Rwanda is due to take place on Tuesday evening.
Following interventions by lawyers and campaigners, the number of people due to be on the flight has been cut from 31 initially to seven, as of Tuesday afternoon.
Mr Dalziel's firm will also bring another client with links to Glasgow to fight deportation proceedings there after a successful bail hearing on Wednesday
The plan to send asylum seekers to Rwanda has faced widespread condemnation, with the Archbishop of Glasgow telling STV News that he is "appalled" by the policy.
Prince Charles is also said to have spoken out against the move privately.
Foreign secretary Liz Truss defended the plan ahead of the first flight embarking, insisting that it "completely legal" and "completely moral".
She added: "The people who are immoral in this case are the people traffickers trading in human misery."
The Scottish Refugee Council described the scheme as "horrifying" as they warned of the distress it is causing.
In a statement, they said: "Seeking asylum is not a crime, we can't stress this enough.
"Everything about the Rwanda scheme is horrifying and, as the UN's Refugee agency says, in breach of international law.
"These plans are causing a lot of distress for the people we work with. This is state sanctioned violence in action.
"Everybody deserves to have their asylum claim assessed fairly, in the country to which they are applying for protection.
"Outsourcing the entire system and our international obligations is a complete dereliction of duty by the UK Government.
"A truly global Britain would play a leading role in international protection, and create a fair and efficient asylum system."