Supplies of vaccines to Scotland will "slightly dip" as people begin to receive their second doses, the First Minister Nicola Sturgeon has said.
Addressing the coronavirus briefing in Edinburgh on Tuesday, Sturgeon said the Scottish Government expected supplies coming into the country to fall in the second part of February, adding that it "will be a UK-wide issue".
She also said that Scotland's vaccination programme remained on track after being questioned about issues experienced by some people trying to get their jab in Fife on Monday.
NHS Fife's chief executive apologised after elderly patients waiting for their coronavirus vaccines were left standing in the cold in "significant queues".
Appointments for the health board's Covid-19 community vaccination clinics were overbooked and images showing long lines building up outside vaccine venues circulated on social media.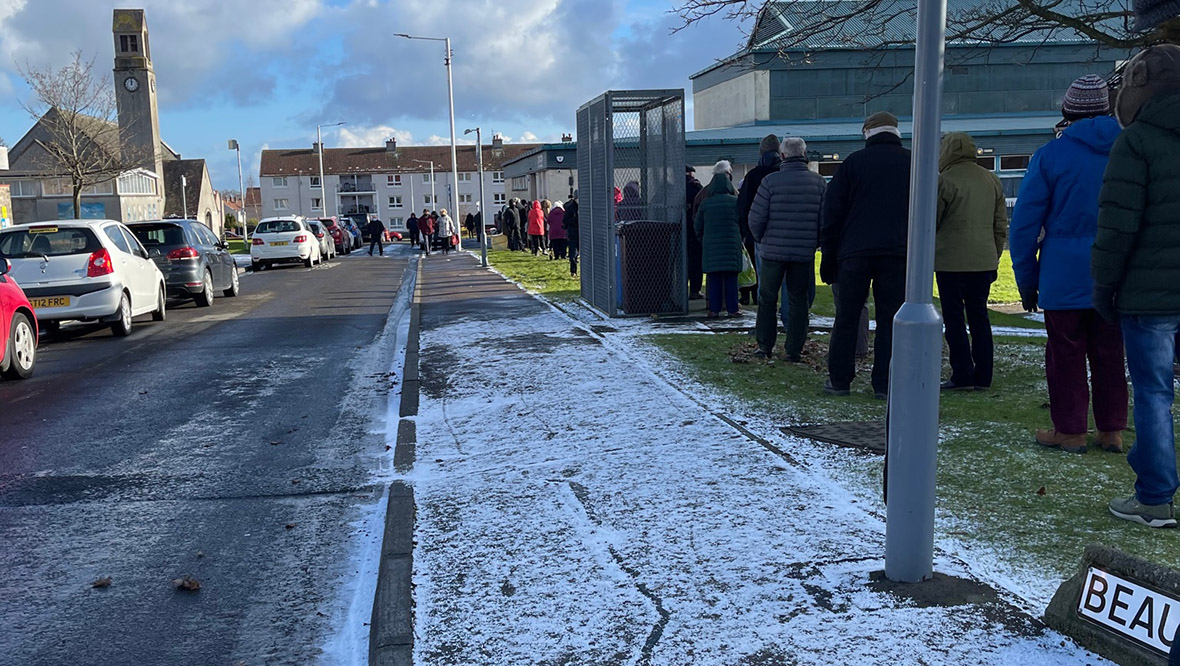 NHS Fife admitted there had been "unacceptable queuing at some venues".
The First Minister said the problems were "unique to Fife", adding that health boards across the country might see a similar problem crop up "from time-to-time."
She said: "Yesterday, there was a particular problem in Fife because Fife was migrating onto the ServiceNow platform that I've been speaking about – that all mainline (health) boards are going to be on by the end of this week – and that led to a bit of a rebooking issue; that meant some of their clinics were effectively double-booked, which meant appointment slots were too short and people were queueing when they shouldn't have been, and obviously given the weather conditions yesterday that was particularly regrettable."
The First Minister said she remained determined to ensure those over the age of 50 and anyone with an underlying health condition will receive their first dose by the start of May.
She also said vaccinations were going ahead despite severe snow across Scotland, although she said that the number of people inoculated in Scotland on Tuesday may fall due to an increase in cancellations.
"Nothing is going wrong in our vaccination programme. The figures I've outlined today are way above anything that I was predicting last week," said Sturgeon.
"We are well on track, we are probably slightly ahead of track to meet that target (to vaccinate everyone aged 70 and over) for the middle of February.
"We'll have to think about the balance of doses that we have available that go to second doses versus the additional people we want to give first doses to."
The Joint Committee on Vaccination and Immunisation (JCVI) is currently in discussions over who they believe should be next in line to receive a vaccination after the initial priority groups.
Plans will be set out by the end of February or early March, said JCVI member Professor Adam Finn, from the University of Bristol's School of Clinical Sciences.