There have been 4000 deaths in Scotland involving coronavirus, new official figures show.
The grim milestone was reached in the week ending June 7, even as weekly deaths fell under 100 for the first time since the end of March.
The statistics from National Records of Scotland (NRS) count deaths of people confirmed to have Covid-19 through a test as well as suspected cases.
A total of 89 confirmed or suspected coronavirus deaths were registered in the week from June 1 to June 7, down 42 on the week before.
That is the sixth weekly drop in deaths in a row, the NRS figures show, but it takes the total death toll in Scotland to exactly 4000.
Just under half (47%) of those deaths in the last week occurred in care homes, a total of 42, down 27 from 69 (53%) in the final week of May.
Counting daily deaths of confirmed Covid-19 cases announced by the Scottish Government, the most up-to-date death toll is 4019.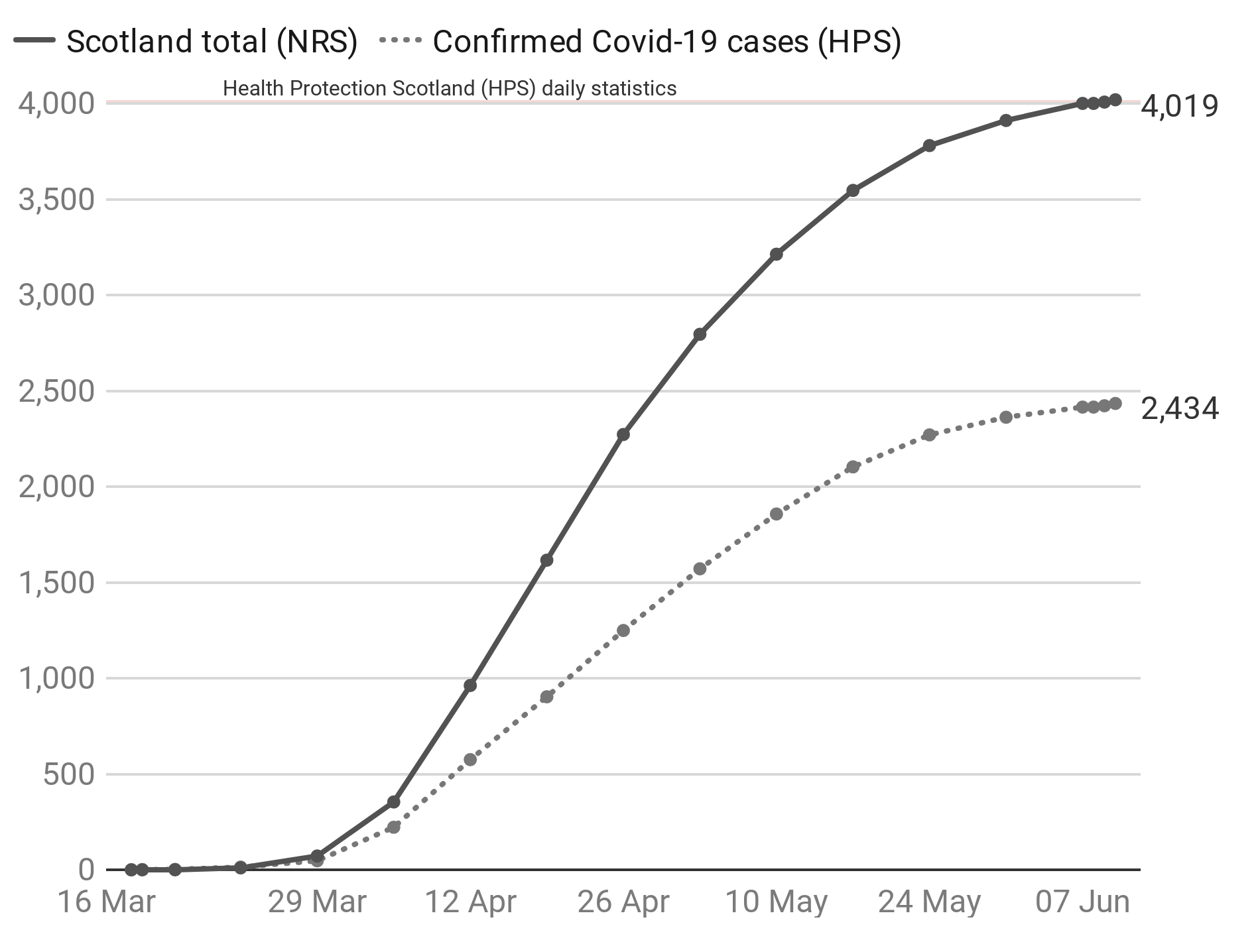 Deaths involving Covid-19 accounted for just 8% of all deaths registered in the week ending June 7, down from a peak of 36%, or more than 650 deaths, in the week ending April 26.
The total number of deaths registered in Scotland from June 1 to June 7 was 1093 – 4% higher than the average number of deaths registered in the same week over the last five years.
Since the peak of 878 excess deaths reported in the second week of April, the number of excess deaths has decreased on a weekly basis, to 37 in the week ending June 7.
There were fewer deaths last week from respiratory diseases, dementia and Alzheimer's compared to the average for this time of year.
That means, for the third week in row, the number of deaths where Covid-19 was the underlying cause (73 in total) was greater than the total number of excess deaths for this time of year.
Pete Whitehouse, NRS director of statistical services, said: "Every death from this virus is a tragedy.
"These statistics, alongside the other important evidence being made available by the Scottish Government and Health Protection Scotland (HPS), are valuable to the understanding of the progress and impact of the Covid-19 virus across Scotland."