By Louise Scott & Jenness Mitchell
A woman who married her partner in hospital as he awaits a life-saving heart transplant has paid tribute to the NHS staff who helped make their big day special.
Katie Morris, 51, married Steven Cairns earlier this week whilst dressed in PPE at the Golden Jubilee National Hospital in Clydebank, West Dunbartonshire.
The now new Mrs Cairns told STV News the staff were "absolutely amazing".
As well as decorating the hospital room with flowers and an archway of balloons, they also provided non-alcoholic champagne.
Nurse Liz Davidson baked the couple a three-tier wedding cake, whilst the communications team snapped the official photographs.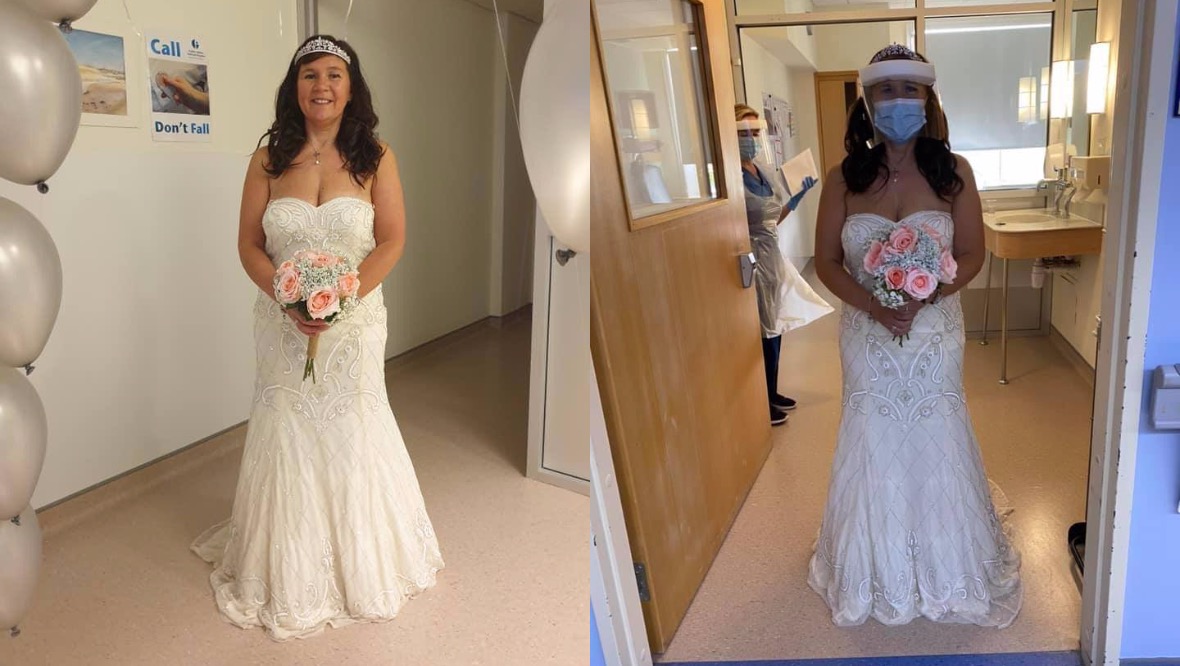 Mrs Cairns said: "They just went over and above. I just cannot thank the staff there enough."
Mr Cairns, 49, who is currently confined to a hospital bed, first had a heart attack in 2013 which required open heart surgery for a leaking valve.
Family support worker Mrs Cairns said: "We came through that. We assumed everything was okay.
"We went for his check-ups, everything was fine. And then about two years later, I went to one of his check-ups and they said 'no, it's not worked, it's leaking again'.
"However, they were able to manage it with medication."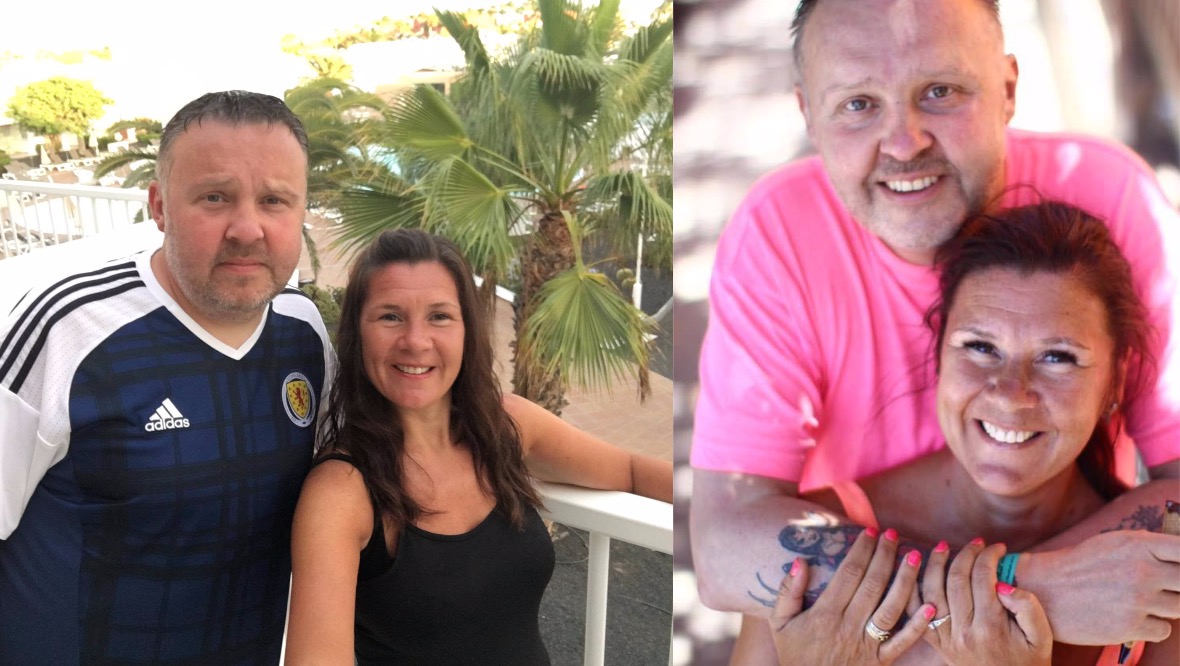 Unfortunately, Mr Cairns took ill while the couple were on holiday in Lanzarote in January.
He is now confined to bed on an intra-aortic balloon pump, which is keeping his heart pumping, since he was admitted to hospital in February with advanced heart failure.
Speaking about how hard the lockdown restrictions have been, Mrs Cairns said: "He can't get out of his bed at all. I can't see him now aside from FaceTime.
"It was hard on me, but it was ten times worse on him – not getting anybody in to visit. He did struggle, emotionally more than anything."
The Midlothian couple, who are Celtic fans, had previously discussed getting married at Celtic Park or Gretna Green.
However, they decided there was no better time than the present.
Mrs Cairns said: "We were talking about getting married this year. We'd been putting it off and putting it off.
"We've been together ten years, so we thought 'do you know what, let's do it'."
Golden Jubilee staff helped the couple organise the wedding in just a few days after they told them how much they wanted to get married.
I thought he said 'they've got us a harp'. And I said 'what are we having a harp for?'

Mrs Cairns when her husband-to-be told her a new heart was on its way
While on her way to the hospital for the wedding, Mr Cairns phoned his bride to tell her a new heart was on its way.
Mrs Cairns said: "I thought he said 'they've got us a harp'. And I said 'what are we having a harp for?'
"I actually couldn't believe him, couldn't believe what he was saying."
Unfortunately, the heart operation did not go ahead and Mr Cairns is back on the transplant list.
Mrs Cairns said: "It was sad – more so for him.
"I think he's just desperate to get the operation, get home and start a new life."
Humanist Les Gray officiated the wedding ceremony, whilst healthcare assistant Rod Escalante and nurse Kerry Campbell – who are part of Mr Cairns' care team – acted as the official witnesses.
Mrs Cairns said it was "emotional", adding: "I'm glad we did it. Not how we had planned, of course, but we'll do the real thing once he's had his operation and he's out.
"We'll do it properly with all our friends and family there to celebrate with us."
Father-of-three Mr Cairns added: "The day was just amazing.
"Due to the current situation everyone had to wear PPE, but we didn't care about that, we just wanted to be married.
"We couldn't have our families there either, but we had some tuning in on Zoom. It was quite emotional and surreal at the same time.
"I can't thank the staff and everyone else who helped us make this happen enough, it's just been amazing."
National Services ward manager Euan Darroch said it was a "privilege to be part of" the couple's big day.
He added: "All of our staff worked really hard to make it a reality and I'm really proud of them.
"It's been especially hard for our patients at this moment in time as visiting is only allowed in exceptional circumstances.
"We are constantly thinking of new ways to keep our patients' spirits up and helping them feel normal and connected to their families and loved ones as possible."
STV News is now on WhatsApp
Get all the latest news from around the country
Follow STV News
Follow STV News on WhatsApp
Scan the QR code on your mobile device for all the latest news from around the country