Dean Ramsay, a father of three children, can't remember the last time he enjoyed a normal family dinner.
"I miss sitting down with the kids and cooking a meal for everyone rather than just for them, because they are always asking me why I'm not eating," he says.
"I'll be eating the excess of what I've made them – a few chips and a few chicken nuggets in a wee bowl. I'll then go to bed because I've got nothing else to do."
Single dad Dean, a business owner, food bank volunteers and a carer spoke to STV's Scotland Tonight as they struggle with life at the sharp end of the cost-of-living crisis.
"It seems normal now if I am honest," says Dean. "I've gone to bed hungry or cold or absolutely drained because I don't know how we're going to cope the next day. I can only imagine that's what other families do as well."
Dean, from Denny, Falkirk, says his energy, food and fuel bills have doubled over the past few months.
"Next month is going to be shocking when I get my bill for my gas because I've had to have it on. I would rather just be cold myself, but because I've got the kids it's a necessity.
"It's draining trying to figure out what to feed your kids with what you've got. If it wasn't for the help of food banks, a lot of people would be really struggling with mental health."
Christmas was tough for Dean and his family, but it's the rest of winter that is really terrifying him.
"Everything seems to be going up in price and you're like, 'I haven't got that. I'm not buying that this week'. You know that's what the kids eat, but you're not buying it because you can't afford it. It's not in your budget."
'Working people use food banks'
Volunteers at the Kirkcaldy Food Bank didn't stop working for Christmas, with demand higher than ever.
The charity's chairman Ian Campbell has seen around 1,300 visits per months on average.
"The crucial bit for me is that we know about 40% of the people who come here have children in the house," he says.
Ian says that the cost-of-living crisis has pushed people over the poverty line. "There is a perception about people who come to the food bank, but it's the wrong perception.
"There are working people, young mums and dads and families.
"We didn't appreciate the demand, we didn't appreciate we would be here nine years later, but the safety net that existed not too long ago is a bit more porous."
The Kirkcaldy Food Bank has more than 140 volunteers who work across five different sites. They source, pack and distribute breakfast, lunch and dinner parcels, as well as essentials such as sanitary products and nappies.
"We buy the majority of the food ourselves," Ian says. "At the moment that's about £18,000 per month and a lot of that is self-funded. There is a deficit between what comes in and what goes out – our fear is that we might not be able to sustain it.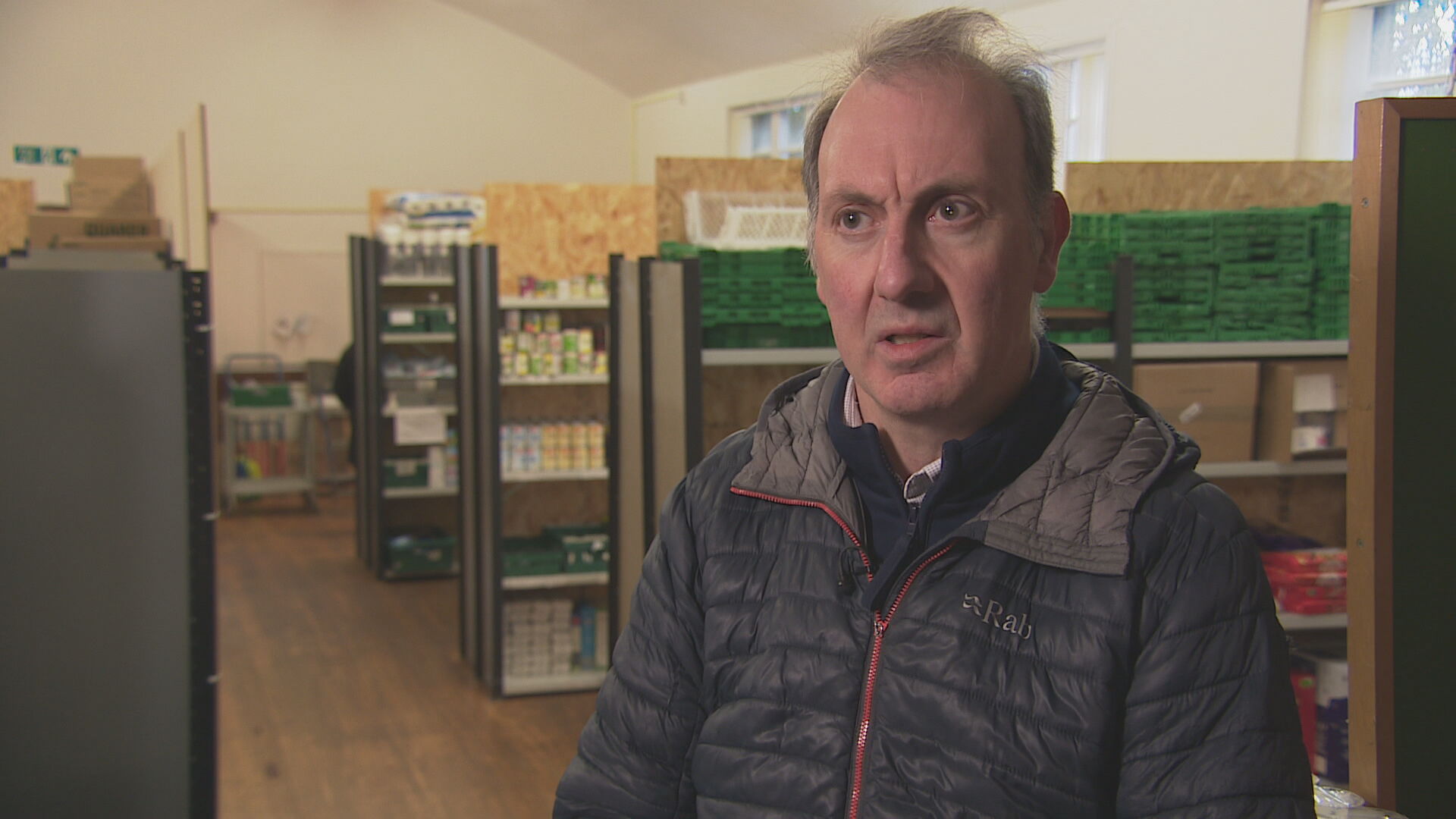 "Those that have the levers of power need to realise that if we are not going to be here, where are people going to go?"
Food bank regular Ken fears for the community if the food bank was to close.
"It would be really devastating because people get so much more help than just food," he says.
For those who run the food bank, doing so is a labour of love. "Everyone involved does it because they want to stand alongside the poorest and the most vulnerable, if only just to say that 'you are not forgotten about'."
But Ian admits food banks aren't the answer. "We need to be here long enough until those with the levels of power can put something in place that is compassionate, that is a safety net and that actually says quite strongly that 'this is how we treat people in our country'."
'Covid was less scary'
Sara Capaldi fears for the future of her coffee shop and bakery Partenope in Shawlands, Glasgow.
"We literally put every penny, blood sweat and tears into this business," she says. "It financially and emotionally drained us to even get opened but we managed.
"To be knocked out by high energy prices and cost of living is hard. There is always something – first it was Covd and we got through it, then there is this.
"We cannot battle this, we are watching this happen and there is nothing we can do about it.
"Covid was less scary – people were spending in coffee shops or takeaways and we had support from the government. If you didn't get your 100 customers a day, it was fine because you got support."
Every day, Partenope welcomes a steady flow of familiar faces. The customers are loyal, which is why Sara struggles to comprehend the thought of charging them more.
"Can we afford to not put our prices up? Can we afford to put our prices up? Are people still going to come?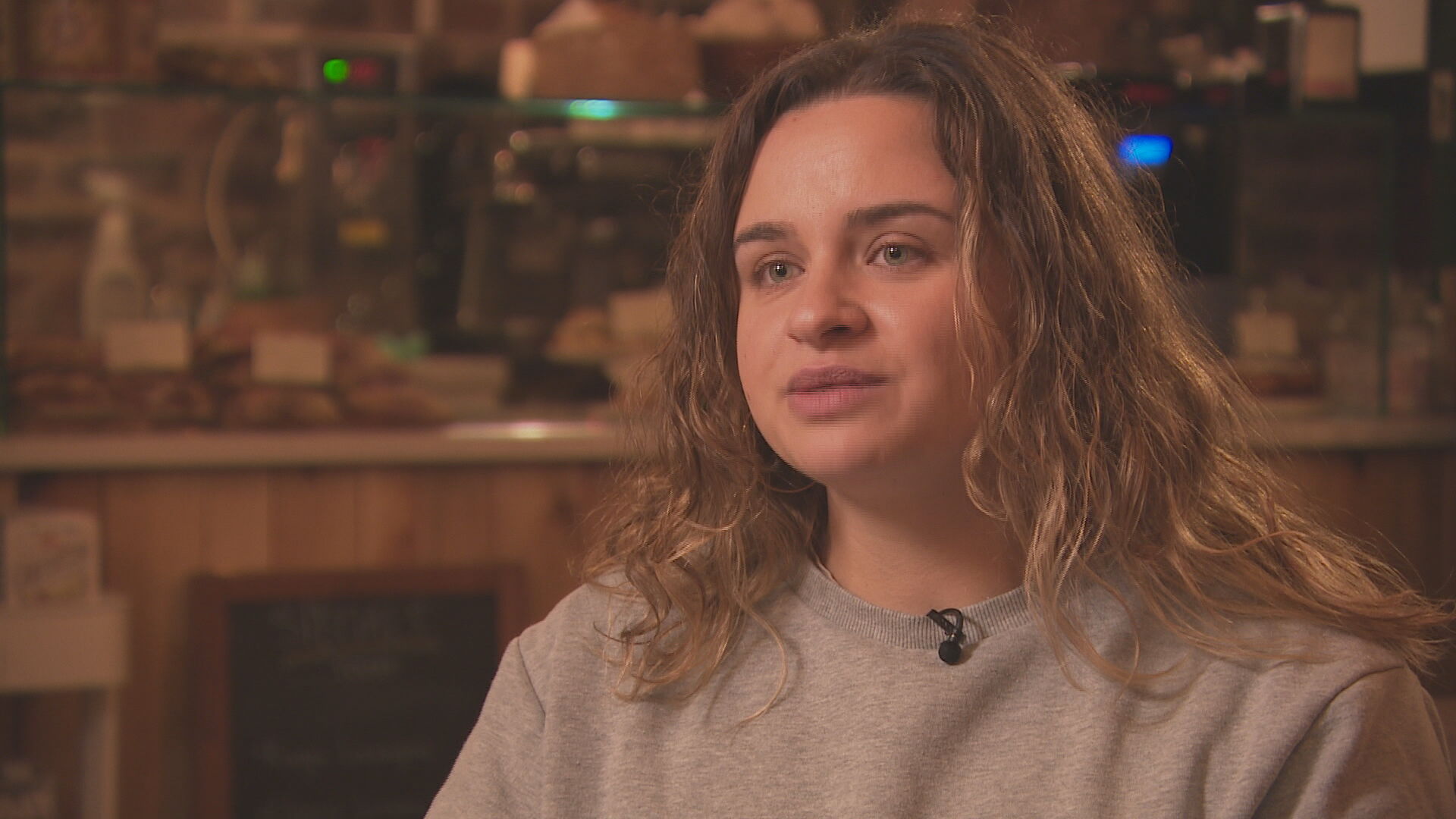 "We look back at fruit and veg receipts and it's almost double – our cash and carry [costs] are almost double – but our prices haven't changed, and we are not selling twice as much as last year.
"You can't pretend people are going to get a coffee and a sandwich when they are deciding 'should I eat or should I put the heating on, should I feed my children?'.
Sara, however, is determined she won't give up without a fight.
"I have never taken out a loan in my life," she says. "I've always saved up. Never had a credit card and now I feel like we've maxed out everything the bank gave us to buy this place. Financially, I need to make this work.
"It's not like I can just give it up and work somewhere else. That's not happening.
"I've got a responsibility for our staff and our customers. I just refuse to give it up."
'What will happen to me?'
Alan Collins, from Elderslie, Renfrewshire, has Duchenne muscular dystrophy, a genetic disorder characterised by the progressive loss of muscle.
He uses breathing machines, a mechanical mattress with specialist remote controls, a hoist and other equipment to improve his quality of life.
His carer Angela Gearing says the machines can't be turned off. "Alan uses a machine that blows air into his lungs. That's on 24/7. We have three that are constantly on. Two charging and one that's on all the time.
"Alan stays in bed the majority of the time, so you have the heating on, his telly is on, his laptop is on. With the cost of living going up, where do we go from here? It's a lot of money to have those things on all the time.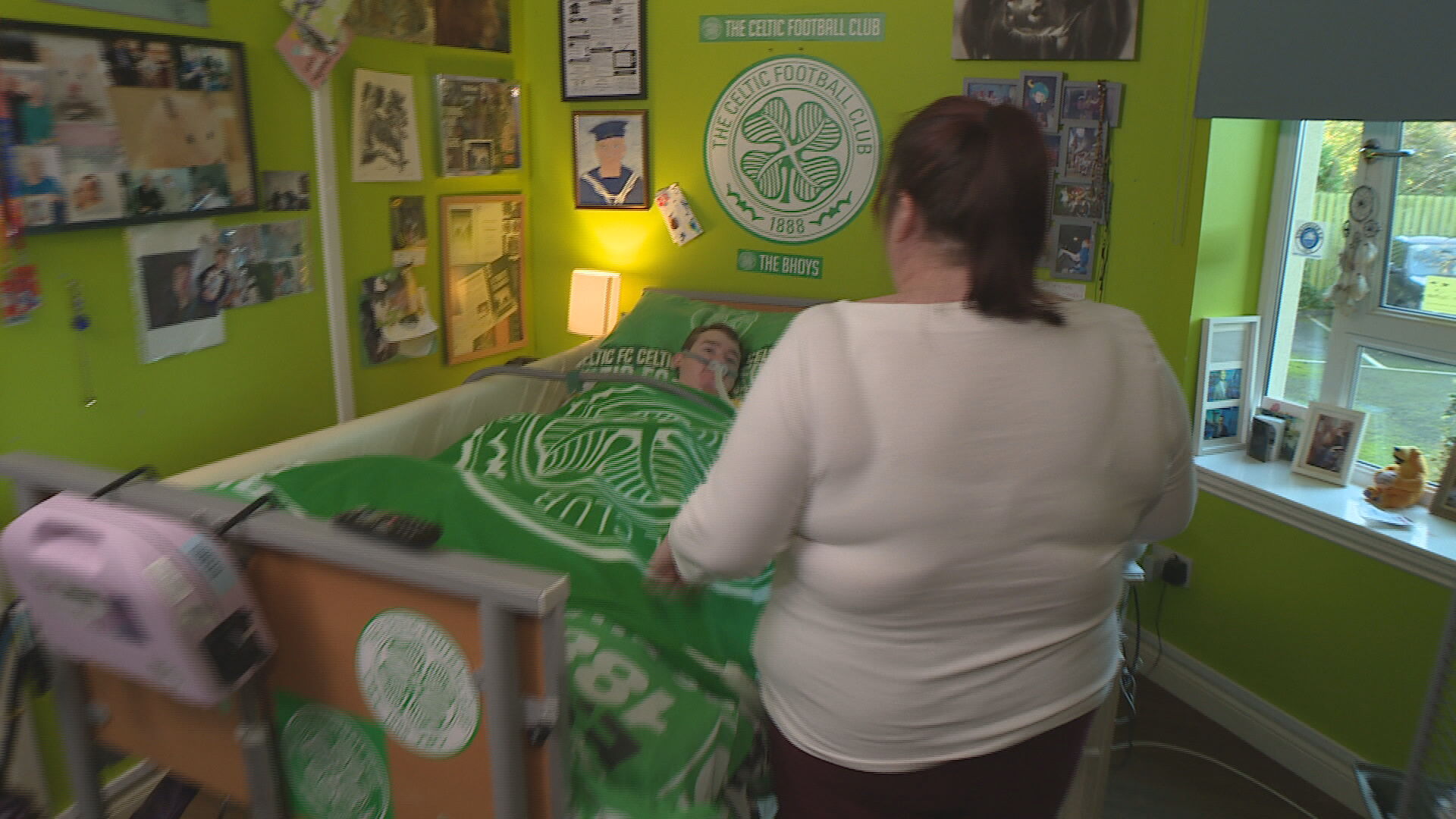 "He watches the news, so he's asking 'what is going to happen to me, am I going to be alright?'."
Research from the Glasgow Disability Alliance suggests that a disabled person already faces an average of more than £500 a month of extra costs – for one in five, that figure reaches £1,000.
"It's difficult, especially for older people," says Angela. "They are buying big, warm covers and bed socks, so they can eat rather than heat themselves."
Scotland Tonight is on STV and the STV Player at 8.30pm on Thursday, January 5.