Two more people diagnosed with coronavirus have died, the First Minister has confirmed, taking total patient deaths in Scotland to 16.
Nicola Sturgeon said as of 9am on Tuesday, 584 cases of Covid-19 have been confirmed in Scotland, a rise of 85 in the last 24 hours.
She stressed that this figure is highly likely to be an underestimate.
Addressing MSPs on Tuesday, the First Minister also sought to add more detail to stringent government advice that put the UK into an effective lockdown on Monday night, with emergency powers coming this week to allow police to enforce the new rules.
People are ordered to stay at home and are only allowed out to shop for essentials (which they should do infrequently), for one form of daily exercise, for medical reasons, to provide care or help a vulnerable person or to go to work if needed.
But Sturgeon provided more clarity for specific sectors, naming construction workers and telling them to cease building projects unless they are essential, such as building a hospital.
She called on all businesses to consider whether what they do is essential to society and if staff can work safely – if not, they should close, she said.
But she added jobs like gardeners or window cleaners, where they don't have contact with people, could continue if the jobs can be done safely, saying they can be good for the community.
The First Minister said Scotland is "now on lockdown".
Social events of more than two people are prohibited, she said, though children under 18 can continue to move between households if their parents are separated, but should take precautions.
Those who work in care or who have care responsibilities should continue to carry them out, the FM added.
She told MSPs: "People must stay at home. I know how hard this is for everybody but people should not be meeting friends or family members outside home.
"Life should not be feeling normal – if it is, you are not sticking to the rules."
In the UK, there has been a record daily rise in coronavirus-linked deaths of 87 – with 21 people dying across four hospitals in north London – taking total UK deaths to 422.
A total of 9968 Covid-19 tests have been carried out on people in Scotland, with 9384 returning negative results while 584 tested positive.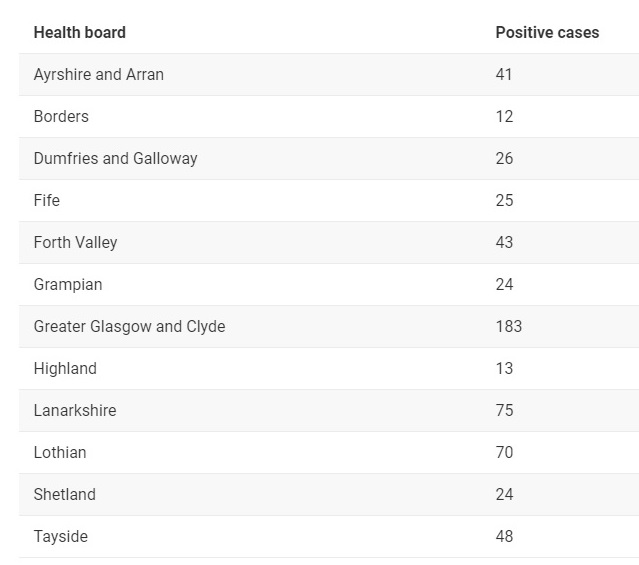 In Scotland, the most cases are in the Greater Glasgow and Clyde health board area, where 183 patients have coronavirus – a rise of 31 in the last 24 hours.
A total of 75 cases are confirmed in Lanarkshire, up 17, a total of 70 in the Lothian area, a rise of 11 and 48 in Tayside, up one.
Forth Valley is reporting three new patients, making 43 total cases, while there are 41 in Ayrshire and Arran – an increase of seven.
There are 26 cases now in Dumfries and Galloway, an increase of eight in a day, and 25 in Fife, up six, with Grampian and Shetland unchanged on 24.
NHS Highland is reporting one more case, up to 13, and NHS Borders says it is unchanged with 12 coronavirus patients.
The health boards on Orkney and on the Western Isles are still to report any confirmed Covid-19 cases.