Three more people have died after being diagnosed with Covid-19 in Scotland, taking total patient deaths to 25.
A total of 578 people who have tested positive for coronavirus in the United Kingdom have died as of 5pm on Wednesday, the Department of Health said.
The figure represents a jump of 113 in a day.
As of 9am on Thursday, there have been 11,658 confirmed positive cases across the UK.
First Minister Nicola Sturgeon earlier confirmed 894 cases of coronavirus in Scotland, also as of 9am on Thursday. This marked a rise of 175 in the last 24 hours.
It's the largest daily increase since the outbreak began, a rise of around a quarter (24%) since Wednesday.
As she has repeatedly, the First Minister stressed the figures are highly likely to be an underestimate.
Speaking alongside Sturgeon at the Scottish Government press briefing in Edinburgh, chief medical officer Dr Catherine Calderwood said she estimates the true number of people with coronavirus in Scotland is between 40,000 and 50,000.
She said: "Many of them do not yet know that they are infected, nor indeed do they realise that they are going to potentially infect those around them."
Dr Calderwood added: "I encourage people as the weekend comes… to not relax those roles, to not be tempted to see other families from other households."
She said the Scottish Government's new scientific advisory group will meet for the first time later, and among other tasks monitor other countries like China to understand the effects on cases of relaxing lockdown measures.
Scotland remains behind the rest of the UK on the infection curve, particularly London, Dr Calderwood added.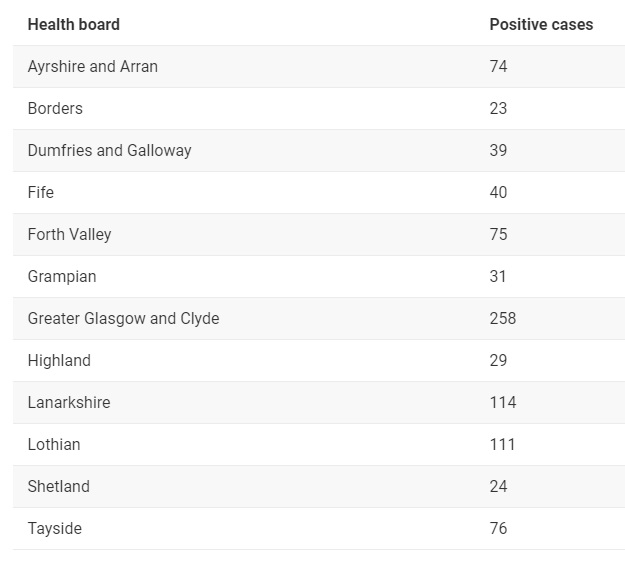 Of officially confirmed cases, the most are in the Greater Glasgow and Clyde health board area, with 258 patients – a rise of 37 in a day.
There are 114 cases in Lanarkshire, up 27, 111 in Lothian, up 23, 76 in Tayside, a rise of 19, 75 in Forth Valley, a rise of 16 and 74 in Ayrshire and Arran – a daily increase of 17.
Fife has 40 cases (up 11), Dumfries and Galloway has 39 (up eight), NHS Grampian has 31 (up two), NHS Highland is on 29 (up seven) and NHS Border has reported 23 so far, a rise of eight.
The number of cases on Shetland has stayed static for several days now on 24, while zero cases have been reported on Orkney or the Western Isles.
The First Minister also announced 1.5 million face masks are being brought back into use in the NHS from the general stockpile.
The masks had passed expiry dates of June and August 2019 but have gone through "extensive testing" which has shown them fit for use, she said.
Health secretary Jeane Freeman added that the Scottish Government is also paying "very close and detailed daily attention" to the overall stock of personal protective equipment for health and social staff.
She said the NHS aims to double intensive care capacity to 380, but with a quota set aside for non Covid-19 patients.
The health service is around 200 beds short of the target of 3000 non-ICU hospital beds for Covid-19 patients.
The new Sick Kids site in Edinburgh is still not safe for patients and is not an option for increasing NHS capacity, Freeman added.
The FM further revealed the Scottish Government hopes to have powers to enforce social distancing in place by today.
She said people who break rules could be subject to prohibition notices and could be liable for on-the-spot fines and prosecution, with details on the levels of fines to be published later.
Sturgeon said police officers "will continue to take a soft approach to enforcement" but they will have the powers to act, including the authority to order gatherings to disperse.
Sturgeon added that safeguards will be in place which will be reviewed every 21 days and the new legislation will last a maximum of six months.