The death toll from coronavirus in Scotland has risen by seven in the last 24 hours, taking total patient deaths to 40.
Confirmed Scottish cases of Covid-19 have increased by 186 in a day to 1245, the Scottish Government also confirmed.
A total of 13,133 tests on patients in Scotland have been concluded, with 11,888 people testing negative.
Cases in the Greater Glasgow and Clyde health board area have jumped by 77 since Friday to stand at 376.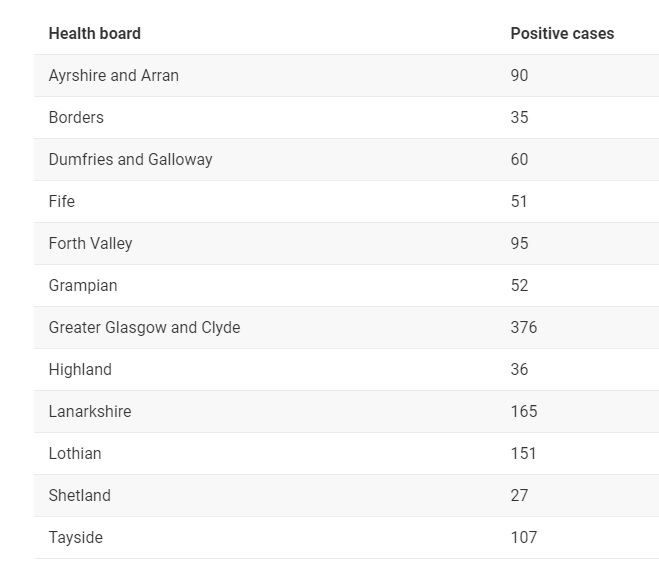 NHS Lanarkshire has reported a rise of 25 cases, up to 165, and NHS Lothian is up 12 cases to 151, while NHS Tayside is unchanged on 107.
Fourteen more cases have been found in Forth Valley, taking the health board's total to 95, and there are 15 more in Ayrshire and Arran, taking total patients to 90.
There are 60 cases in Dumfries and Galloway, up 13, 52 in the Grampian area, up seven, and 51 in Fife, up ten.
NHS Highland has 36, a rise of three since Friday, NHS Borders has 35, an increase of seven, and NHS Shetland has 27, a rise of three.
No cases have been reported by NHS Orkney or NHS Western Isles.
Meanwhile, the UK Government reported that as of 5pm on Friday, 1019 people diagnosed with the virus in the UK have died – up 260 in the last 24 hours, a rise of more than a third.
As of 9am on Saturday, there are 17,089 patients with coronavirus in the UK.
These figures are highly likely to be underestimates.
More to follow