Scotland's coronavirus epidemic continues to shrink in size, according to the latest official data.
First Minister Nicola Sturgeon confirmed the so-called R number – the virus' reproduction rate – remains between 0.6 and 0.8, the same as the previous week.
It comes as just five new cases of Covid-19 were reported in Scotland in the last 24 hours, the second day in a row of single-digit figures.
But two more Scots with coronavirus have died in the last day, the First Minister confirmed, which she said shows how dangerous the disease still is.
It takes the death toll including presumed Covid-19 deaths to 4129.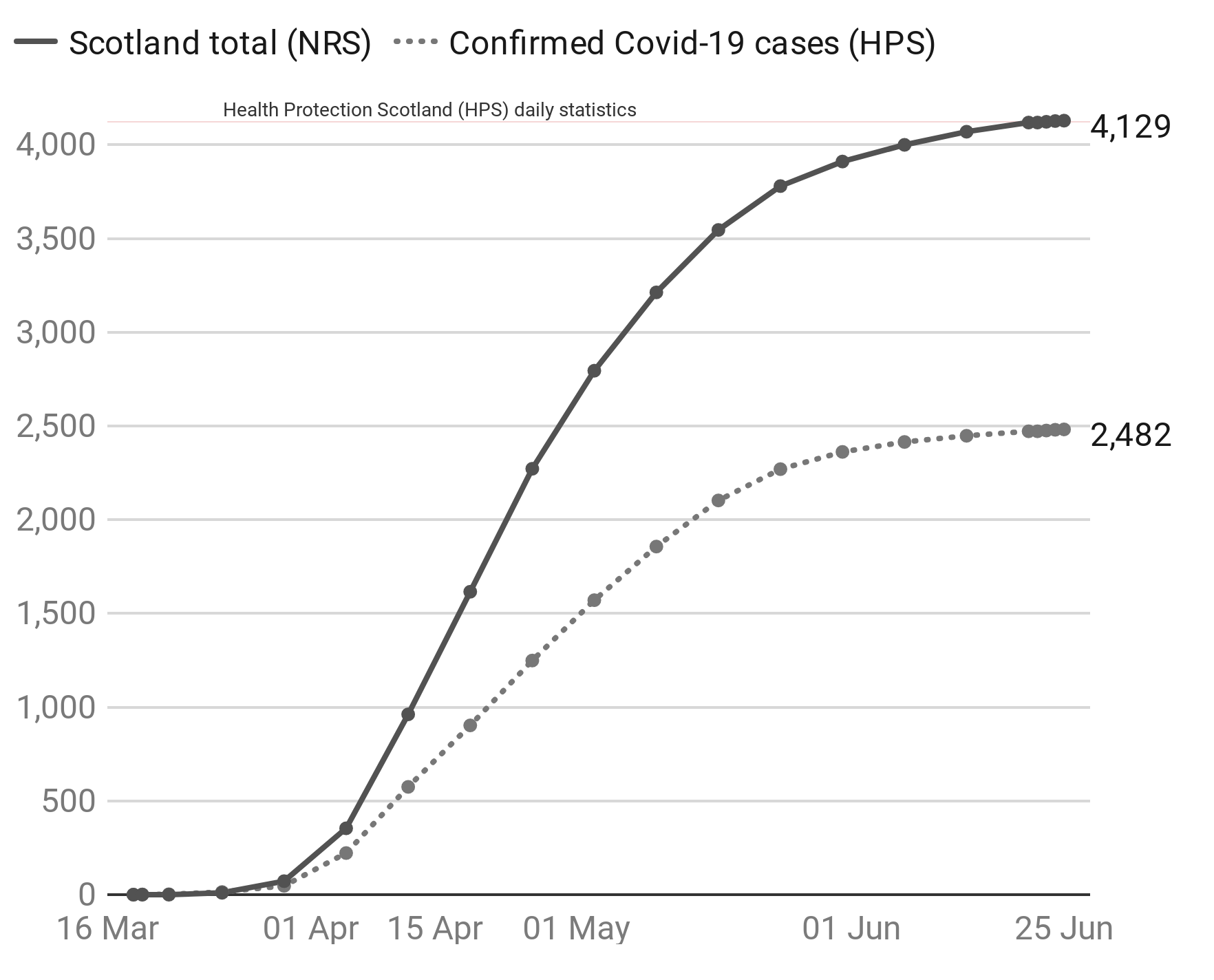 This R number refers to the number of people each Covid-infectious case is passing the virus onto in turn.
At the height of Covid-19's spread in the country, experts believe the R number could have been as high as between four and six.
That means every person with coronavirus was infecting at least four others, who would then infect four more each, quickly leading to exponential growth in the epidemic's size.
But if the R number is below one, as it has been in Scotland for most for the last two months, it means the outbreak is shrinking.
The number of people who are believed to be infectious with Covid-19 is thought to have fallen from 2900 to around 2000, Sturgeon told Thursday's daily coronavirus briefing.
She said: "This is the second day in a row the number of new cases has been in single figures.
"To put that into context the last time that happened was March 11.
"So that is a sign of how far we have come and the progress we have made."
The FM added: "All of these figures demonstrate again the progress we are all collectively together making in the fight against Covid."
She also revealed 826 people are in hospital with confirmed or suspected cases of the virus, 54 fewer than Wednesday.
Of those, 18 are being treated in intensive care, a drop of five.
A total of 4034 people admitted into hospital with Covid-19 since the pandemic began have been able to go home.
The First Minister cautioned people must remain vigilant to the threat posed by coronavirus even while lockdown continues to be eased.
She stressed the virus "is very, very, unlikely to simply go away of its own accord" – citing second waves of cases in some US states, in Melbourne, Australia, as well as parts of Europe.
Sturgeon added: "My main worry right now is we start to believe the virus has gone away, and that it no longer poses a risk and as a result we all drop our guard and simply go back to life exactly as it was before we were dealing with this epidemic.
"That would be a mistake and it would be a mistake that is very costly."