Six more people have now died in Scotland after being diagnosed with coronavirus, taking total patient deaths to 22, Nicola Sturgeon has said.
There are now 719 confirmed cases of the virus in Scotland – a rise of 135 in the last 24 hours.
It's the biggest daily rise in cases in Scotland since the outbreak began, an increase of around a quarter (23%) on the 584 patients reported on Tuesday.
The First Minister also confirmed 51 patients who either have Covid-19 or are showing symptoms are currently being treated in intensive care units in Scottish hospitals.
With the country in lockdown, the FM said she "remains concerned some workers have been put under unacceptable and unnecessary pressure" to continue working during the outbreak.
The government says you must stay at home unless you are a key worker who cannot work from home.
Speaking at a press briefing in Edinburgh, Sturgeon announced the Scottish Government and the Scottish Trades Union Congress have signed a joint agreement on fair work concerning the virus.
She said further guidance will be made available to employers, adding: "Fundamentally, most businesses should and will know whether they will be closed and we are relying on them to be responsible at this time of emergency and put the health of their workers first."
The First Minister said the Scottish Government is setting up a new scientific advisory group on the coronavirus to "supplement" UK scientific efforts.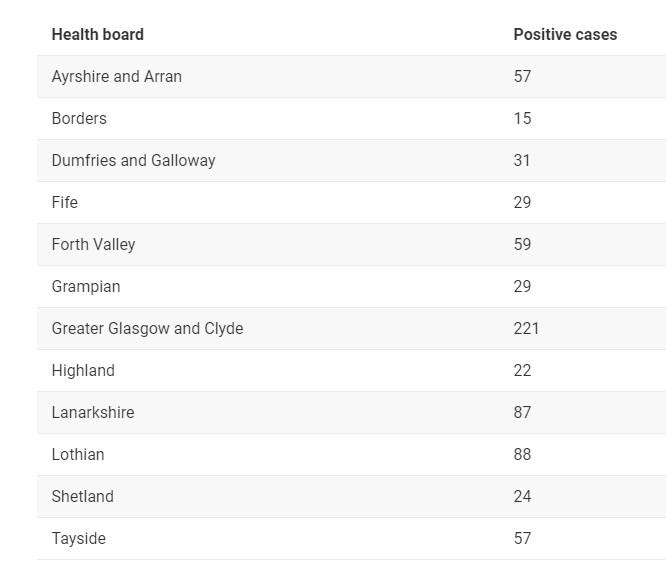 Cases reported by NHS Greater Glasgow and Clyde have risen by 38 to 221 on Wednesday, with 88 in Lothian (up 18) and 87 in Lanarkshire (up 12).
There are 59 cases in Forth Valley, a rise of 16, and 57 each reported by NHS Ayrshire and Arran (up 16) and NHS Tayside (up nine).
Dumfries and Galloway is reporting 31 Covid-19 patients, an increase of five, and there are 29 each in Fife and Grampian (rises of four and five respectively).
Shetland is unchanged on 24, while there are 22 cases being treated by NHS Highland (up nine), and three more by NHS Border, taking their total to 15.
No confirmed coronavirus cases have been reported on Orkney or the Western Isles.