Four more people have died after being diagnosed with coronavirus in Scotland, taking total deaths to 14, with 499 confirmed cases.
Nicola Sturgeon confirmed the latest figures as she told non-essential shops to close and urged people to heed official advice on social distancing.
Confirmed Scottish cases of Covid-19 have jumped by 83 – around a fifth – from the 416 recorded on Sunday.
Speaking at a briefing at the Scottish Government's headquarters on Monday, the First Minister repeated once more that the figures for total confirmed cases is "almost certainly" an underestimate.
She also repeated her message at the weekend to the public that if they are living their lives as normal, they should look again at their behaviour and if they are following government guidelines.
Sturgeon said: "We are not asking it lightly, we are not asking people to do things that we don't consider to be absolutely necessary."
She said the measures are "about saving lives", adding if they are not followed "our national health service becomes overwhelmed people will die needlessly".
The First Minister further asked businesses which are not providing an essential service and where employees can't work from home or practice social distancing to now close.
This includes "non-essential" shops – those which aren't selling vital supplies like food and medicine.
Sturgeon said: "My message to shops that are still open is this and it is clear – if you are not providing essential items like food and medicines then please also close now."
The First Minister said that building sites and hair salons should also close.
She said: "It has been clear to me that there are still too many people across our country who are being expected to, or expecting to, go to work as normal and this presents a serious and unnecessary risk of spreading the virus.
"I want to reiterate that if you run a business and if the nature of your business makes it difficult for you or your workers to work from home or to practice safe social distancing then you should close."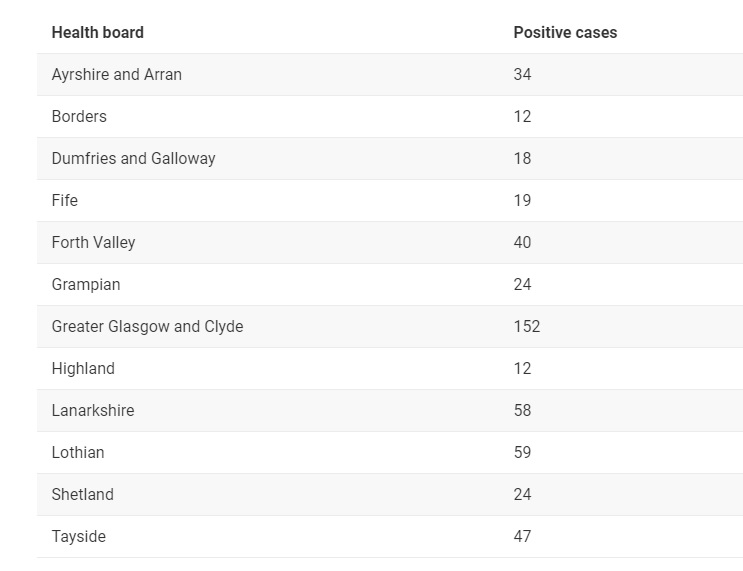 Chief medical officer for Scotland Dr Catherine Calderwood also spoke at the briefing.
She said: "Those 14 deaths probably each represent up to 1,000 people that have become infected.
"We have 23 people currently in our intensive care units across Scotland who have coronavirus and each of them represents perhaps 400 to 500 other people that will have become infected in the course of their illness."
The official figures show the Greater Glasgow and Clyde health board area has the largest number of patients diagnosed with the disease, with 152 people in the area being confirmed as having it.
According to the statistics there are 59 cases in Lothian, 58 in Lanarkshire, 47 in Tayside and 40 in Forth Valley.
Meanwhile, 34 people have tested positive in the NHS Ayrshire and Arran region, with 24 cases each in the NHS Shetland and NHS Grampian areas.
Fife has 19 cases, Dumfries and Galloway has 18, and there are 12 each in the Border and Highland regions.
The Orkney and Western Isles are still to report a single confirmed Covid-19 case.