The number of confirmed coronavirus cases in Scotland has risen to 322, Nicola Sturgeon has confirmed, as she made a plea to young people to cancel weekend plans and stay at home.
The figures as of 9am on Friday are an increase of 56 – more than a fifth – in the past 24 hours.
But the First Minister said the number of Covid-19 patients who have died remained unchanged, at six.
The latest figures show a spike of 20 new confirmed coronavirus cases in the Greater Glasgow and Clyde health board area in the last 24 hours, up to a total of 91.
Giving a briefing at Scottish Government headquarters in Edinburgh, Sturgeon asked younger people who might be thinking of ignoring the government's so-called "social distancing" advice to help tackle the coronavirus outbreak to think again.
The First Minister stressed there is no guarantee younger people will only get mild symptoms if they catch the virus.
She added that even if they do only get a mild dose, they risk passing the disease onto others who may be in vulnerable groups like the over-70s, those with underlying health conditions or pregnant women.
Addressing younger people, the FM said the social distancing guidance is not "merely optional".
She said: "I know that there will be some of you who want to head out to the pub for a final night out.
"My guidance is crystal clear – please do not do this.
"You must not consider this vital health advice to be merely optional.
"It is vital for the protection of all of us and it is vital to help us save lives.
"Doing everything we can to slow down the spread of this virus now means we will save lives and we will protect our NHS.
"We cannot just carry on as normal, life right now is not normal."
Official advice is not to go to restaurants, pubs, cafes or any other kind of social, leisure or entertainment venue.
It comes on the same day as Scottish schools and nurseries close for the foreseeable future in a bid to tackle Covid-19's spread.
Speaking on Friday afternoon, Sturgeon also urged shoppers not to panic buy, telling Scots: "There is no need to do that.
"If everyone remains sensible in their shopping then there is more than enough to go round."
The FM "unreservedly condemned" the conduct of a Highlands hotel which sacked and evicted all its staff on Thursday, and called on employers to "treat your workers fairly".
She announced further guidance would shortly be issued to pregnant women, and also said the the Scottish Government's Partnership Action for Continuing Employment (PACE) to help those made redundant will be expanded in the coming days.
Appearing alongside the First Minister, Scotland's chief medical officer Catherine Calderwood repeated that there is "evidence of sustained community transmission across Scotland".
Issuing a warning about the effects of contracting Covid-19, she added: "Even in young people, they can become significantly unwell."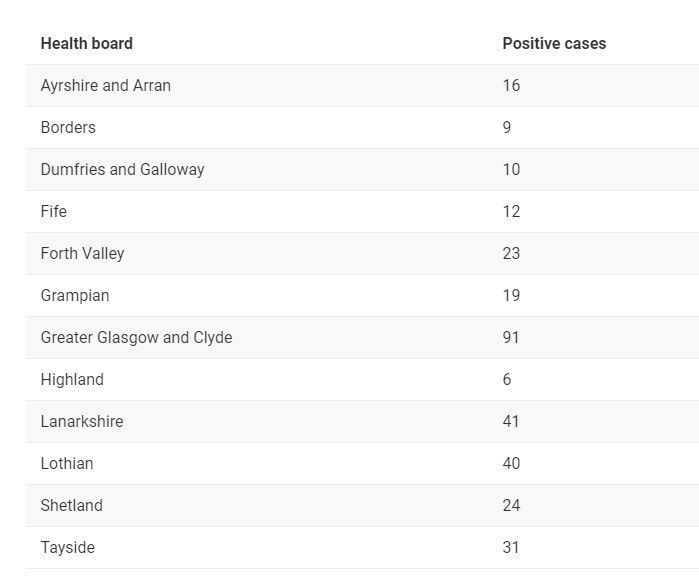 The Scottish Government's most recent statistics, published on Friday, show a rise in confirmed Covid-19 cases in every health board area bar Highland, still on six, Shetland, on 24, and Orkney and the Western Isles, where no cases have yet been reported.
But the First Minister has repeatedly stressed the official figures are highly likely to be underestimates as government policy is no longer to test every suspected case.
Instead, anyone presenting even mild symptoms of a new, continuous cough or a high temperature are asked to stay at home for seven days and only consult a GP if the symptoms have not gone in a week or if their condition deteriorates.
In addition, anyone living in a household where one person living there develops symptoms is asked to stay at home for two weeks.
Lanarkshire has leapfrogged the Lothian area to become the place with the second-highest number of confirmed cases in Scotland, up eight to 41, while there are 40 patients in Lothian, a rise of five.
Tayside now has 31 coronavirus patients, up four, with 23 in Forth Valley (up six) and 19 in the Grampian region (up one).
Four new cases have been confirmed by NHS Ayrshire and Arran, taking the health board's total to 16, while there are three more in Fife, on 12, and an increase of four in Dumfries and Galloway to ten.
One more case has been reported in the Borders, meaning nine overall.
A total of 7550 tests have been conducted on Scots across the country, with 7228 of those coming back negative.