The number of confirmed cases of coronavirus in Scotland has taken another jump, rising from 121 to 153.
A total of 4240 Covid- 19 tests have been carried out, with 4087 results returning as negative.
There has been one death related to the virus in the country, an older patient with underlying health conditions in the Lothian health board area.
NHS Greater Glasgow and Clyde is the health board with the highest number of confirmed cases, with 39 recorded.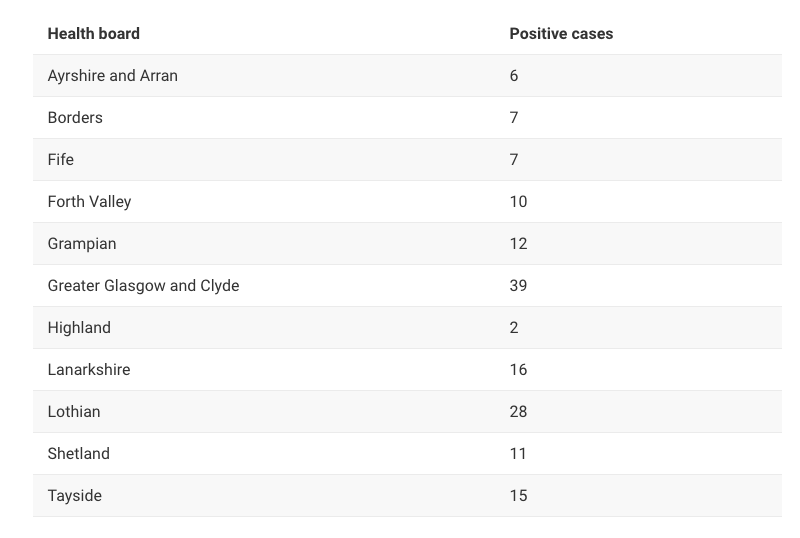 The latest increase comes as First Minister Nicola Sturgeons spoke on Sunday regarding guidance, announced earlier this week, which advised against gatherings of 500 more taking place.
As the Scottish Government looks to protect the resilience of emergency services during the delay phase, it is now asking organisers of all large events – indoors or outdoors – to cancel or postpone.
Sturgeon said: "At a time when there is severe pressure on our fantastic emergency and public services as a result of the virus, it is only right that we seek to remove unnecessary burdens on frontline workers.
"By advising organisers not to hold large gatherings of 500 people or more in Scotland we are enabling services to prioritise their resources to where they are needed most.
"This is just one of the ways that life will change in the coming weeks and months and while this will cause some disruption it will help us all to prepare for the virus and to protect ourselves and each other in the long run.

"As the amount of work required to fight Covid-19 increases over the next few days and weeks it is vital that people continue to follow the health advice such as hand washing and staying at home if you have any mild symptoms."