More than 1400 deaths involving Covid-19 to date in Scotland have occurred in care homes – 45% of the total.
A total of 1438 of coronavirus-related deaths were in care homes, compared to 1537 (48%) in hospitals and 238 (7%) in home or other settings.
The proportion of fatalities in care homes has been steadily rising week-on-week from 25% in mid-April.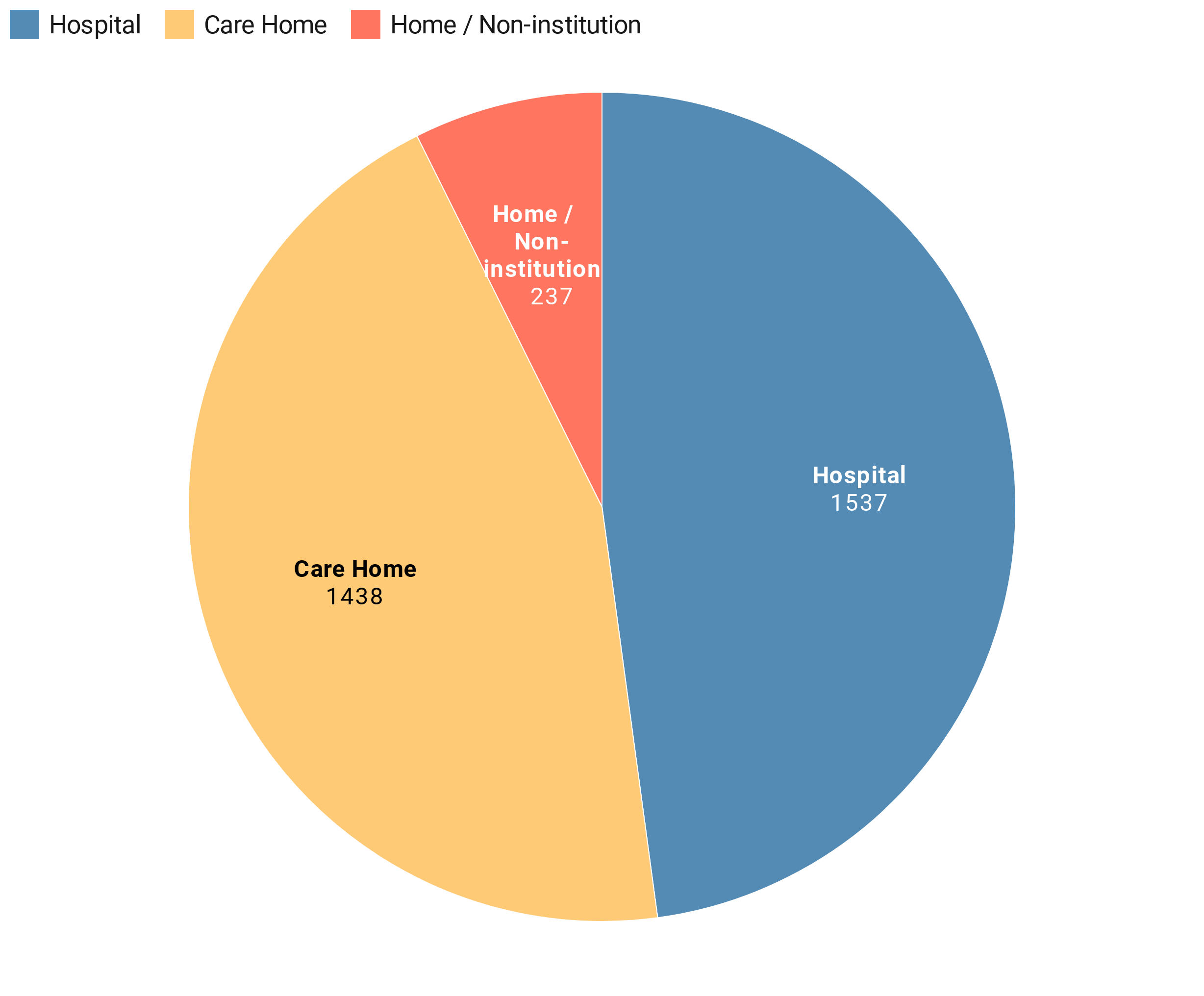 However, in the week from May 4 to May 10, the number of Covid-19 deaths in care homes fell by 76, down from 314 the week before to 238.
As a proportion of coronavirus deaths in the week ending May 10, it fell from 60% to 57%.
It comes as weekly deaths related to the virus across all settings fell by 110 to 415 – bringing Scotland's total death toll, including confirmed deaths this week, to more than 3300.
The total number of all deaths registered in Scotland that week was 1434, up 39% from the five-year average for that week of 1034.
Of these 400 excess deaths, 96% (383) had Covid-19 as the underlying cause, 7% (26) came from an increase in dementia and Alzheimer's deaths and 4% (17) were due to an increase in deaths from other causes.
At First Minister's Questions on Wednesday, Nicola Sturgeon was challenged on the Covid-19 testing regime in care homes.
Raising a "harrowing" Channel 4 report about Highgate care home in Uddingston, where 22 residents died, Scottish Conservative leader Jackson Carlaw quoted carers there saying the majority of them had not been tested.
He branded that an "outrage", telling the First Minister: "One carer at the home, Andy Sturgeon, said he has still not been tested. He fears he and his colleagues may be bringing the disease into the home."
Carlaw said the government's policy of conducting an "advanced outbreak investigation" in any care homes where there are cases did not happen at Highgate.
He also pointed to figures showing Scotland is lagging far behind other parts of the UK in using testing capacity.
Sturgeon said: "Testing in care homes has been driven by clinical advice, in recent weeks of course we have increased testing in care homes."
The First Minister reiterated that where there is an outbreak, all care home residents and staff should be tested whether or not they are symptomatic.
She said if that is not happening, "we will investigate".
Sturgeon said there is enhanced surveillance in care homes where there are suspected cases and surveillance across all care homes.
She also highlighted research by the London School of Economics which she said "suggested in England and Wales the real care home death toll is double what the official figures are showing".
Sturgeon said: "I am confident that the figures we are publishing in Scotland are accurate, and I'm not sure that is the case elsewhere in the UK right now.
"I'm not even speaking as First Minister here, I'm speaking as a human being, I deeply regret every single death from this virus.
"There is probably not an hour goes by right now where I don't question myself, I don't agonise over the decisions we are taking, to make sure we are learning as we go and we are getting these decisions as right as possible."
The Scottish Conservative leader said: "Fixing testing must become this government's overriding focus and it is clear it hasn't been."
Carlaw said mistakes were made on testing at the start of the outbreak and they have resulted in the high numbers of excess deaths seen in Scotland.
He asked: "When it comes to care homes, do you agree that by any standards this is a failure?"
Sturgeon replied that she did not, adding that every country dealing with the pandemic had felt the impact especially acutely in its care homes and among its elderly population.
She insisted Scotland has "dramatically increased" its coronavirus testing capacity.