A second patient in Scotland diagnosed with coronavirus has died, the Scottish Government has confirmed.
The patient was based in the Greater Glasgow and Clyde health board area, was elderly and had underlying health conditions.
The number of confirmed Covid-19 cases in Scotland has risen to 195 from 171, a rise of 24 in the last day.
A total of 5246 tests have been carried out on Scots since the coronavirus outbreak began, with 5051 testing negative.
Officials have stressed that the daily confirmed figures are likely to underestimate the true extent of Covid-19 in Scotland due to a change in the approach to testing.
Across the UK, the total number of cases has risen by more than a quarter in the past 24 hours – up 407 to 1950. There have been 71 deaths, a rise of 15 since Monday.
The UK Government's chief scientific adviser told MPs on Tuesday he believes the true number of Covid-19 patients across Britain could be as high as 55,000.
Scotland's chief medical officer Catherine Calderwood said: "I am very saddened to report that an elderly patient with underlying health conditions, who has tested positive for coronavirus, has died.
"They were being treated by the NHS Greater Glasgow and Clyde health board.
"I offer my deepest condolences to their friends and family at this difficult time.
"No further information will be available to protect patient confidentiality."
Total confirmed cases by health board area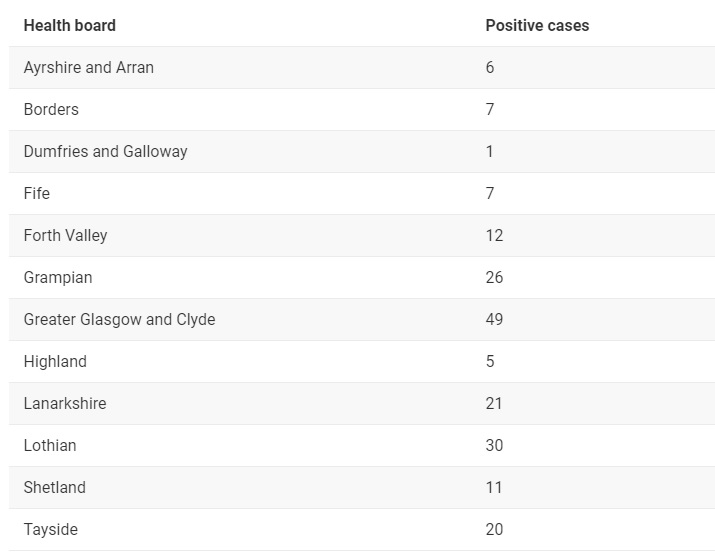 The most cases in the country can be found in the Greater Glasgow and Clyde area, where 49 people have the illness – a rise of five from the day before.
The largest daily increase is in the Grampian region, where cases soared by more than double in a 24-hour period, to 26 from 12.
In the Lothian area, where the first coronavirus patient in Scotland died, there are 30 cases, up one, while there are 201in Lanarkshire, also an increase of one
Tayside has 20 cases (up three), Forth Valley has 12 cases (up two) and there are five Covid-19 patients in the Highlands (up three).
However, in Shetland and Ayrshire and Arran respectively there have been drops in the number of cases, with the number of patients falling by four in Shetland to 11, while there is one fewer case in Ayrshire and Arran, now on six.
There has been no increase in cases in Fife or the Borders, on seven apiece, or in Dumfries and Galloway, still on one.