It is four months since the invasion of Ukraine by Vladimir Putin's Russian forces.
The war in Eastern Europe has led to a humanitarian crisis.
According to the United Nations, at least 12 million people have left their home since the war began.
More than 5.2 million refugees from Ukraine have been recorded across Europe.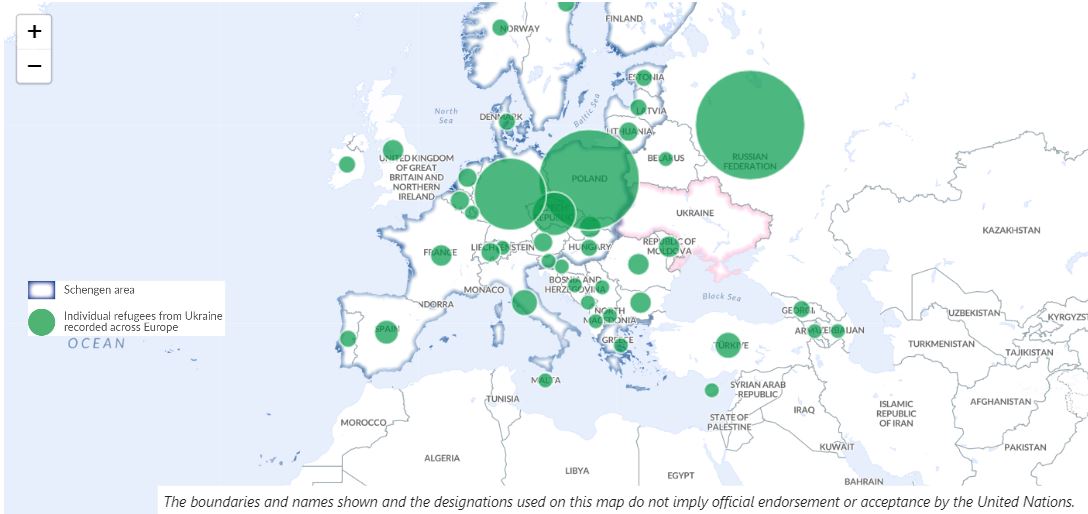 However, the UN has also recorded around 2.8 million border crossings into Ukraine since February 28.
Meanwhile, some – faced with waiting on a visa to travel to the UK – have decided to remain in the country.
It is despite the Homes for Ukraine scheme established in the UK as a response to the crisis.
The scheme saw over 150,000 people sign up to host Ukrainian refugees in their homes within a month of the invasion.
But, as the crisis dominates less media coverage and the realities of acting as a host become apparent, some who volunteered are now acknowledging that they may not practically be able to do so, despite their best intentions.
There are also concerns over safeguards in place around the scheme, with instances of single men offering rooms to women seeking to flee Ukraine.
Positive Action in Housing is an independent, anti-racist homelessness and human rights charity dedicated to helping support refugees and migrants rebuild their lives.
Since 2002, the charity has pioneered a the Room for Refugees Network, the longest-running established refugee hosting programme in the UK.
It has helped connect refugees and asylum seekers to those with a spare room in their home.
Robina Qureshi is the chief executive officer of Positive Action in Housing.
In an interview with STV News, she said that safety concerns around the UK's Homes for Ukraine scheme were flagged up from the outset.
She spoke of the human cost of the war in Ukraine and the devastation caused by Russia's invasion.
"We've had some families who are in Ukraine saying we've decided just to go back into the warzone because, 'we're waiting for a visa and we've just decided to stay here and hope that we don't get bombed'," she said.
"And that's quite tragic and heart-breaking.
"And then we've had situations where people haven't responded to us and later got back in touch and said that a member of their family has been killed.
"We had a lady whose baby was killed, and she was supposed to be coming over and we were supposed to be matching her.
"She didn't want to leave the remains of her child, I think 15-month-olds, in Ukraine and she just didn't want to leave.
"And yet she was in a warzone and didn't want to leave Ukraine, which is quite tragic."
Ms Qureshi explained that the Homes for Ukraine scheme is not the same as standard methods of letting out a flat or a home.
She insisted that safeguarding checks must be in place.
The UK Government has said that there are "stringent safeguarding measures" in place for the scheme.
"We'd outlined early on that whole model of the Homes for Ukraine was flawed because it involved sponsors and refugees finding each other," Ms Qureshi told STV News.
"And our concern from the outset was the safety of first of all, the fact that the scheme was being sets up without any understanding of what the hosting process involves.
"This is not like renting a flat or a room."
Ms Qureshi continued: "You have to be very, very clued-up and careful to ensure that safeguarding checks are in place.
"But not just safeguarding because that involves vulnerable adults and children.
"You're also talking about the safety of women who have perhaps been offered a room by a single man. There's questions whether that's appropriate.
"The hosting programme that we run, in very rare cases would we place a woman with a man.
"We would possibly consider age gaps, for example. We've had very successful arrangements with elderly couples, let's say an older woman and a younger male.
"In fact, it's almost like a familial arrangement, like a grandson or a son arrangement.
"But these things are all worked out beforehand so that everyone's comfortable with the idea of it.
"So we are always very conscious of how the arrangement would work and whether it would be appropriate."
The human rights campaigner said that whilst people were celebrating the scheme, concerns were being raised.
The low level of refugees taken in by the UK among developed countries was also highlighted by the human rights campaigner.
She outlined safeguarding concerns that were seen following the launch of Homes for Ukraine.
"Here we had a situation where there was literally a free for all," she explained.
"We saw adverts of young women advertise themselves to be placed via Homes for Ukraine.
"Which is not just unsafe, but lacks dignity. You should not be assessed based on how you look in order to be accomodated.
"So, all of these concerns were flagged up very early on at a time when people were celebrating hosting as if it's a new idea.
"It isn't a new idea. This country takes the least amount of refugees of almost all developed countries and the vast majority of refugees are hosted within the regions of conflict.
"They are not hosted, the majority, within Europe."
Ms Qureshi suggested that there were some who had signed up to act as hosts having been swept up in media coverage at the time.
"I think it's a very bad idea to offer to host somebody or to sponsor someone when there's a lot of noise about it in the media," she said.
"People get carried along on a bandwagon, sincerely or otherwise. You get a lot of, what's that new word they use, virtue signalling – 'I'm taking in a Ukrainian refugee'.
"As if this person's an object, that they don't have feelings, that they haven't heartbreak about leaving.
"There's all this so-called celebration about something that is actually very tragic, the fact that somebody has to leave their home, their country.
"That they don't know what's going to happen next, they're actually in a very traumatic situation."
Volunteering in different ways, Ms Qureshi said, for those unable to host is equally valid.
She said: "We have seen since the media interest has died down, people saying, 'I'm no longer interested in doing this, this was a bad idea'.
"Or people saying, 'I was really desperate to do this, but I've just realised I only have one bedroom and I really wanted to help and I feel terrible'.
"And we've had to respond, I'm talking about thousands of emails coming through saying different things.
"And we saw a significant emerging trend of people saying that they realised they really can't do this.
"Well, we always say if you haven't got the room in your home or you know, you just don't have the space, please don't offer to host because there are plenty of households that we have access to who have got the resources, who have got the room.
"And therefore maybe you could volunteer in a different way, which is equally valid, which is just as impactful as offering to take somebody into your home."
Lauren Agnew, human trafficking policy expert at CARE (Christian Action, Research and Education) also outlined concerns around the safety of the scheme.
She told STV News: "The scheme as a whole is really well-intentioned and it's been really encouraging to see the generosity of people in the UK who want to help refugees.
"But there are a number of concerns around the scheme that we have been raising awareness about in the media and to the Government from the start of the Ukraine crisis.
"And one of those is around safeguarding. Initially, we had been very concerned that there was only going to be a light-touch approach to vetting potential hosts.
"The UK Government have since said that they'll be applying DBS (Disclosure and Barring Service) checks, but we welcome the approach of the Scottish Government who will be applying enhanced DBS checks, not just where children are involved, which is the case elsewhere in the UK.
Ms Agnew warned that human traffickers are "extremely opportunistic" and could be using sites where hosts are seeking to match with those leaving Ukraine.
"We're also concerned about the reports of men propositioning young women online," she said.
"Estimates suggest that 30% of would-be sponsors are males over 40 and given that the majority of those fleeing are women and children, and women are primarily trafficked for the purposes of sexual exploitation, that's a real cause for concern."
She continued: "A further thing that we're concerned about is the rise of unregulated and unofficial social media sites, which are being used to try and match hosts with people that they can sponsor.
"And it's really quite problematic because it's very possible that human traffickers will be using these forums as an opportunity to shop online for their next victim.
"They are extremely opportunistic and they could very easily masquerade on these sites and pose as genuine individuals wanting to help."
CARE has called for follow-up checks to ensure that those coming to the UK have the support they need.
She said: "Setting people up in homes is not the end of the story and we can't afford for these individuals to fall off the radar.
"And that's why at CARE we're calling for adequate follow-up checks to be put in place by the local authorities to make sure that people are provided with the support that they need.
"And we're calling for these local authorities to be trained in knowing the signs of exploitation because at the end of the day, the UK Government in welcoming these refugees have a duty of responsibility to ensure that these places of safety do not become sites of exploitation."
Michael Gove, the UK's levelling up secretary, previously said that anyone acting as a sponsor would face light-touch vetting checks initially.
They would then be visited by officials from local government, who he said are "experts" in safeguarding.
A UK Government spokesperson said: "It is a tragedy that children have been caught up in Putin's war.
"More than 82,000 Ukrainians have arrived in the UK on our uncapped visa schemes for Ukraine and the overwhelming majority of people are settling in well.
"There are stringent safeguarding measures in place for the Homes for Ukraine scheme and in the minority of cases where sponsor relationships break down, councils have access to a re-matching service."
The Scottish Government's minister with special responsibility for refugees from Ukraine, Neil Gray, said that in Scotland, Ukrainians are greeted at welcome hubs.
Their needs are assessed at the hubs, Gray indicated, with meals, emotional support and medical attention, if required, being provided.
"We remain concerned about the safeguarding risks involved in the UK Government's Homes for Ukraine scheme which relies on matching being made in advance of travel, including over social media," he said.
"Our 'Super Sponsor' scheme removes the need for people fleeing the illegal war in Ukraine to find a host before they travel, meaning they can receive sanctuary and safety in Scotland quickly.
"On arrival here, Ukrainians are greeted at our Welcome Hubs, where we assess their needs and provide meals, emotional support and medical attention if required.
"People are then given temporary accommodation while we undertake a matching process that ensures safe and suitable longer-term accommodation where safeguarding and property suitability checks have been carried out in advance."
Gray stated the Scottish Government's case for visa requirements to be waived for those from Ukraine.
"These tragic stories serve to underline once again why the Scottish Government has and will continue to call for the UK Government to waive the requirement for visas for those travelling from Ukraine," he said.
"We know visa delays and the visa process has had tragic consequences.
"Additionally, Ireland, which has no visa requirement like other European nations, and is a similar size to Scotland, has welcomed ten times the number of Ukrainians as we have."