A cold snap is expected to hit the north of Scotland this week.
A yellow weather alert for ice has been put in place across parts of the Highlands and north-east of the country from 3pm on Monday until 9am on Wednesday.
Snow is then expected from 12am on Tuesday through to Wednesday morning, including in parts of Perth and Kinross.
A yellow warning for wind has also been issued for the Grampian, Highlands, Orkney and Shetland areas throughout Tuesday, starting at 10am.
The Met Office said the freezing temperatures could lead to difficult driving conditions and delayed journeys.
Those heading out on foot are being warned to beware of untreated roads, pavements and cycle paths.
The high gusts could also lead to power cuts and coastal flooding caused by large waves.
Monday warning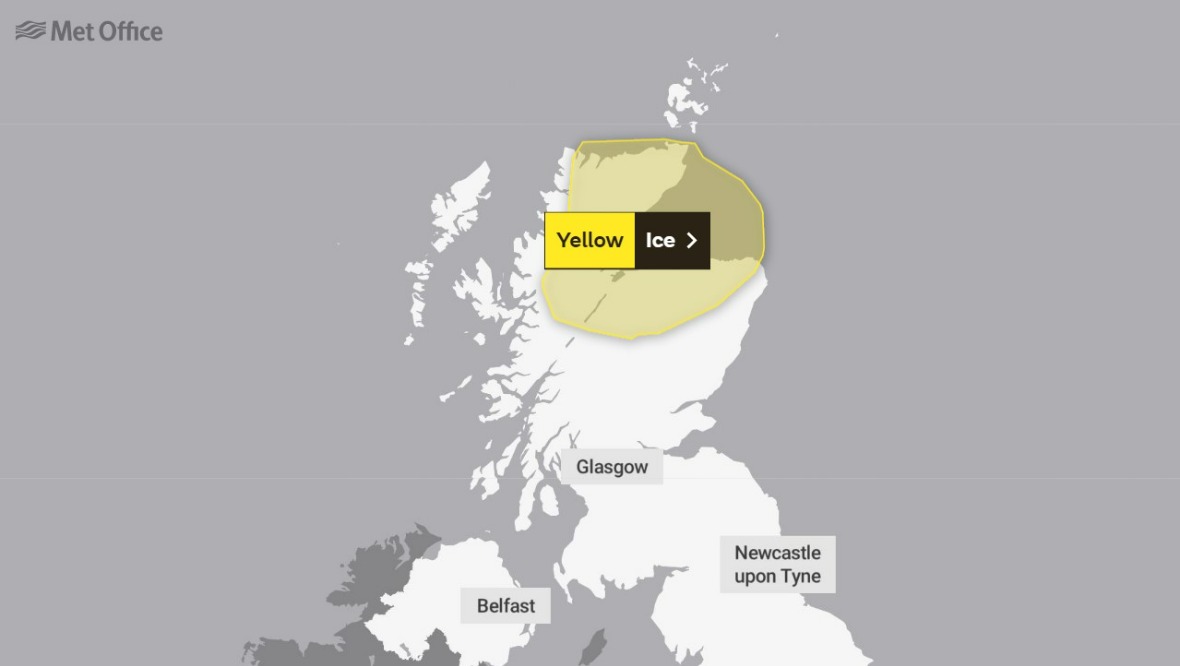 Ice warning: From 3pm until 11.59pm on Monday.
Tuesday warning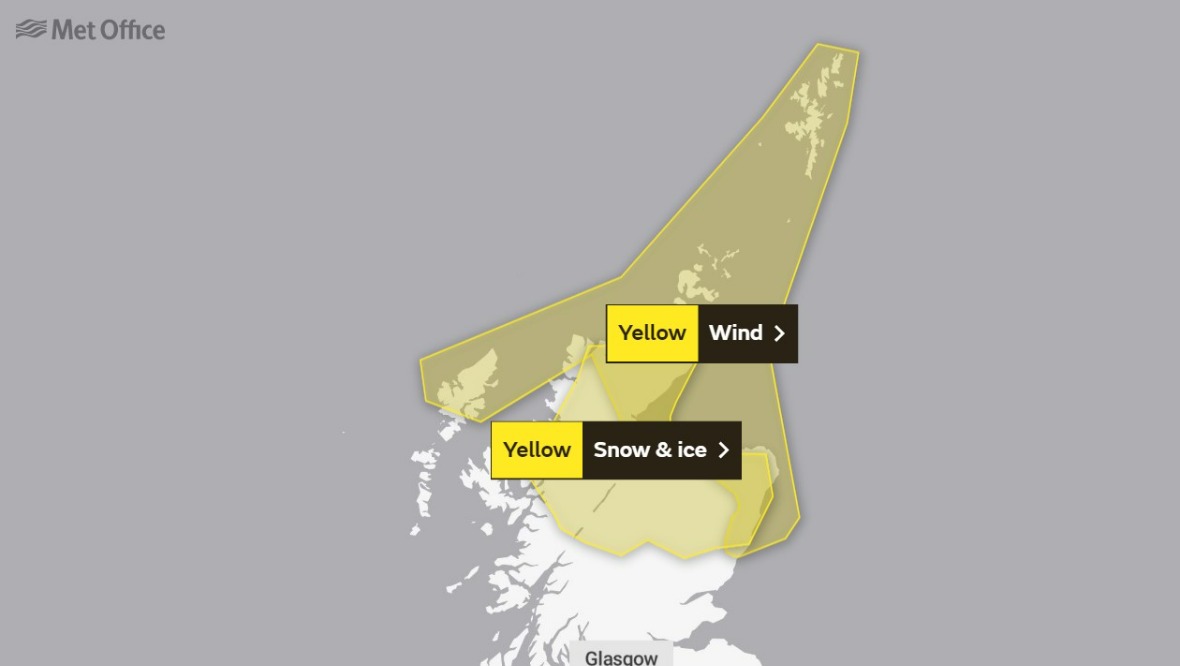 Snow and ice warning: From 12am on Tuesday until 9am on Wednesday.
Wind warning: From 10am until 11.59pm on Tuesday.
Wednesday warning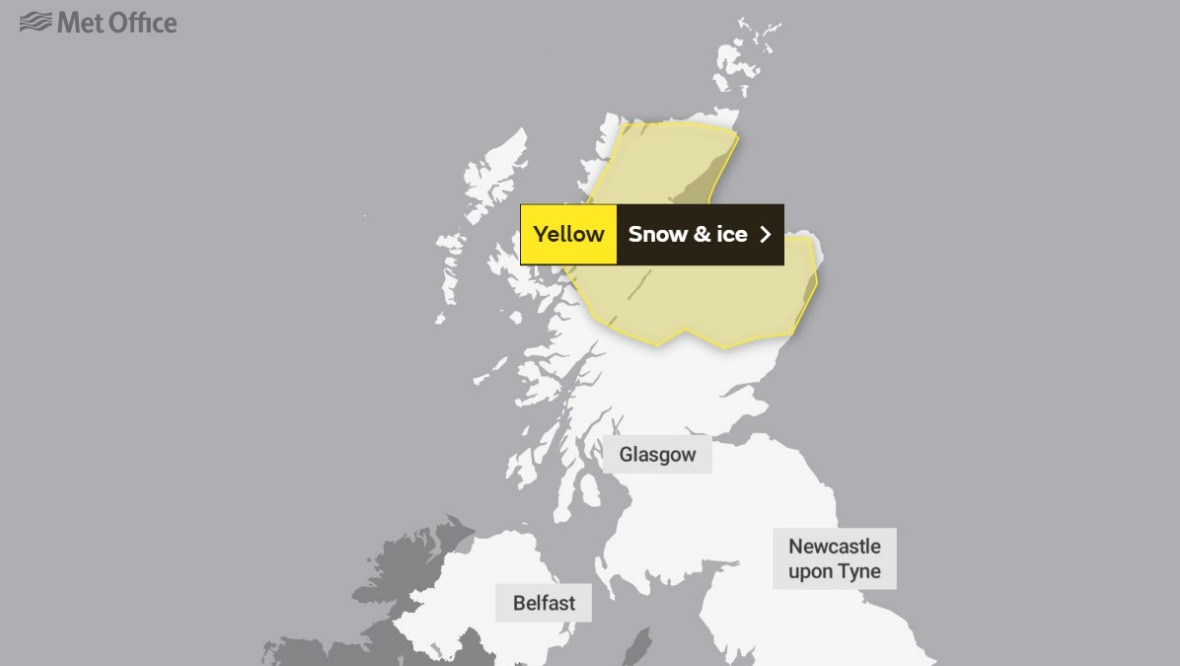 Snow and ice warning: From 12am on Tuesday until 9am on Wednesday.
Forecasters said the Highlands will feel "bitterly cold" with temperatures as low as 0C on Monday night, while parts of Grampian could reach -2C.
The Scotland Environment Protection Agency (Sepa) has issued a number of flood alerts and warnings.
Network Rail Scotland said due to accumulating rainfall in the west of Scotland on Monday, a temporary speed restriction has been set between Garelochhead and Crianlarich.
Multiple ferry services have also been cancelled due to the weather, CalMac ferry services confirmed.
Insight: STV Weather's Philip Petrie
Unfortunately, it is a cold, windy and changeable start to the first week of the New Year.
For Monday and Tuesday this week we are under the influence of low pressure to the north-east with tightly packed isobars, meaning we will see some extremely strong winds across the far north and north-east.
The Met Office has issued a yellow wind warning to coincide with this, covering Shetland, Orkney, Aberdeenshire, Moray and parts of the Highlands where we could see gusts of between 60-70mph around exposed coasts, with gusts of 75-80mph around parts of Orkney and Caithness and Sutherland for a time Tuesday lunchtime.
If we follow the isobars back, they are coming down from a very high latitude, meaning we will see a polar plunge and temperatures dropping significantly compared to the past couple of days.
And as well as this, we will have frequent showers. When the showers reach the cold air, they will be falling as snow.
Again, these will be worst around parts of the north and north-east, so another yellow weather warning is in force, this time for snow and ice covering Angus, Perth and Kinross, Aberdeenshire, Moray and the Highlands.
Within this warning zone there is a risk of a covering of snow, with an increased risk of greater accumulations for inland areas above 100m.
Widely we could see 2-5cm and the potential of 10-15cm on higher ground, so routes such as the A9 between Inverness and Aviemore could be affected.