A recruitment firm accused of hiring staff to replace sacked P&O workers said it had "no prior knowledge" of the ferry operator's controversial plan.
Clyde Marine Recruitment bosses said they "fully appreciate the anger being felt by all those affected" but stated that the company was asked to provide a small number of crew before P&O Ferries announced the mass sacking of 800 workers.
It comes as a protest was held outside the company's Glasgow office on Monday by the Rail, Maritime and Transport (RMT) union.
MSP Richard Leonard was in attendance to show his "support and solidarity" with the fired workers, who were replaced with cheaper agency staff.
Speaking to STV News, the former Scottish Labour leader said: "We're here this morning because Clyde Marine Recruitment, a firm based here in Glasgow, is now playing a part in this P&O dispute and we are here to call on them to take a step back, not to get involved.
"Don't go down in history as being part of one of the most ferocious attacks on working people that's ever been conducted in this country."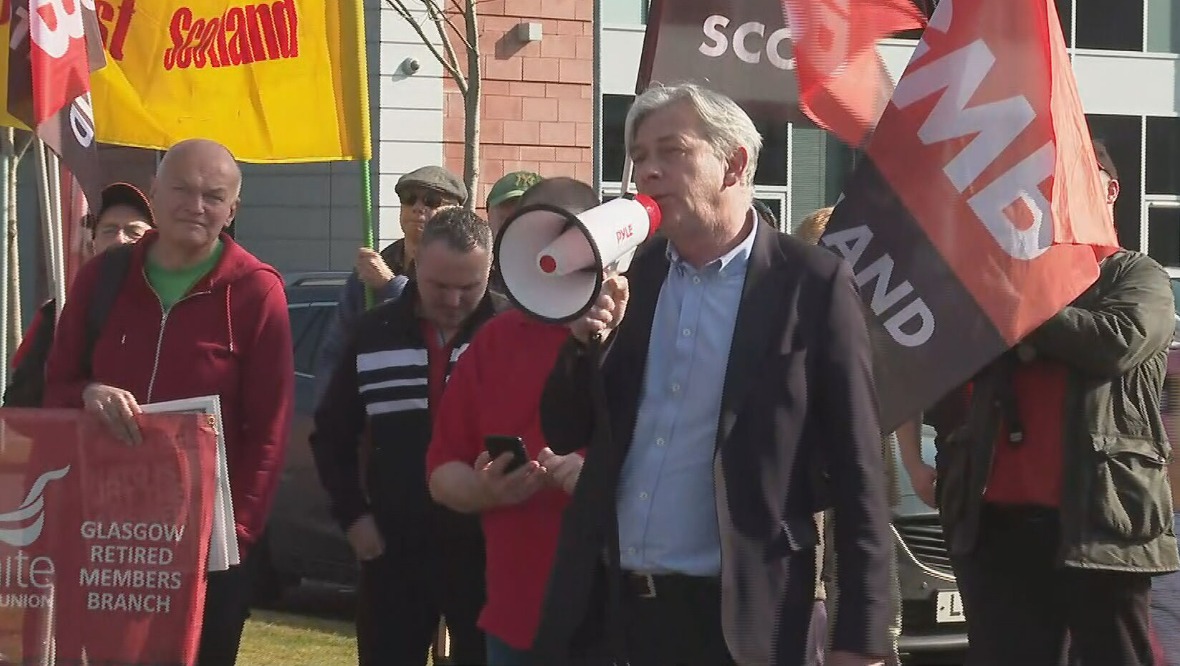 In response, a spokesperson for Clyde Marine Recruitment said: "Clyde Marine Recruitment had no prior knowledge of P&O's plan and, having worked with P&O for close to four decades, we fully appreciate the anger being felt by all of those affected.
"Several days before the announcement, Clyde Marine Recruitment were advised by P&O that they required an additional 18 crew for a specific vessel. Such requests are not unusual.
"A further 23 crew were requested by a third-party crew manager, International Ferry Management, for a ro-ro ferry management project requiring UK seafarers. This is nowhere near the 800 crew we have been wrongly accused of providing.
"Clyde Marine Recruitment has assisted in finding over 15,000 positions for UK domiciled seafarers over the past five years, with every member of staff paid UK market rates.
"All agency staff supplied by Clyde Marine Recruitment to UK ferry operators are paid the UK Living Wage, with many paid considerably more.
"We will continue to work tirelessly to support seafarers looking for positions with our clients."
'We're looking for the reinstatement of all of those 800 workers. And I think that's a perfectly reasonable demand to make.'

Richard Leonard MSP
On Thursday, P&O chief executive Peter Hebblethwaite admitted to MPs that employment law had been broken when the firm sacked the workers without notice on March 17.
Mr Hebblethwaite claimed the business would have folded had the sackings not been made.
Leonard, MSP for Central Scotland, said: "If a trade union behaved in the way that P&O has behaved, they would have their property sequestrated and their assets seized.
"There's got to be some comeback on a company that behaves in this way, and I don't just mean legal redress.
"We're looking for the reinstatement of all of those 800 workers. And I think that's a perfectly reasonable demand to make."
Later on Monday, UK transport secretary Grant Shapps said a "package of measures" will block P&O Ferries' plan to replace the sacked seafarers with agency workers paid below the country's minimum wage.
In a letter to Mr Hebblethwaite, Shapps wrote: "I will be bringing a comprehensive package of measures to Parliament to ensure that seafarers are protected against these types of actions in the way that Parliament and this Government already intended.
"Through that package, I intend to block the outcome that P&O Ferries has pursued, including paying workers less than the minimum wage."
The minimum wage in the UK for people aged 23 and above is £8.91 per hour.
Mr Hebblethwaite, whose basic annual salary is £325,000, told MPs last week the average pay of the agency crew is £5.50 per hour.
He said this is "an international seafaring model that is consistent with models throughout the globe and our competitors".
Shapps told Mr Hebblethwaite he has "one further opportunity" to reinstate the sacked workers on their previous wages.
He went on: "Our package of measures will prevent the law being broken, even when knowingly attempted.
"With this point in mind, I would also suggest that the deadline imposed on seafarers to respond to your redundancy offer by March 31 is dropped.
"Given that we intend to ensure such outcomes are prevented by laws, which we will ensure that you cannot simply choose to ignore, I believe you will be left with little choice but to reverse your decision in any case."
Shapps reiterated his call for Mr Hebblethwaite to resign, accusing him of "contempt for workers" and describing his position as "untenable".