There is a tattoo parlour nestled in the Clyde Valley with a welcome committee that consists of a house pig called Francisco, several chickens, donkeys, a flock of sheep, a herd of Highland cows, cats, turkeys and an overly friendly goat named Bramble.
Owned by Tribe Tattoo, the sanctuary is part of their environmentally friendly business plan. On top of their tattoo studios in Glasgow and Edinburgh, they take in rescue animals with the profits from the business.
They also specialise in vegan tattoo inks and are keen to experiment with ways of swapping the tools of their trade for greener options.
"Where we can, we're starting to tinker with the edges a little bit," explains Morag Sangster, one of Tribe's most experienced artists.
"We're trying to see if we can use maybe biodegradable barriers and bin bags and dressings and things like that and stop being quite as reliant on plastics as we have been in the past.
"We just need suppliers to kind of catch up."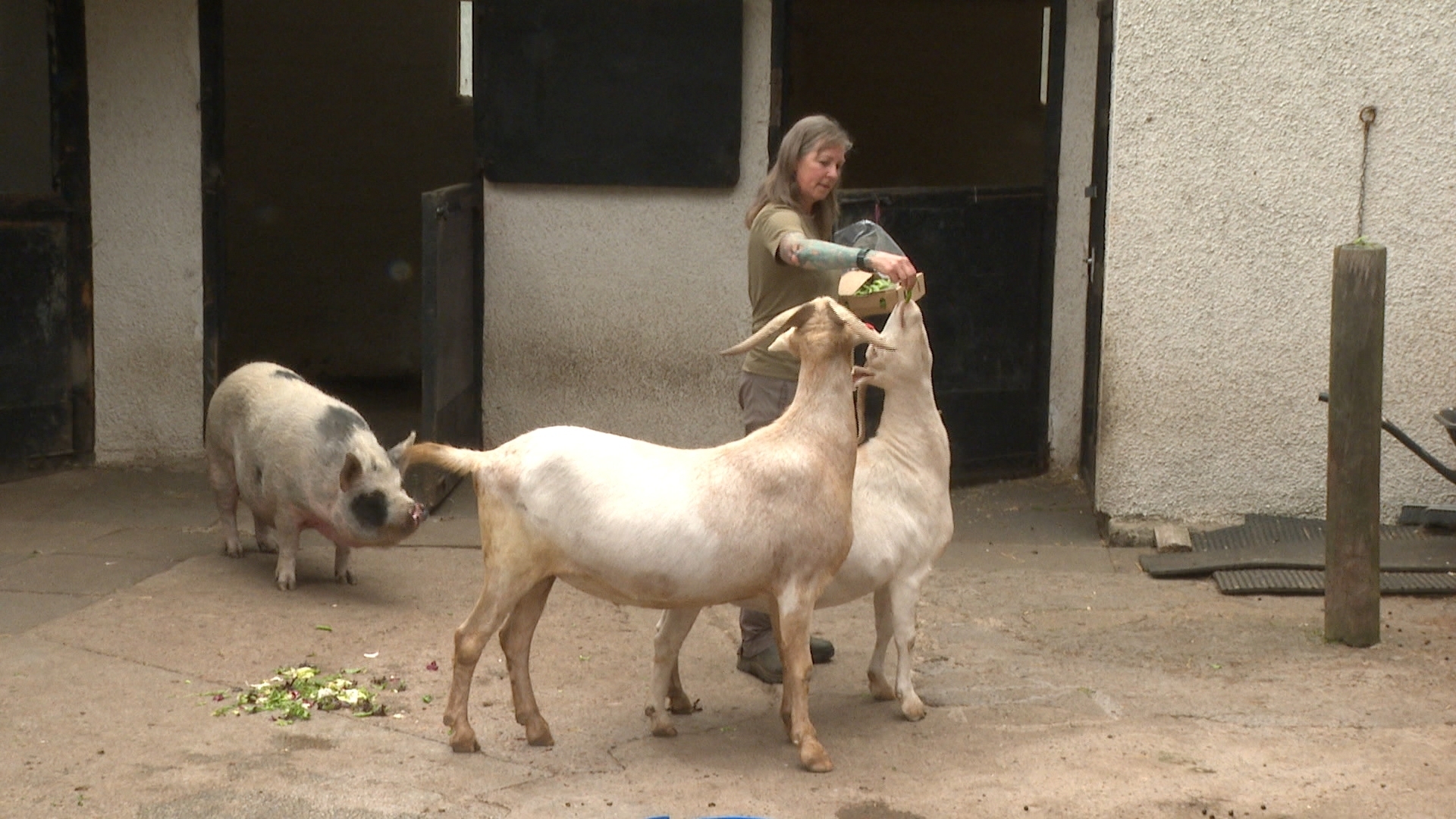 Like many businesses, there are challenges to going green in the tattoo industry, although we've already seen a shift in the last decade towards items like vegan ink.
Red pigments which used to include cadmium and plastic now have a vegan alternative, as does black ink which used to be derived from charred animal bone as well as an entire rainbow of other colours.
Tribe Tattoo has embraced vegan inks, as have parlours such as family-run Watermelon Tattoo in Edinburgh.
"All of our inks are vegan, the same with our stencil paper and the stuff we use to put the stencil onto the skin, plus our aftercare sweeties and our aftercare creams," said Sandie Tweedie, co-owner of Watermelon Tattoo in Edinburgh.
Cost, though, remains a barrier for other parts of their business which rely on single-use plastics such as ink cups.
"At the moment you can buy eco-friendly ones, however the cost is a lot more," explained Sandie. "So, for example, we could get 200 paper ink cups for the price of 1000 plastic ones. It would be great to be more eco-friendly, but the biggest barrier is it's just not cost effective at all for a small family-run business."
Challenges arise with other tools of the trade too as the industry has to ensure health and safety during the tattoo process.
That means using single-use items which are technically classified as medical waste and must be disposed of, such as needles or gloves.
Anything that comes into contact with bodily fluids is considered a bio-hazard, which often means incineration or landfill sites.
Since these single-use plastics can't be recycled, innovation is therefore key – such as developing biodegradable alternatives.
For example, you can now find products on the market made from plant fibres such as sugarcane and hemp, including biodegradable single-use razors and cling wrap, though again supply and cost remains a barrier for smaller businesses.
More complex products still need eco-friendly alternatives developed, though, such as elasticated gloves and cartridges which combine plastic and needle parts.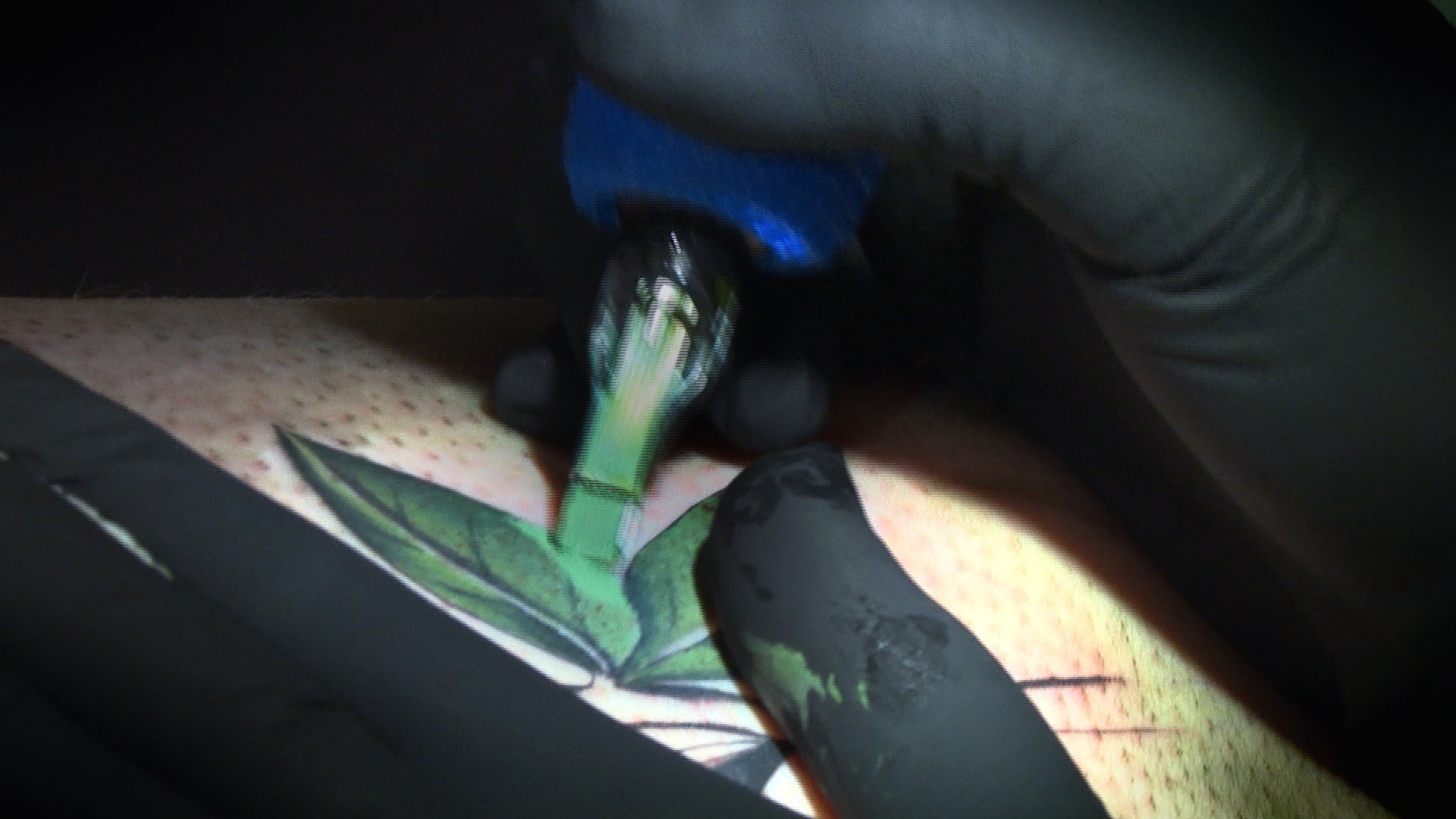 The amount of waste the tattoo industry produces every year can be vast. This is a $2bn market with ink caps, razors, cartridges, gloves, rinse cups, equipment barriers and medical bibs that either contain or are composed of plastic in varying quantities.
Individually, each parlour can contribute as much as one bag of single-use plastic waste per client, contributing to what has become of the biggest environmental crisis of the 21st century.
Single-use plastics are a serious climate change hazard, contributing to greenhouse gas emissions at every stage of its lifecycle, from its production to its refining and the way it is managed as a waste product.
According to a 2019 report by the Center for International Environmental Law, 40% of plastic packaging waste is disposed of at sanitary landfills, 14% goes to incineration facilities and 14% is collected for recycling. Incineration creates the most CO2 emissions among the plastic waste management methods.
Nearly all plastic – 99% – is made from fossil fuels.
For the tattoo industry, even small steps towards sustainability can make a difference in tackling plastics, include changing from paper consent forms to electronic, or even designing the tattoo itself virtually on a computer or tablet.
The potential impact if every business made even small changes like these would be significant.
There are six million small businesses like tattoo parlours in the UK employing 60 per cent of the workforce.
The more who commit to sustainability – the bigger the overall impact on our environment will be. It's green ethos that tattoo artists like those from Tribe would like to see spread.
As Morag Sangster said: "It's just time to give something back to how we feel the future should look, which is a more sustainable Scotland, a more kind Scotland, maybe something that places ethnics over profit a little bit more."