Campaigners pushing for a change to the law allowing migrant and asylum seeking students access to university funding, have been nominated for an award.
The Maryhill Integration Network and human rights organisation JustRight Scotland have been nominated in the Community Action category of the Scottish Charity Awards for their work to highlight inequality in the Scottish higher education system.
The Our Grades Not Visas campaign, launched by Glasgow student Ahmed Alhindi, is calling for university tuition funding for those who have studied in Scottish schools.
Thousands are thought to be affected by rules which class students as international despite having lived in Scotland and studied in Scottish high schools for years – resulting in university tuition fees of up to £25,000 per year.
Campaigners and lawyers say those who have been resident in Scotland for three years should be eligible for public funding.
Ahmed, who completed his Higher exams in Glasgow, was unable to accept a university placement despite unconditional offers to some of the best institutions in the country as he was classed as international when applying for funding.
He previously told STV News of his determination to change the law to help others in the same situation.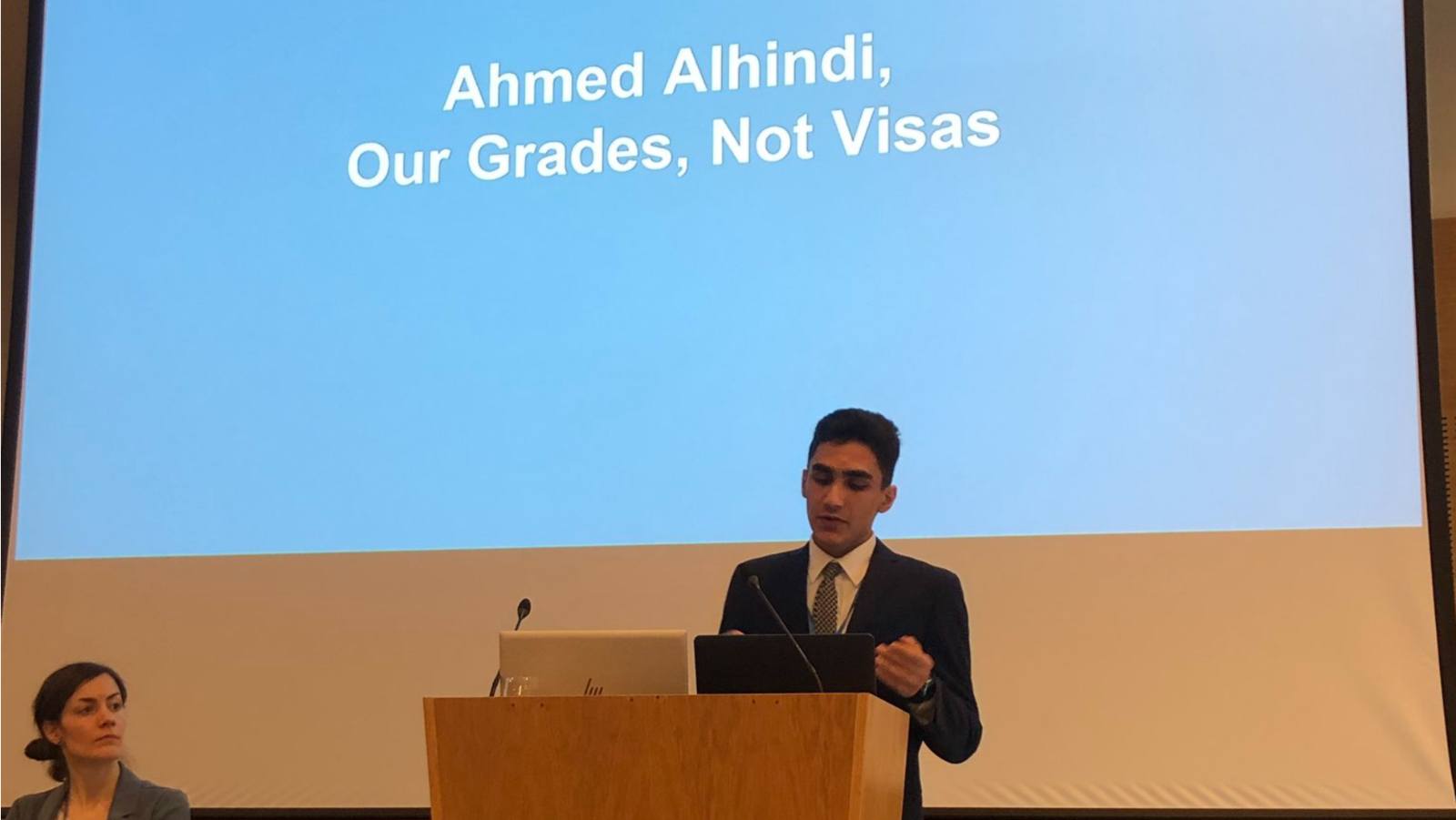 Mariam Tuma, participation officer at JustRight Scotland, said: "This is an important recognition of the work Ahmed – together with Maryhill Integration Network and JustRight Scotland, has achieved. #OurGradesNotVisas advocacy campaign, all the events and activities we have organised across Scotland, have been a tool to raise awareness about the right to access education for migrant students in our country."
JustRight Scotland won a landmark case in the Court of Session in October last year which ruled the government's current system breached the European Convention of Human Rights.
Lawyers successfully argued that Iraq-born student Ola Jasim, an aspiring doctor who has lived in Scotland since she was 11-years-old, had her human rights breached after she could not access free tuition due to being 58 days short of the Scottish residency threshold.
Ms Tuma added: "We have highlighted how existing barriers young students face have an impact in our communities and we addressed the issue by proposing a change which will benefit our entire society. The participation of Ahmed and other students like Ola campaigning for a better future for them and their peers signals that together – step by step, brick by brick – we all can build a more inclusive society".
Pinar Aksu, human rights and advocacy coordinator at Maryhill Integration Network, said: "We are delighted to be a finalist within the Community Action category for 'Our Grades, Not Visas' campaign. This award is dedicated to everyone who has been raising their voices to have equal access to education.
"Especially to Ahmed for continuously sharing his experience, to everyone at Maryhill Integration Network and to JustRight Scotland for their fantastic legal action.
"We hope people who are seeking asylum and young migrant students like Ahmed, Ola and many others in Scotland will have the right to access higher education.
"We will continue raising awareness about the importance of welcoming people in our communities by highlighting the need for having the right to education in our society."
The Scottish Charity Awards are an annual event run by the Scottish Council for Voluntary Organisations (SCVO).
This year's shortlist includes 32 individuals and organisations from charities and voluntary groups across the country with organisers saying they received a record-breaking number of nominations.
Winners will come from nine distinct categories and members of the public will also have their say in the People's Choice Award.
The ceremony will be held on June 23 in Edinburgh.
Anna Fowlie, chief executive of SCVO, said: "This year's Scottish Charity Awards are a fabulous opportunity to celebrate the exceptional individuals and groups within our vibrant sector.
"This year's record-breaking number of nominations underlines the strength of Scotland's voluntary sector, and the crucial work that we see from charities and voluntary organisations across the country. The hard work and dedication of people and organisations like these 32 finalists are making Scotland a better place to live and work.
"There is still a chance to have your own voice heard by voting in the People's Choice Award. Don't be late – participate!"
For more information visit the SCVO website.
STV News is now on WhatsApp
Get all the latest news from around the country
Follow STV News
Follow STV News on WhatsApp
Scan the QR code on your mobile device for all the latest news from around the country