Ferry passengers have been unable to book journeys on CalMac vessels after the company's new online ticketing platform was plagued by issues on launch day.
People took to social media on Wednesday to complain that they couldn't access the new system just hours after it officially went live.
CalMac said it had transferred more than 140,000 existing bookings onto the new system, which was first planned a decade ago.
But some passengers trying to log on have been sent messages saying they need to re-register but haven't received a subsequent email to enter their details.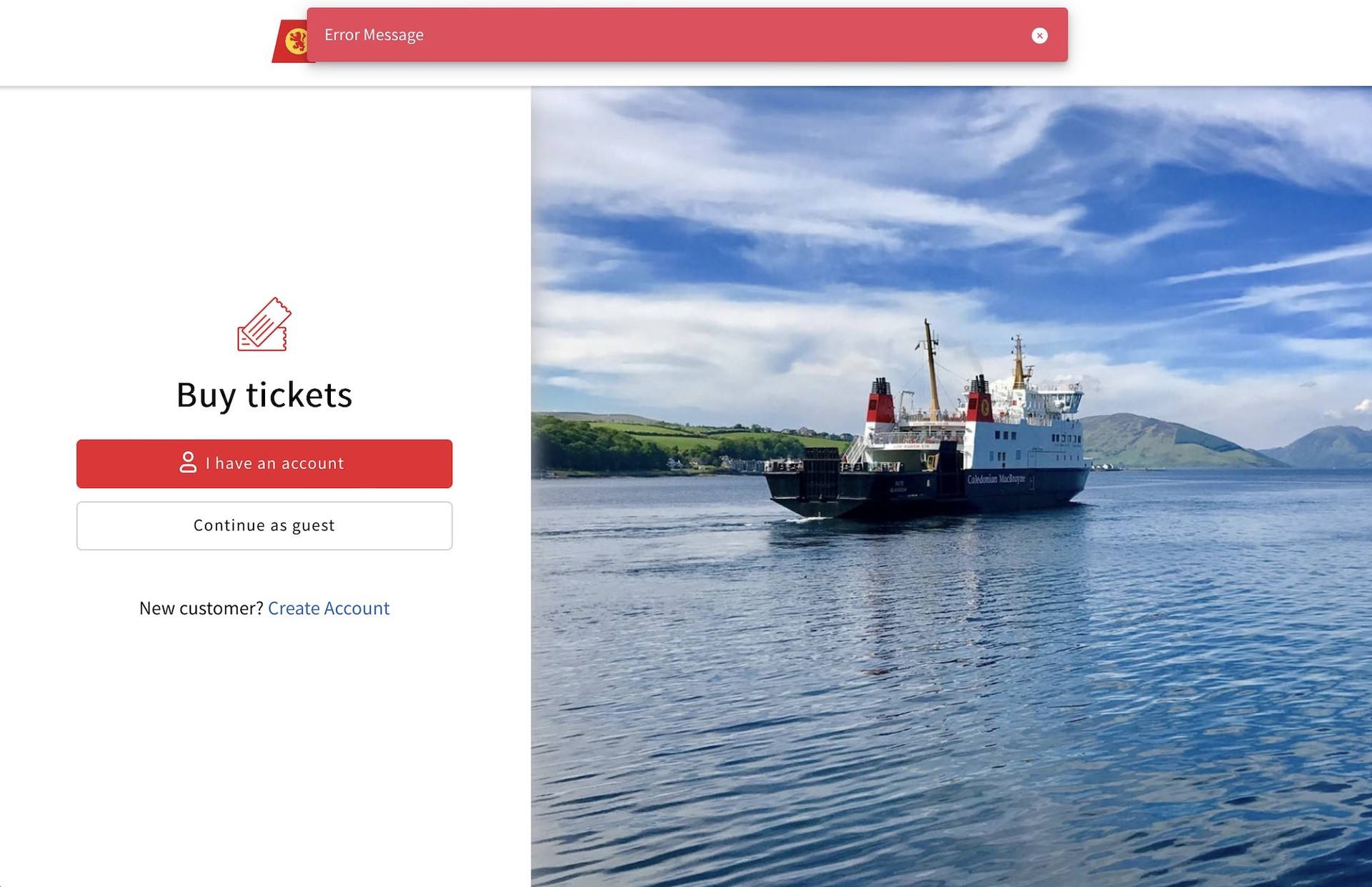 Others reported the new booking website crashing and displaying an error message when they visited – including when trying to use the guest option.
Responding to complaints on social media, CalMac said it was assisting people who said they were unable to create accounts.
Another issue was customers being unable to put car registration numbers onto their booking form – the ferry operator's chief executive Robbie Drummond said CalMac was working to fix this problem.
Some who did manage to get access to the new system reported it displayed no sailings for the routes they were looking to book.
Other bugs included only the first five sailings being displayed for each day, rather than the entire timetable.
Have you experienced issues with CalMac's new ticketing system? Send the STV News team a message on Facebook, Instagram or Twitter, or email at STV.News@stv.tv
A spokesperson for CalMac said more than 5,000 bookings had been processed by 11am on Wednesday and that it the operator was dealing with individual issues as they arose.
In a tweet, the company said: "We are aware of intermittent issues with logging into an online account, and our teams are currently working to resolve this as soon as possible.
"In the meantime, you can make a booking online as a guest, and once the issue is fixed, your booking will show in your account."
Chief executive Mr Drummond said: "Our new booking and ticketing platform launched this morning at 5am and by 11am we had successfully processed more than 5,000 bookings.
"More than 200,000 customer accounts and 145,000 bookings were migrated from our 26-year-old Compass system which is a major feat. All services and ferries are running.
"There is a large team of people dedicated to launching the new platform, who have been working around the clock to ensure that all customer bookings are transferred accurately and as quickly as possible.
"As you would expect with any new system of this size, we are currently working with our technology and payment suppliers to resolve certain issues.
"These are related to some customers having difficulties in accessed their migrated customer accounts in the new system and intermittent issues with card transactions for a limited number of customers.
"Our digital team and engagement centre are responding to individual customer enquiries to support them through this transition. We have a team of over 40 people providing 24/7 cover as part of our hyper-care support along with our system, IT and network suppliers."
The Scottish Conservatives described the situation as "ongoing nightmare".
Graham Simpson, the party's shadow transport minister, said: "Poor old CalMac can hardly go a day without some fresh problem or another.
"Let's hope this new booking glitch gets sorted out quickly, but the danger is that – thanks to the SNP Government's dismal failures on procurement and maintenance – people would be buying tickets for a service that isn't guaranteed to run.
"This whole situation is an ongoing nightmare for islanders and visitors who are crucial to island economies."
The ticketing platform issue is the latest in a long list of problems to have besieged CalMac.
Islanders have faced regular disruption to sailings, mostly on routes operated by Scottish Government-owned CalMac and partly due to its ageing fleet of vessels.
The problems have been compounded by delays and cost overruns for two ferries being built at Ferguson Marine in Port Glasgow, while another vessel – the MV Pentalina – ran aground last month due to a mechanical failure, cancelling all sailings for an unspecified time.
Meanwhile, ScotRail said on Tuesday that CalMac has withdrawn from some of the joint ticketing products it offered along with the rail operator.
As of April 25, CalMac no longer accepts such tickets for ferry travel, which impacts on the following ScotRail products:
All CalMac Rail & Sail tickets
Spirit of Scotland
Scottish Grand Tour
Highland Rover
Claire Dickie, ScotRail head of retail, said: "We are committed to providing the best possible customer experience for people using our services and we have worked closely with our colleagues at CalMac to ensure that continues.
"Customers purchasing Rail & Sail tickets will now receive a coupon which can be redeemed for a boarding pass when they reach the ferry.
"Unfortunately, some of our other products that had ferry travel as part of the ticket no longer have that included as a result of CalMac's change to its ticketing system.
"All of our products still offer fantastic value and are very popular with people who want to travel throughout the Highlands and Islands."
STV News is now on WhatsApp
Get all the latest news from around the country
Follow STV News
Follow STV News on WhatsApp
Scan the QR code on your mobile device for all the latest news from around the country