Scots are being warned to brace themselves for a wet weekend as heavy rainfall gets set to pummel parts of the country.
The Met Office has issued an amber alert across the east coast from 6pm on Saturday to 6am on Sunday. Dundee, Angus and Aberdeenshire are expected to be worst hit.
A yellow warning – from 3am on Saturday to 12pm on Sunday – has also been issued across parts of the Scottish Borders, Edinburgh and Lothians, Fife, Moray, the Highlands, and the Orkney Islands.
STV meteorologist Sean Batty said some areas could see a month's worth of rain over the weekend.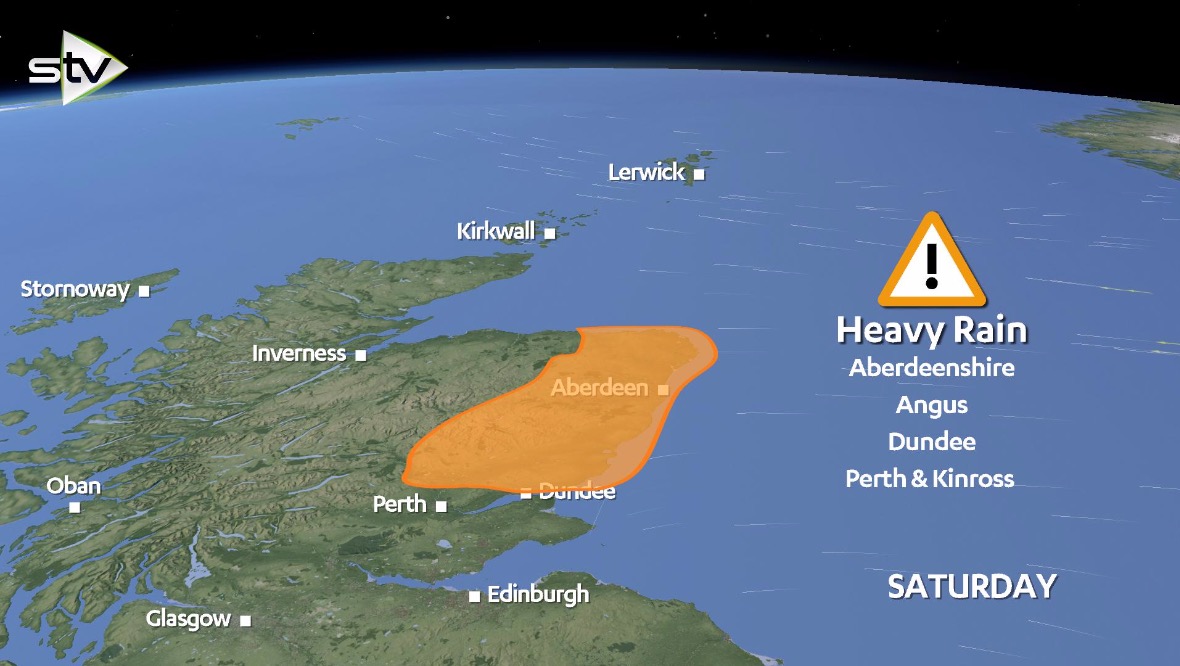 Sepa has issued 12 flood alerts, with the persistent downpour also expected to bring travel disruption.
Marc Becker, Sepa's flood duty manager, said: "Surface water and serious flooding is expected as persistent, heavy rain is due on Saturday evening and into Sunday across many parts of the north-east and east of Scotland.
"Sepa has issued a number of flood alerts and people should prepare for potential flooding of property, infrastructure and significant transport disruption."
ScotRail has advised that train services within the amber warning area will be reduced, with a controlled shutdown of the network at around 7pm on Saturday.
The Met Office said fast-flowing or deep water is likely, "causing danger to life".
Communities could find themselves cut off by flooded roads, with power cuts and loss of other services to some homes and businesses "likely".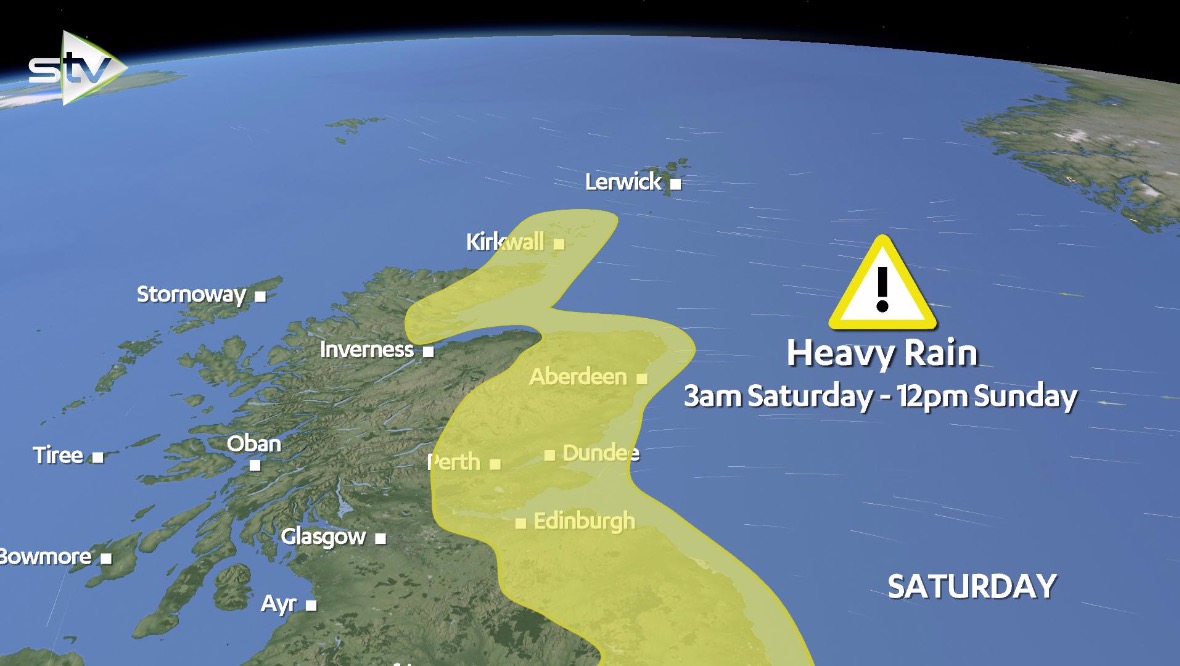 Warnings have also been issued across other parts of the UK.
On Friday, winds of 71mph battered the Devon coast after a low-pressure system named Storm Alex moved in from France.
STV Weather presenter Philip Petrie said: "Low pressure is in charge of the weather over the weekend, meaning it will be an unsettled couple of days with heavy and persistent rainfall for many of us.
"Storm Alex, named by Meteo France, brought strong winds and torrential rain to parts of France as well as parts of the south of England on Friday and has now cleared away from the UK, however another low-pressure system has moved in from the south-east and it is this that will bring the heavy rain through Saturday and Sunday to Scotland."
Philip said those within the yellow warning area, stretching from the Borders right up to Orkney, could see up to 25-50mm of rainfall.
Those in the amber warning area could see 40-70mm of rain, with 120mm possible on high ground.
Philip added: "As Sean has mentioned previously, parts of the country within the amber warning area could have more than a month's worth of rainfall during the weekend.
"Usually we see the driest conditions in the east of the country, but during the weekend it will be here that sees the heaviest downpours."