By Polly Bartlett & Emma Maxwell
At 82-years-old, Don Morton doesn't quite fit the profile of your average skateboarder – but he isn't your typical pensioner either.
The self-proclaimed "old skateboarder" can often be seen exercising his talents on the board in Glasgow's Bellahouston Park, drawing many curious glances from passers by.
He told STV News: "You get different reactions.
"Some people think it's totally odd. Other Glaswegians, instead of saying 'how do you do it?', they say, 'why do you do that?', not realising the benefits and the pleasure you get out of it."
Already having experience on the ski slopes and skating generally as a hobby, Don became obsessed with skateboarding in an attempt to fight off boredom during lockdown.
He believes that skateboarding is a great activity for your health, and is urging the older generation in particular to get over the fear of failing and to persevere.
He said: "There's a perception that they can't do it. It's in their mind before they start they can't do it, but they will be able to do it.
"All they have to really do is find somebody who can give them a bit of help to show them what to do.
"It is a good activity for health, for the mind, your balance, your muscles. It's very good from a health point of view."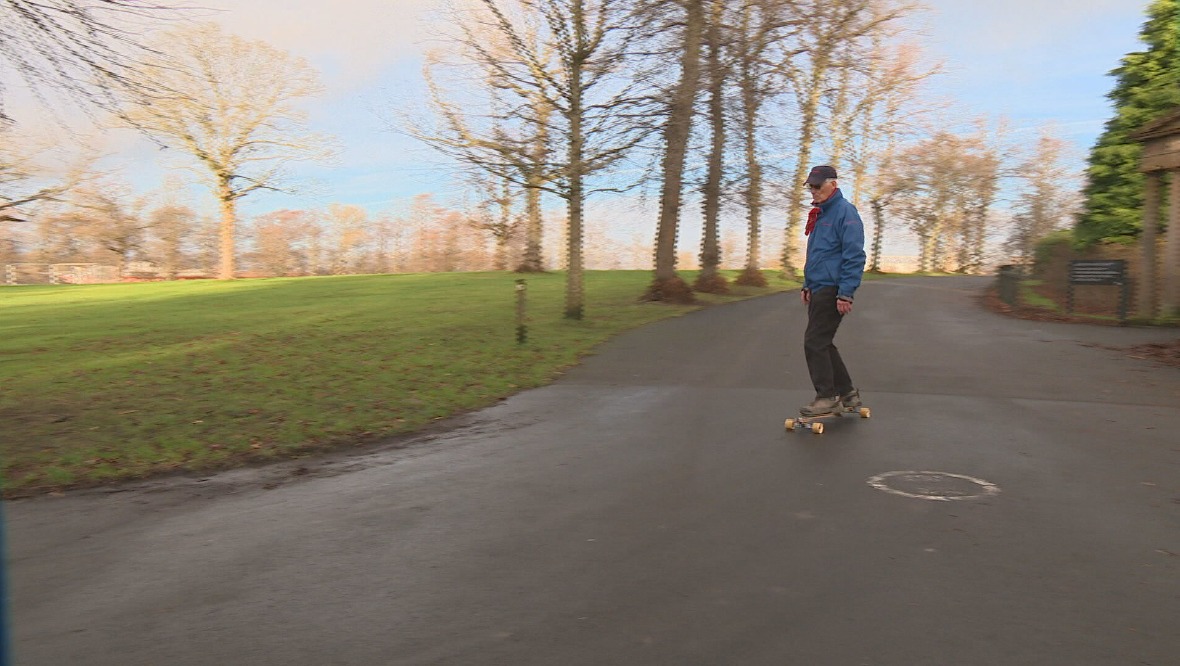 During the latest lockdown, most have attempted to take up any sort of outdoor activity to combat the stifling boredom of life indoors – those which, of course, don't break any social distancing rules.
Don believes that skating can be an "individual thing" which made it the perfect hobby for him during lockdown.
Skateboarding has been growing in popularity with many groups across Scotland, with young girls also hitting deserted streets and skate parks during lockdown.
Retailers such as Clan Skates in Glasgow have claimed sales of boards to girls have tripled between the ages of eight to 20 since last summer.
With the importance of sustainable travel more prevalent than ever, skateboarding is also an affordable and eco-friendly method of transport.
According to Don: "You can do it at random. It's very flexible, it fits into a lifestyle today".
Despite his age, Don has become a well-known figure in the Glasgow skating scene.
He has been picking up useful tricks with skating buddy Colin Dalgleish, a lifelong skater who has been surfing the streets of Glasgow for over 40 years, who maintains that "once you're a skater, you're always a skater".
At 55-years-old, Colin himself is delighted to see an older generation of skaters gaining attention over lockdown.
He said: "There's a lot of groups on Facebook.
"There is an over-50s skaters group that still skate; there's a very old skateboarders group which was set up by a couple of pensioners in London. One of them can't push, so she has a stick with a ball on the end and pulls herself around. She calls it landpaddling."
Hoping to inspire people of all ages to get involved, Don certainly proves that age is no match for letting the good times roll.