The cost of filling up a family car with petrol could reach £100 as soon as this week, according to the RAC.
The motoring group say that the price of petrol saw its biggest daily jump in 17 years on Tuesday, with Asda adding 5p per litre (ppl) in a single day.
The average price of petrol is now at 180.73 ppl and diesel is at 186.57 ppl.
It means that filling up a 55-litre car will cost £99.40 for petrol and £102.61 for diesel on average.
Simon Williams from the RAC said: "Average petrol prices at the big four supermarkets, which dominate fuel retailing, is now 173.37ppl, while diesel is 182.38ppl.
"This makes a litre of unleaded more than 7p cheaper at a supermarket which is significantly above the norm of 4p below the UK average.
"We expect other supermarkets to increase their prices today.
"This is probably the most uncertain time drivers have ever seen with prices this high, no one ever thought they would get this high, so drivers are questioning which journeys they make."
The cost of fuel is increasing the price of many other goods as haulage firms see their costs go up.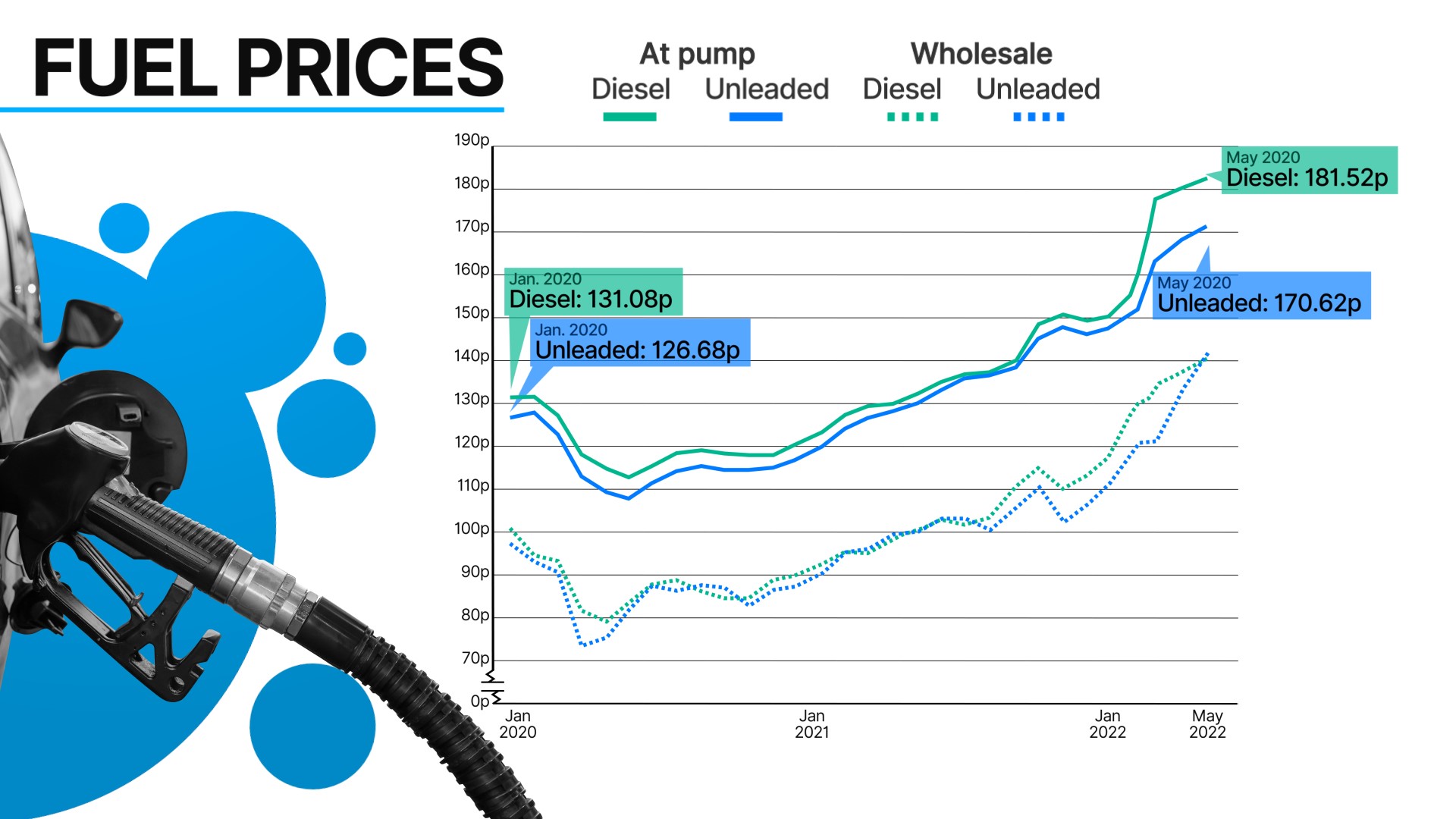 Louise Moules from the Road Haulage Association says the industry is looking at an additional £20,000 increase per truck every year.
She added: "Our industry has two main operating costs, wages and fuel, both of which have increased at exceptional levels over the last twelve months.
"It is a desperate situation for some operators.
"You may have an operator who can pass that on it terms of a fuel escalator which then in turn passes on the costs to the end user so nobody is winning out of that.
"They may have to absorb that cost which some smaller operators cannot do."
The haulage sector is calling on the UK Government to introduce a rebate for the industry of 15 ppl to help ease the problem.
The current increase of prices on the forecourt comes as oil continues to increase, sitting around $120 dollars per barrel.
However, because the pound has been weakening against the US dollar that is impacting prices too with oil traded in dollars.
There are also some supply issues.
The UK Government did cut fuel duty but that was quickly overshadowed by the rising wholesale prices.
A UK Government spokesperson said: "We understand that people are struggling with rising prices which is why we have acted to protect the eight million most vulnerable British families through at least £1,200 of direct payments this year with additional support for pensioners and those claiming disability benefits."
There is slight hope for drivers with the RAC saying the wholesale price of petrol dropped around 5p a litre on Tuesday.
Simon Williams said: "If this price is maintained in the coming days it could stem the flow of daily record petrol prices."
STV News is now on WhatsApp
Get all the latest news from around the country
Follow STV News
Follow STV News on WhatsApp
Scan the QR code on your mobile device for all the latest news from around the country