The school summer holidays are over for most pupils in Scotland – with youngsters around the country returning to the classroom.
For parents and guardians, the new term begins amid a cost-of-living crisis that has seen families all over the country tightening their belts amid surging inflation.
Food, fuel and energy prices are all rising at a rapid pace – and the cost of school uniforms and equipment is not immune.
Local authorities across Scotland provide clothing grants and free school meals to families who receive qualifying benefits.
But the amount available varies between different council areas.
Primary school pupils who qualify for grants in the majority of local authorities are entitled to £120.
But pupils in some areas can get substantially more – including East Dunbartonshire (£240), West Dunbartonshire (£300) – as they have been allocated extra cash from the Scottish Government.
It's a similar picture for secondary school pupils, where youngsters who qualify are entitled to a grant worth £150 in most council areas.
But the grants available for high school pupils are again higher in East Dunbartonshire (£300) and West Dunbartonshire (£300).
| LOCAL AUTHORITY | PRIMARY PUPILS | SECONDARY PUPILS |
| --- | --- | --- |
| Aberdeen City | £120 | £150 |
| Aberdeenshire | £120 | £150 |
| Angus | £120 | £150 |
| Argyll and Bute | £120 | £150 |
| City of Edinburgh | £120 | £150 |
| Clackmannanshire | £120 | £150 |
| Dumfries and Galloway | £134 | £150 |
| Dundee City | £120 | £150 |
| East Ayrshire | £120 | £150 |
| East Dunbartonshire | £240 | £300 |
| East Lothian | £130 | £160 |
| East Renfrewshire | £120 | £150 |
| Falkirk | £120 | £150 |
| Fife | £120 | £150 |
| Glasgow | £120 | £150 |
| Inverclyde | £150 | £150 |
| Highland | £140 | £150 |
| Midlothian | £120 | £150 |
| Moray | £120 | £150 |
| North Ayrshire | £120 | £150 |
| North Lanarkshire | £140 | £150 |
| Orkney | £120 | £150 |
| Perth | £120 | £150 |
| Renfrewshire | £120 | £150 |
| Scottish Borders | £120 | £150 |
| Shetland | £120 | £150 |
| South Ayrshire | £120 | £150 |
| South Lanarkshire | £130 | £150 |
| Stirling | £200 | £200 |
| West Dunbartonshire | £300 | £300 |
| West Lothian | £150 | £180 |
| Western Isles | £120 | £150 |
Charities say the demand for school uniforms from clothing banks is greater than ever.
The number of referrals received by Togs, a charity shop in Dundee, has gone up by a fifth this summer. It's currently providing uniforms for around 200 youngsters a month.
Some parents turning to clothes banks say the price of buying new uniforms every year has become "unsustainable".
"It's definitely gone up by at least 20 per cent and we're really noticing a big difference now coming into August," said volunteer Jill Smith.
"Although the demand is high because of the cost of living crisis, it's higher on school uniforms than we've ever seen.
"There was a spike in 2020 and then we've got another spike now in 2022."
A survey published by The Children's Society in 2020 found that parents were spending an average of £315 a year on kitting out their kids in primary and £337 on high school pupils.
Parent Tommy McKay has used a pop-up uniform bank in Monifieth for a second time this summer to prepare his two children for primary school.
"It's just unsustainable," he said. "Especially when you've got shoes on top of that, you're approaching £300 every school year just on clothes," he said.
"Then there are water bottles, there are jackets, there are school supplies. It just gets too much."
Many parts of the Angus town are among the least deprived in Scotland. Initially set up to prevent clothes going to waste, the service is now seeing more families who are feeling the pinch.
"In terms of just sheer cash flow, everybody's really struggling, even in what's seen to be more affluent areas of this country," said Fiona Reynolds, a minister who runs the uniform bank at Monifieth Parish Church
The Scottish Government is currently consulting the public on how to best reduce the cost of school uniforms. Some £11.4m was allocated to councils last summer to increase a school clothing grant.
Education secretary Shirley-Anne Sommerville said it would help relieve pressure for around 145,000 families.
But Sommerville couldn't confirm whether this pledge had been met. "It's up to local authorities, local authorities administer the school clothing grant scheme," she told STV News.
"What the Scottish Government does is ensure local authorities have funding to get it up to £150 for secondary and £120 for primary.
"We do know the school clothing grant is a useful support for young people and their families, and we work very closely with local authorities to ensure they are doing all they can to encourage the take up of that and the application of it."
The Scottish Government said it was not considering making uniforms a legal requirement. Families and carers have until October to help shape new national guidance.
How do I apply for a school clothing grant?
You need to apply for the grant through your local council.
Check your local council's website, which will be listed in the dropdown section here – to see when you apply for the grant.
Most councils will accept applications from July until the end of March.
Am I eligible to receive a grant?
You can apply for a grant if you or your family receives:
Income Support
Income-based Job Seeker's Allowance (JSA)
Any income related element of Employment and Support Allowance (ESA)
Child Tax Credit, but not Working Tax Credit, and your annual income is less than £16,105
Both Child Tax Credit and Working Tax Credit with an annual income of less than £7,500
Universal Credit with a monthly take home pay of less than £625
If you are between 16 and 18 years old and receive any of these benefits in your own right, you can apply for a school clothing grant for yourself.
What is the view of Scotland's children's commissioner?
Bruce Adamson, the children and young people's commissioner for Scotland, told STV News: "Education is a human right and it is important that the expense of school uniforms is not a barrier to learning.
"Poverty is the most significant rights issue affecting children in Scotland today. It can impact children's physical and mental development and their educational performance.
"Families have a right to support and whilst the Scottish Government provides a school clothing grant, not all families living in poverty are eligible and school uniforms remain a significant expense for many.
"We increasingly hear of schools requiring, or strongly encouraging, the purchase of specific items with the school logo, such as blazers, polo shirts or sweatshirts.
"We also hear of changes in uniform which require the purchase of new items, for example in P7 or senior years in secondary school. Some schools also require items of a specific colour which can only be purchased through specialist providers or the school.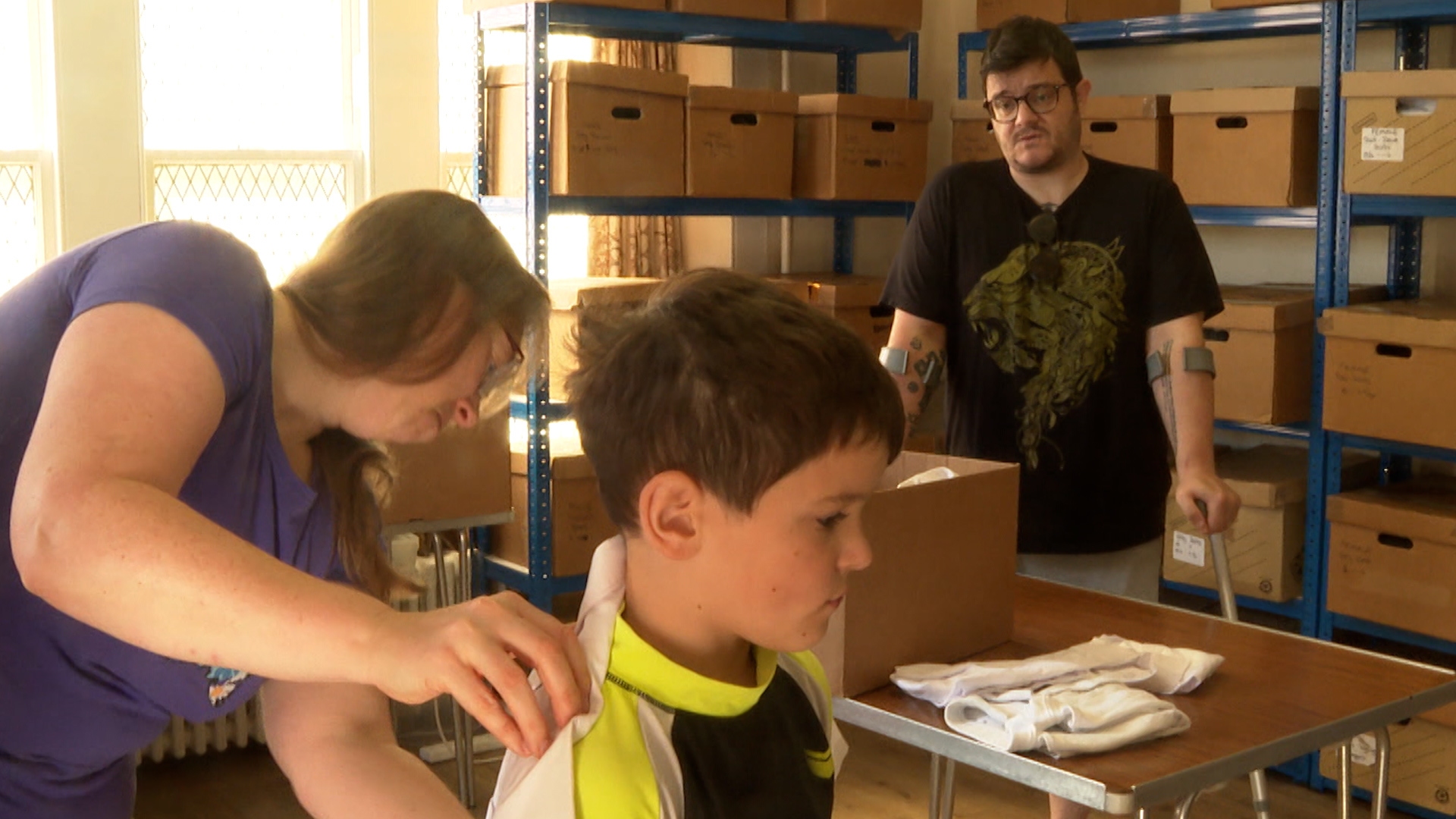 "Where a school has a dress code, this should be developed in consultation with children and their families, taking into account the cost and potential impact on all children. It should be inclusive of all children, including those with religious dress requirements and disabled children, without stigma.
"School dress codes should consist of items which are widely available at low cost, such as plain coloured polo shirts and sweatshirts, and the use of these items should be encouraged to minimise cost and potential stigmatisation of children who are living in poverty. Where schools sell uniform items themselves this must be at cost price.
"It's important to ensure children are not penalised for not wearing correct uniform – for example, for wearing different shoes because their school shoes have been outgrown or worn out; or because a school tie has been lost.
"The purpose of education is to develop children to their fullest potential. The cost of school uniforms should never stop this development."
Additional reporting from Alison McCallum and Callum Clark.
STV News is now on WhatsApp
Get all the latest news from around the country
Follow STV News
Follow STV News on WhatsApp
Scan the QR code on your mobile device for all the latest news from around the country