ScotRail must be 'safe, affordable and clean' to convince people back to using trains after the pandemic, MSPs have heard.
Mick Hogg, RMT regional organiser, also warned that anti-social behaviour on Scotland's railway is getting "out of control", with reports of staff and passengers being verbally abused and assaulted.
MSPs took evidence on ScotRail at Holyrood's Net Zero, Energy and Transport Committee on Tuesday.
RMT has called for rail fares to be affordable ahead of the railway being taken into public ownership.
And the union has also spoken out about the need for sufficient staffing levels across the rail network, and in particular at station booking offices.
"I understand that the fares have went up by 3.8%," Hogg, speaking virtually, told MSPs on the committee.
"We, from a trade union perspective, do not see that as a necessary increase in the fares.
"We need to ensure, or would advocate, that fares need to be affordable.
"And if Transport Scotland and ScotRail and the Scottish Government were serious about attracting passengers back to the railway, then a fare freeze would have been the correct way forward."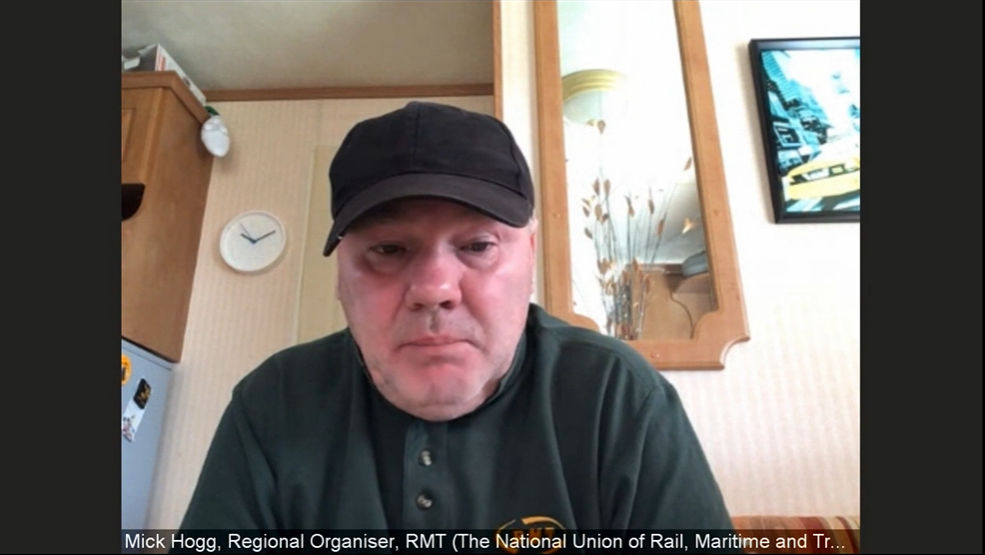 Hogg outlined the need for the railway to be "safe and affordable" as people make a return to offices again.
He continued: "Bearing in mind that the First Minister advocated throughout the height of the pandemic not to actually use public transport, which included our trains.
"So we need to actually convince the people of Scotland that it's safe and affordable and clean to actually use Scotland's trains.
"When we start doing that, I believe that we'll actually start seeing passengers returning to Scotland's railway."
MSPs were also told about the need to ensure there is a second person on every train in Scotland to help with safety.
"We have a big issue within Scotland's trains in terms of anti-social behaviour being on the increase and assaults on staff and assaults on passengers," said Hogg.
"If you look at one of the existing agreements we actually have within Scotland's trains, it's called the 'Strathclyde Manning Agreement', and that goes back some 35, 36 years.
"And what that means in layman's terms is a second person on the train, not a guard because that second person is not safety-critical trained.
"So what we actually need to ensure is that there is a second person on every train so far as Scotland's trains are concerned.
"And any new technology that's actually introduced, we need to actually ensure that there's a staff presence on the trains, a staff presence at the stations, in order to ensure that staff feel safe."
Hogg underlined the importance of having every station staffed in order to help ease incidences of anti-social behaviour.
"We have 349 stations within Scotland's railway, of which 143 are actually staffed, so that leaves 206 unstaffed stations," he said.
"From a trade union perspective, we would like to see every station staffed and the reason for that is because anti-social behaviour is actually on the increase and it's getting out of control.
"We receive daily reports of our staff being verbally abused, if not verbally abused, then assaulted, or passengers assaulted."