Large numbers of protesters gathered in Glasgow and Edinburgh as support was shown for the Black Lives Matter movement in Scotland.
Crowds of people have been pictured at Glasgow Green, while a demonstration was also held at Holyrood Park in the capital.
Those attending were asked to wear face coverings, bring water and follow social distancing rules, with organisers of both rallies stressing the need for peaceful demonstrations.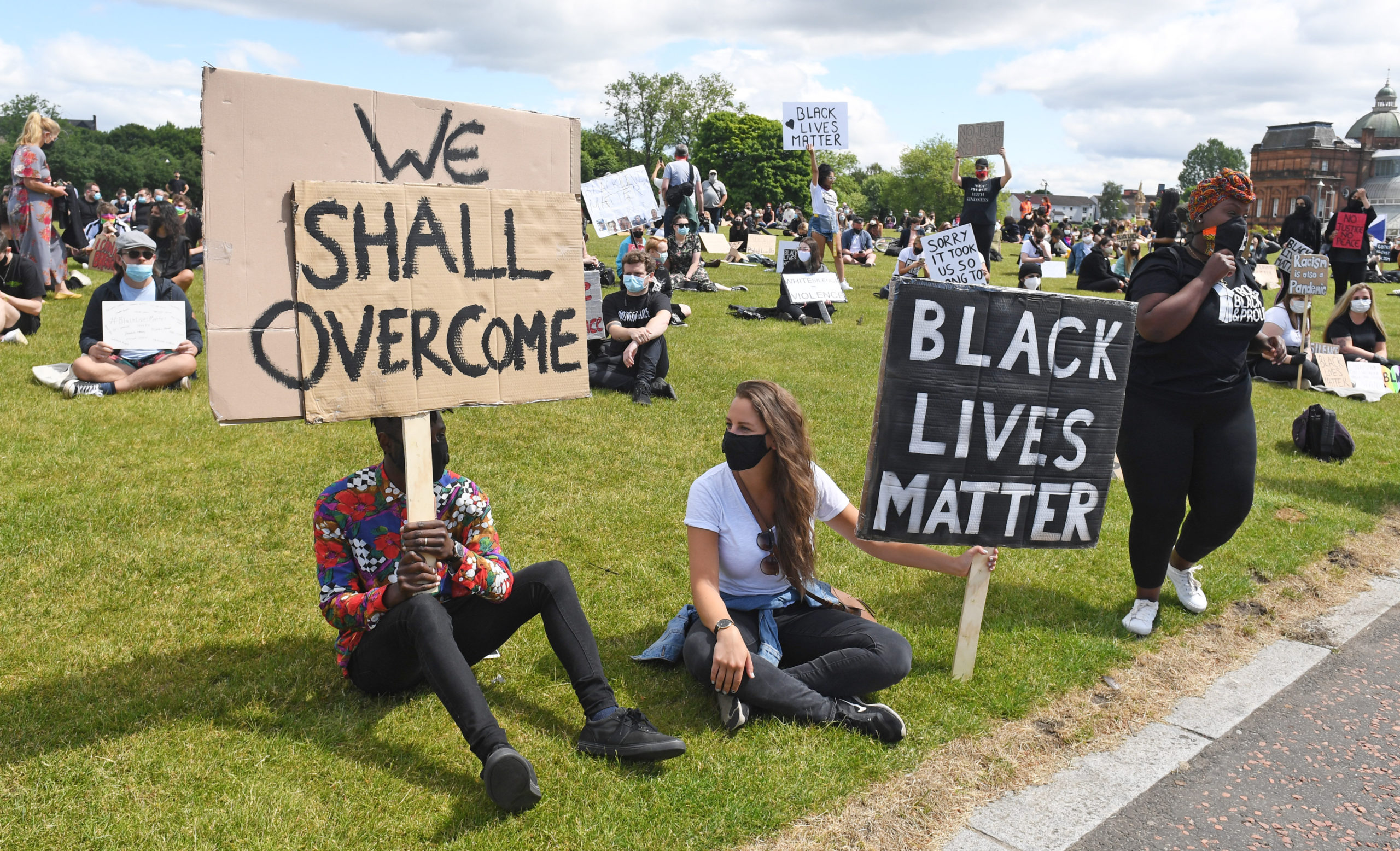 Anti-racism campaigners have been protesting across the world, following the death of George Floyd in Minnesota on May 25 – the incident was captured by onlookers on their phones.
He could be heard pleading for air as a white police officer was seen kneeling on his neck.
Thousands joined the protest in Edinburgh on Sunday, including pop superstar Lewis Capaldi, gathering in Holyrood Park as part of a worldwide wave of anti-racism demonstrations in the wake of Mr Floyd's killing.
Crowds sat to listen to an array of speakers in the park, with speeches punctuated by chants of "black lives matter", "no justice, no peace" and supportive horn honking from passing cars.
One of the Edinburgh demonstration's organisers Cynthia Gentle, 42, said: "What this is for us in Scotland is trying to get people to pay attention to what we are saying.
"Because although we're not afraid of police shooting us down on the streets, we're fighting institutional racism and that's something that we're living with in the jobs that we work, in places that we visit, and even in social circles.
"It's having to justify your existence, why are you here, what brings you to Scotland; the questions are asked over and over again."
Ms Gentle, a jazz singer living in Edinburgh, added: "I know we have a Scottish community of friends and loved ones who are so supportive of this, it's not against Scottish people. It's the Scottish people and us against racists.
"We just want to deal with that before it gets any worse.
"If we don't deal with this now, I would hate for my children, my child, to be dealing with issues like this 20 years down the line."
TJ Lamothe, from Edinburgh, said he attended the Holyrood Park demo "to bring awareness and be able to share my views" about racism in Scotland.
"I think that because we've been able to actually highlight issues that black people in Scotland experience, politicians and news outlets will catch on and we can cooperate to bring about lasting change," Mr Lamothe said.
"When I was 10 years old, someone that was significantly older than me came up to me and started shoving bananas in my face, calling me a monkey and making monkey noises," he added.
"That was my first racist experience and I didn't know what was happening; I was completely scared."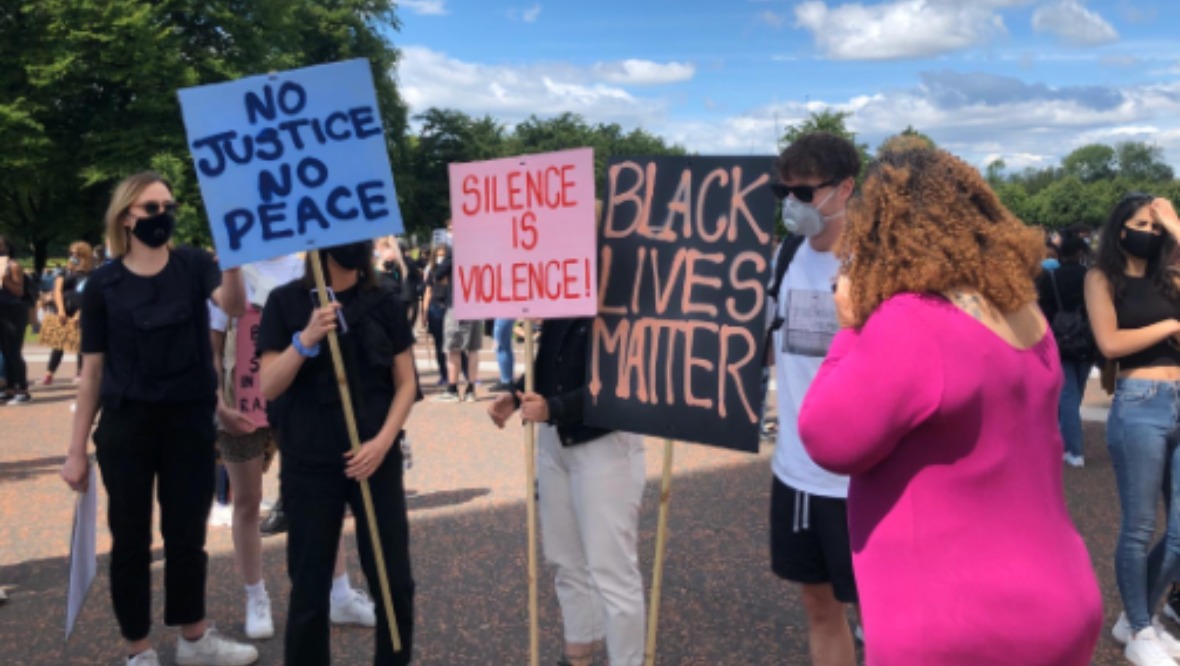 Police said two people were arrested in Glasgow where large numbers of people gathered for a demonstration at Glasgow Green.
The events in Scotland follow protests which went ahead south of the border on Saturday, with thousands gathering in cities such as London, Manchester, Cardiff and Leicester.
In Bristol on Sunday, protesters tore down a statue of 17th century slave trader Edward Colston.
UK home secretary Priti Patel branded the act "disgraceful", adding: "Sheer vandalism and disorder completely is unacceptable."
Chief constable Iain Livingstone said on Friday that Police Scotland have a duty to allow safe and peaceful protest.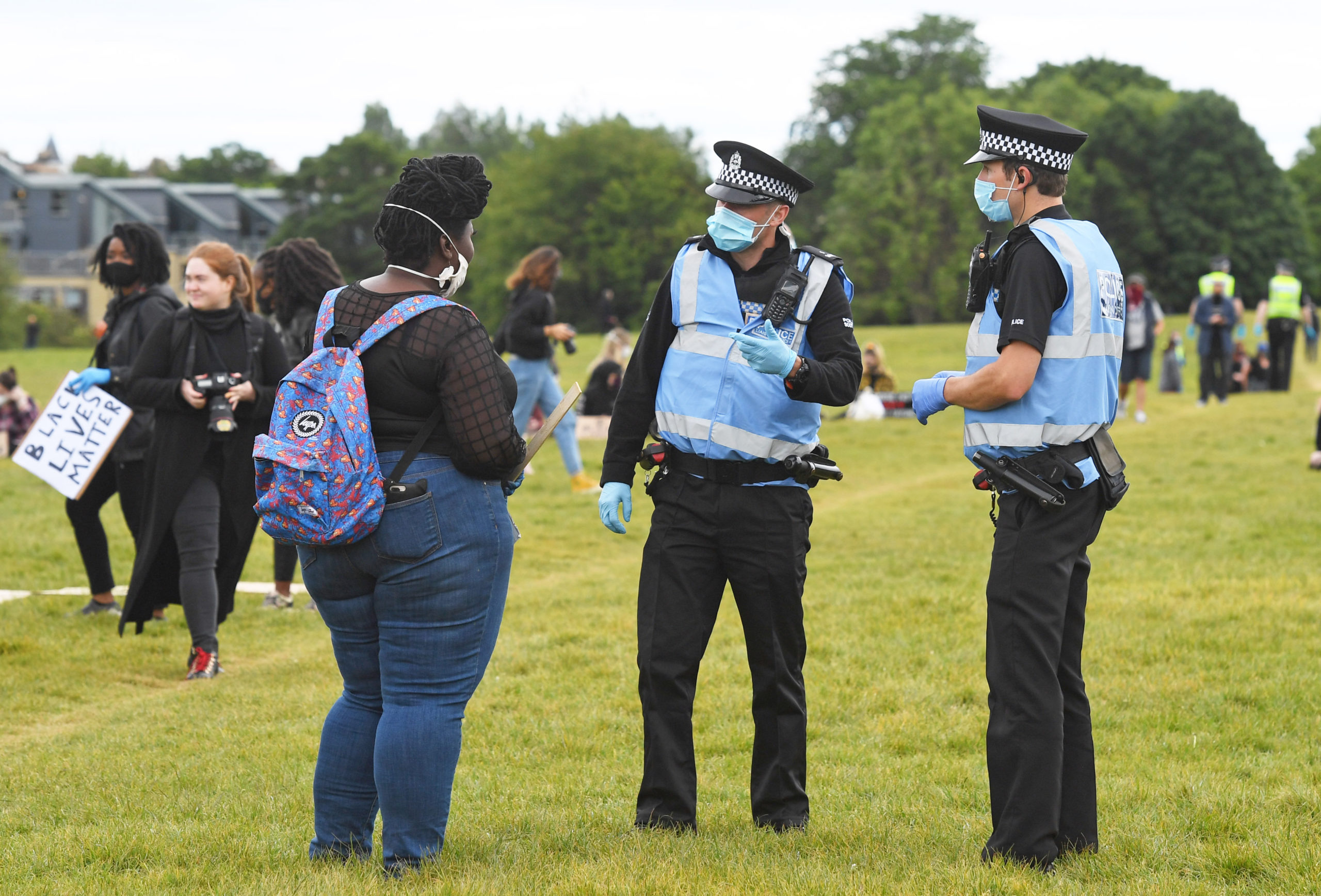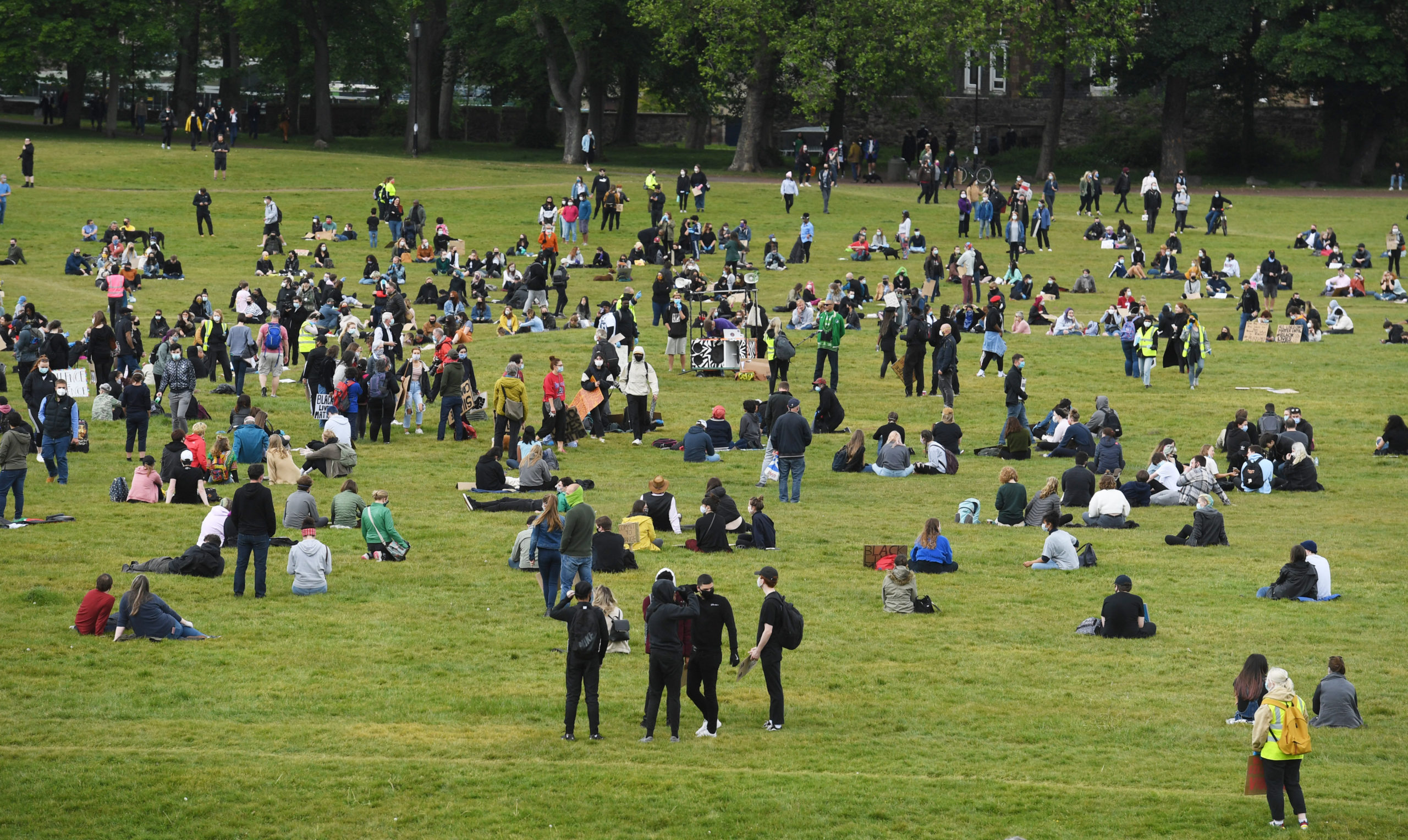 Asked what he has told his officers ahead of the protest in light of the scenes in America, Mr Livingstone added: "What I expect from the police officers in Police Scotland is a continuation of what we've seen over many years but particularly in the last number of weeks and months, and that's working with the people of Scotland.
"We'll act with courtesy, we'll act with empathy. We understand some of the hurt and anger that's felt.
"We will ensure that people get to have their voices heard, but crucially, vitally, as many, many people have encouraged people to do, do that in a way that is safe, that doesn't allow the coronavirus to spread."
STV News is now on WhatsApp
Get all the latest news from around the country
Follow STV News
Follow STV News on WhatsApp
Scan the QR code on your mobile device for all the latest news from around the country