By Susan Nicholson
It has been a year since the economy was effectively told to down tools as coronavirus took hold of the UK.
All but the most essential shops had to close, factories fell silent and thousands of staff were furloughed.
Many big-name retail brands have since collapsed, other firms have suffered huge financial losses and a lot of jobs have been lost.
But for some the pandemic has presented an opportunity to launch a new venture, while others have adapted and found success online.
'Shock, panic and emotion'
Coffee wholesaler Gary Wright is still counting the cost of lockdown, both in unsold stock in his Glasgow warehouse and the personal pressure.
"Even though we were aware that it was probably going to happen, there was still a sense of shock, panic and emotion," he said.
"Revenue wise in a full year, we have lost 70% of turnover, which for a business this size is scary.
"Mentally it's been tough. There's like a deep anger sometimes.
"When you have built a business and you work in a business and you have built that from scratch, you'll fight for anything to keep that business here, so there's a natural anger and anguish inside you all the time when you have no control over what is happening."
'Without hope, is there any point?'
Dundee-based nightclub owner Tony Cochrane has no idea when he'll be reopening his venues across Scotland, or seeing any of his 300 staff back at work.
"I think most people thought 'let's give it three months', nobody had any idea we'd be standing here a year later still closed," he said.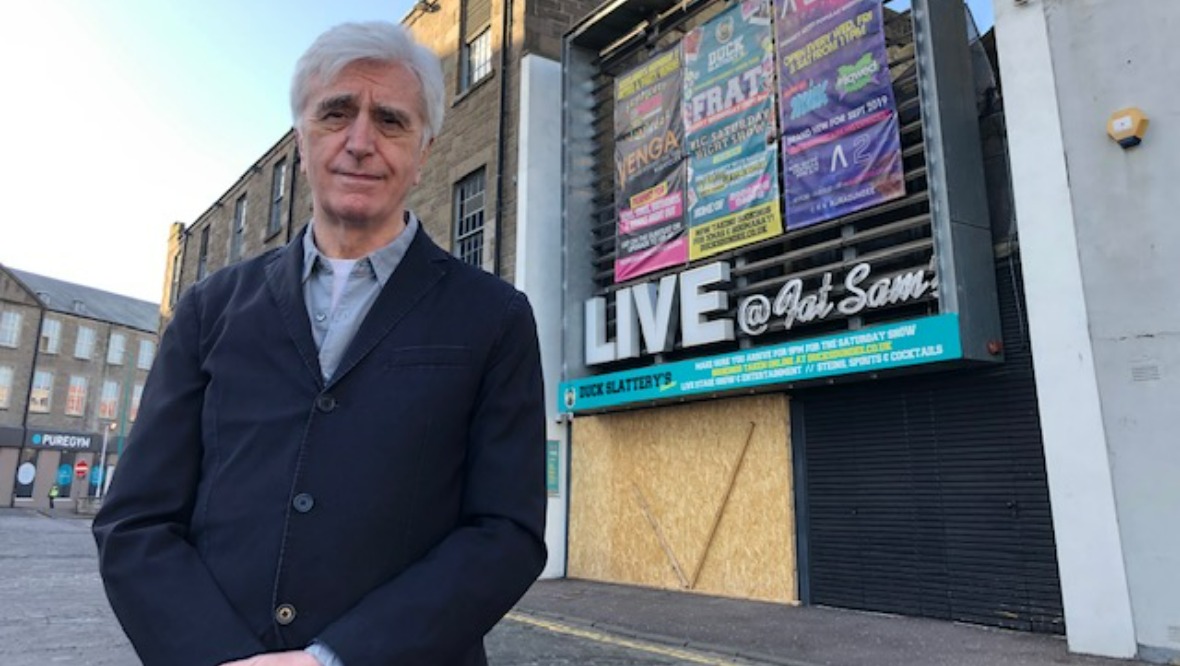 "Different funds have come out but it's not nearly enough to pay the bills.
"We've been prepared for a rainy day so we've had to use that, but a lot of people in the sector haven't had that and they unfortunately may go to the wall.
"People will hold on if they know there is hope, if they know there is a date. they'll cling on and dig deep to keep the places open, but without any hope is there any point?"
'Impact was huge'
Just three days after lockdown was announced, Robbie Allen and his partner Holly Grierson launched the Thriving Box Company from their Edinburgh flat.
Local retailers who had to shut up shop provided products for gift boxes, from coffee and candles to sweets and skincare.
"We started on the March 26, first sale was March 28 and by day four we'd sold about 200 or 300 gift boxes," said Robbie.
"Our impact on local retail business was huge. Where people would buy their products from was closed down essentially overnight and one of the main reasons I started the business was to help provide local businesses with a lifeline."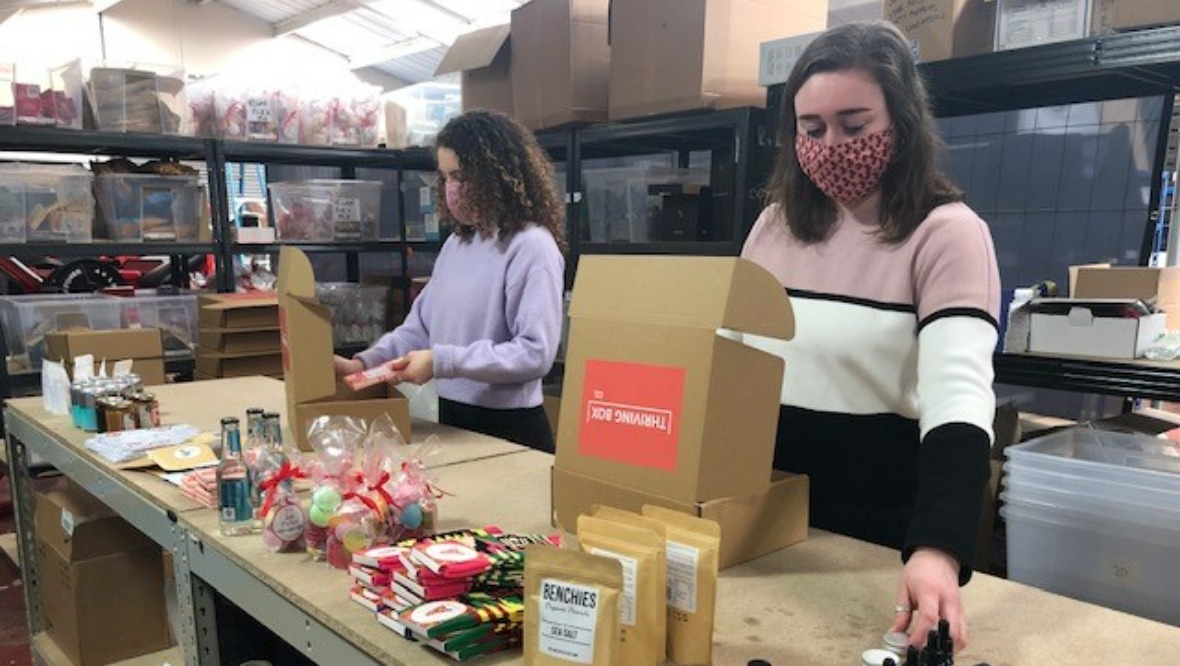 By the end of 2020, the company had turned over £1.3m pounds and taken on ten staff.
It now exports to corporate clients in 43 countries, delivering around 3000 gift boxes a month, mainly for people working from home.
"If we had launched this business without a pandemic there are huge arguments to say that it would not have been a success, we've seen growth that some businesses don't see in five years," added Robbie.
"People during the first lockdown were definitely up for doing something they thought was helping local [businesses], so we were able to use that as a catapult to becoming a corporate gifting business where local still remains at the heart of everything we do."
'Everything is online now'
From her home in Angus, lifestyle coach Shelley Booth has harnessed technology to take her wellbeing programme to clients around the world.
"I scaled my business so instead of working with 30 people I was working with up to 1000 people online," she explained.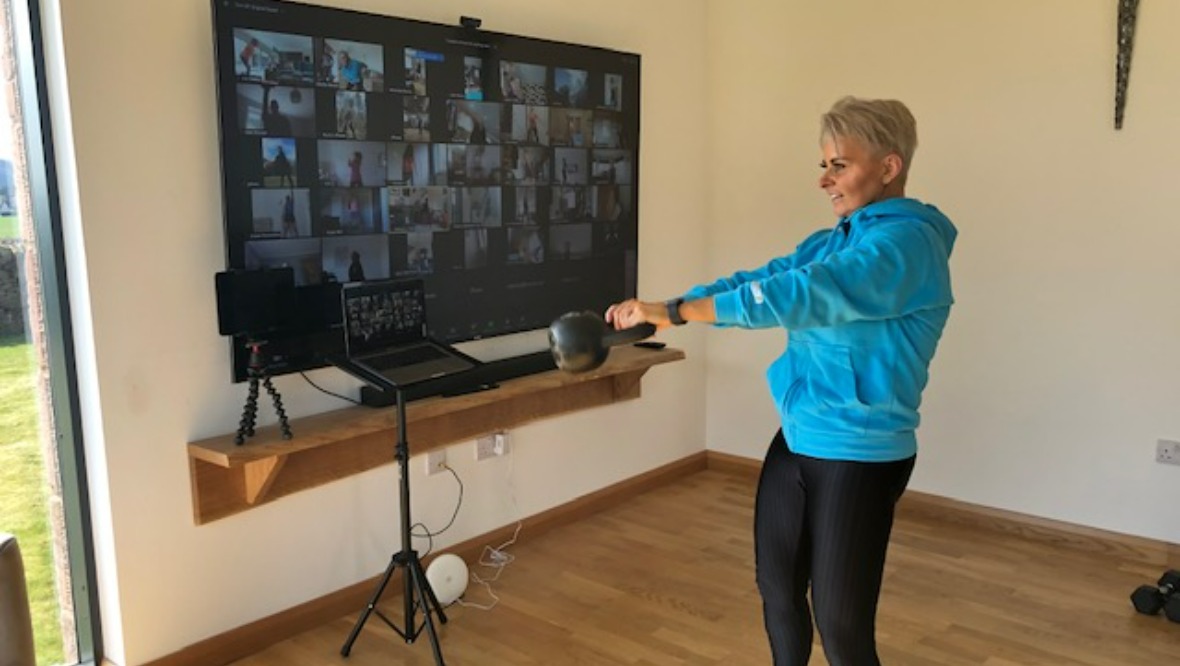 "I had to invest in a team of people to help me manage and develop the online business. Boot camps stopped, my gym is still sitting empty in Dundee and everything is fully online now.
"It has changed the demographic, there are people accessing what I do globally, from America to the Gold Coast, Asia and South America as well."
By late spring, the roadmap out of lockdown should see much of Scotland's economy reopen.
But the pandemic will continue to shape the future and fortune of every business.