Scotland's health minister clocked up an £11,000 bill on his official iPad on a family holiday to Morroco.
Michael Matheson is expected to give a statement to the Scottish Parliament on Thursday as the more details about his data usage on the trip have been revealed.
He used more than 6GB of data on the week-long vacation over New Year 2022.
On one day alone, January 2, he ran up more than £8,000 worth of roaming charges.
The taxpayer was set to foot the bill for the data but, following pressure, Matheson decided he would pay it in full personally.
We've found out plenty about how a Scottish Government minister could come back from holiday with such an eye-watering bill but there's still lots we don't know.
Opposition parties and members of the public will hope Matheson's speech – expected later on Thursday – will shed more light on the usage.
What exactly was Matheson doing that used up 6GB of data?
The fundamental reason this story has continued into a second week is that we still don't know exactly what Matheson was using his Parliament-issued iPad for.
The health secretary has insisted he used the tablet only for constituency work but has refused to release exactly what ran up 6GB of data.
The lack of knowledge on what was consumed has led to rampant speculation and some quick Google searches to find out how much data a film on Netflix would cost or how much an hour of Zoom calls would consume.
For those who are curious, Netflix says a movie can use anywhere between 1GB and 3GB of data depending on the quality of the stream.
Watch
Humza Yousaf has 'full confidence' in under-fire health minister Michael Matheson
Meanwhile, Zoom says an hour's call can see a device record anywhere between 500MB and 2.5GB of data depending on the quality of the call and how many people are on it.
We also don't know why he used half of the data, nearly 4GB, on January 2 alone – at a cost of more than £8,000.
Some have specualted whether the iPad may have been used as a hotspot, allowing other devices to contribute to running up the bill.
Was Matheson warned about the data usage and its costs?
Matheson has said he did not know he was running up such a high tab on holiday because EE "didn't provide information about the costs that were being incurred".
But that's disputed by EE which insists pop-up alerts on the device would have warned him about the increasing costs.
STV News approached EE for comment but received no answer.
Why were there such extreme additional roaming charges?
Matheson failed to update his old EE SIM card to Vodafone.
STV News revealed last week that the SNP minister was asked to change to Holyrood's new provider several times up to a year before his holiday.
As well as not putting his new Vodafone SIM in, he also failed to tell the Scottish Parliament he was going abroad – which they required MSPs to do so that the appropriate roaming package can be applied.
This means that Matheson's usage would have gone to EE's default tariff for being in Morocco.
Why was the charge so high when he only consumed 6GB of data?
In the UK, getting more than 100GB of data for under £15 is easy but when you're abroad the prices can increase massively.
That's especially true if you're out of contract, as Matheson was.
What does the £11,0000 EE bill tell us?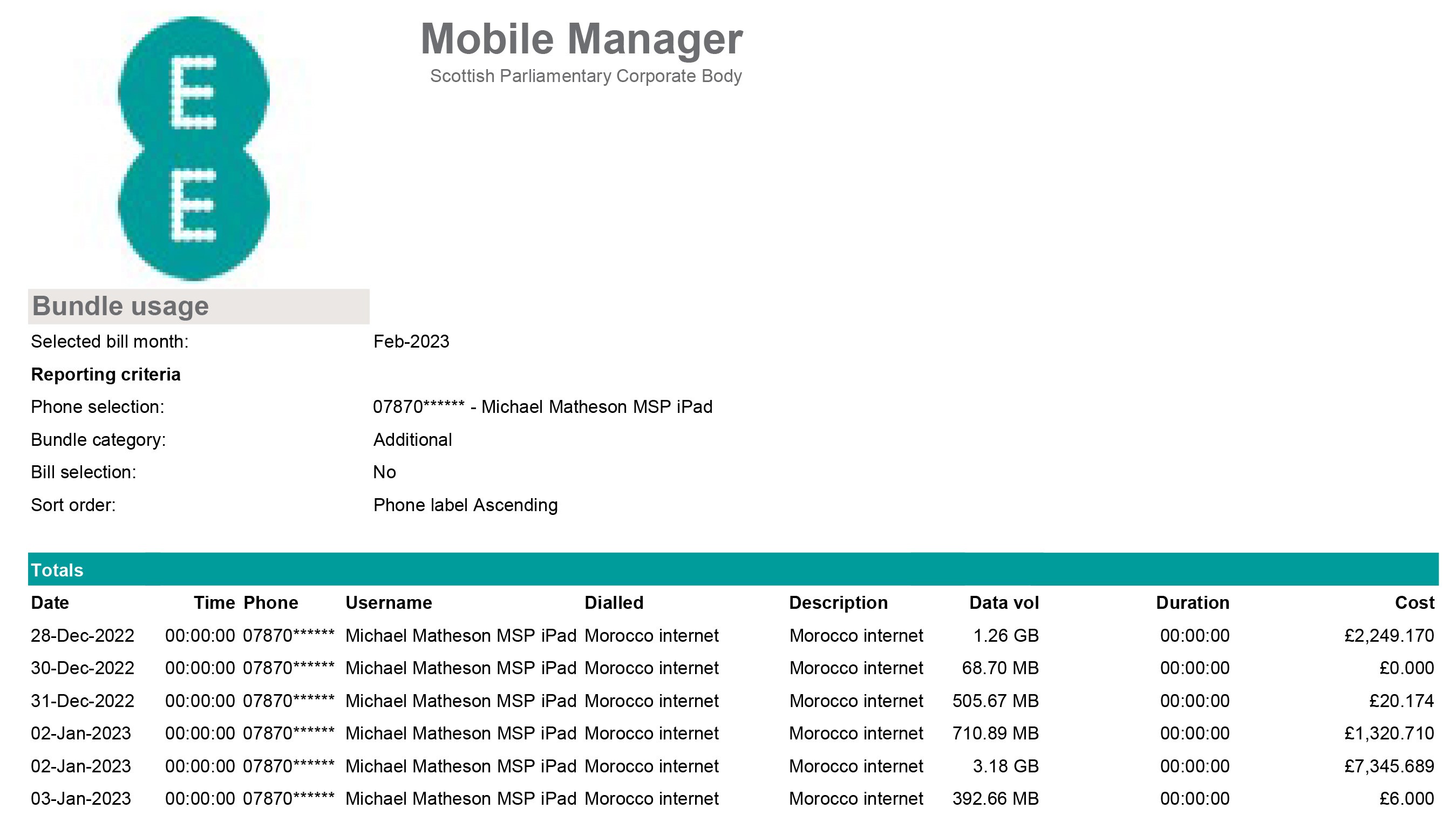 The usage and cost of data varies significantly throughout Matheson's holiday.
On December 28, the iPad used 1.26GB of data at a cost of £2,249.17 – about £1.79 per MB.
December 29 doesn't appear on the bill. But on December 30, the device uses 68.7MB but incurrs no charge.
The Scottish Parliament told STV that usage above the first 500MB is charged at a much higher rate – reflected in the billing.
This would explain why on Hogmanay, December 31, when 505.67MB was used, there was a charge of £20.174 – meaning he incurred most of that bill for the 5MB over he used.
In contrast to the free usage on December 30, on January 3 when less than 500MB was used, there was a cost of £6 which Parliament has described as a standing charge.
We don't know why there are two separate charges for January 2 – the most expensive day of data usage.
The Scottish Parliament told STV News that the dates on the bill were taken straight from EE's information and would have come from the provider's local supplier in Morocco.
We do not know how long was spent using data each day because the bill records the time and duration as midnight and zero respectively.
Why Holyrood didn't check his browsing history in the first place?
The Scottish Parliament said it took Matheson's assurances that he used the iPad strictly for parliamentary matters.
It said its relationship with MSPs is based on trust and they took the SNP MSP at his word.
There's also concern over the confidential nature of constituency work.
Holyrood's IT department did receive the iPad to ensure it was working correctly and did look at the data usage – but only how much he consumed and not what was consumed.
STV News is now on WhatsApp
Get all the latest news from around the country
Follow STV News
Follow STV News on WhatsApp
Scan the QR code on your mobile device for all the latest news from around the country