First Minister Humza Yousaf has inherited the leadership of a party under intense scrutiny.
That is the word of the moment in Scottish political circles as the SNP fights fires on multiple fronts – a two-year police investigation into the party's finances, a plummeting membership and the threat of a daunting by-election if Margaret Ferrier is suspended by the House of Commons.
Yousaf's predecessor Nicola Sturgeon, who led the SNP to eight election victories, is not returning to the Scottish Parliament this week as police examine emails that suggest she herself declined to open party finances to scrutiny.
Meanwhile, a leaked video published by a Sunday newspaper at the weekend shows the former FM playing down concerns about the party's finances in 2021, while warning of the impact on donors of going public with concerns.
That meeting took place just a few days before the first complaint was made to police about the SNP's finances.
And the pressure ratcheted up a few notches when police descended en masse on the house where Sturgeon resides with her husband, the SNP's former chief executive Peter Murrell.
Ahead of outlining his priorities for government, Yousaf said on Tuesday that he doesn't believe the SNP is operating criminally.
What are police investigating?
Police Scotland have been investigating the SNP since 2021 after receiving seven complaints related to donations to the party.
Donors claimed hundreds of thousands of pounds given during the 2017 referendum appeal – and a subsequent 2019 fundraising effort – were spent by the party on other things.
While the SNP had suggested that more than £600,000 raised through the special appeals was "ringfenced" for a referendum campaign, filings to the Electoral Commission, the independent watchdog, showed that at the end of 2019 the party had less than £100,000 in cash and cash equivalents.
Police Scotland and the Crown Office are investigating how £600,000 of funding raised by the SNP for independence campaigning has been spent.
Murrell arrest
Former SNP chief executive Murrell was arrested and then released without charge earlier this month as part of the ongoing investigation into the party's funding and finances.
A blue tent was set up in the front garden of the Glasgow house belonging to Sturgeon and Murrell, with police taping the area off.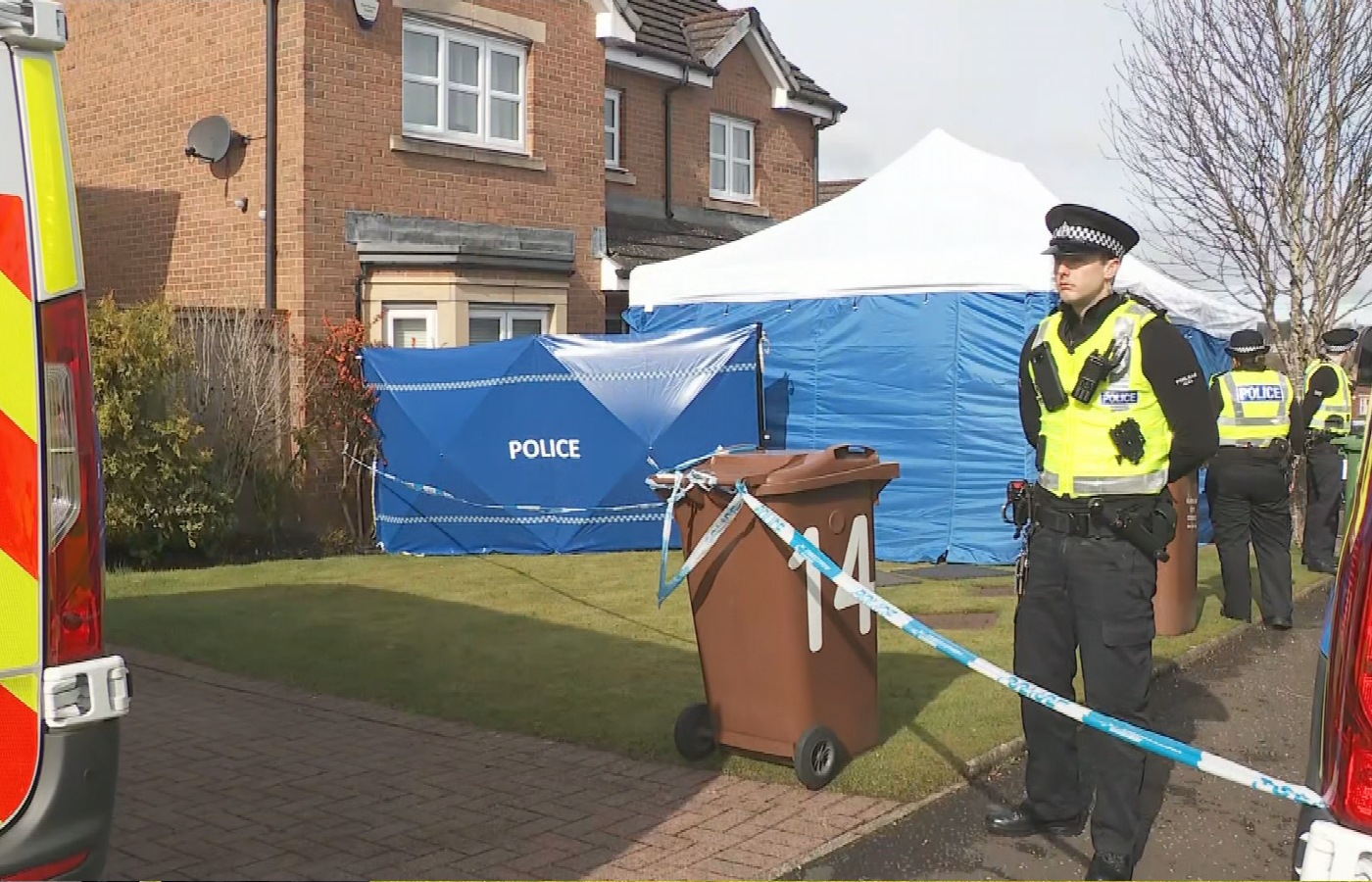 Nicola Sturgeon leaked video – March 2021
The video obtained by the Sunday Mail was reportedly from a meeting of the ruling body in March 2021, days before a complaint was made to police about the use of £600,000 of donations earmarked for an independence referendum campaign.
She warned those in the meeting of the national executive committee (NEC) of the impact going public with their concerns could have on donors.
Sturgeon said: "I've been on this body continuously for 20 years or so. I've been on this body when the party has frankly been teetering on the edge of bankruptcy.
"The party has never been in a stronger financial position than it is right now and that's a reflection of our strength and our membership."
The meeting in 2021 took place amid a volatile backdrop of growing internal dissent about transparency.
The Sunday Mail reported that three senior officials – Edinburgh Lord Provost Frank Ross, Allison Graham and Cynthia Guthrie – had just revealed to the NEC their intention to resign from the party's finance and audit committee after being denied sight of the accounts.
In the leaked video, Sturgeon warned NEC members about raising concerns about the party's finances.
She said: "Just be very careful about suggestions that there are problems with the party's finances because we depend on donors to donate.
"There is no reason for people to be concerned about the party's finances and all of us need to be careful about suggesting that there is."
The former SNP leader, who appears to have been filmed without her knowledge, warned the NEC against leaks.
She said that could limit its ability for "open, free and frank discussion".
What is Sturgeon saying about SNP finances now? – April 2023
In her first public comments since Murrell's arrest, Sturgeon said on April 8 that recent days had been "obviously difficult" as she gave a short statement outside the couple's home.
The former SNP leader said she could not comment on the investigation into the spending of around £600,000 that was earmarked for an independence campaign, "as much as there are things I may want to say".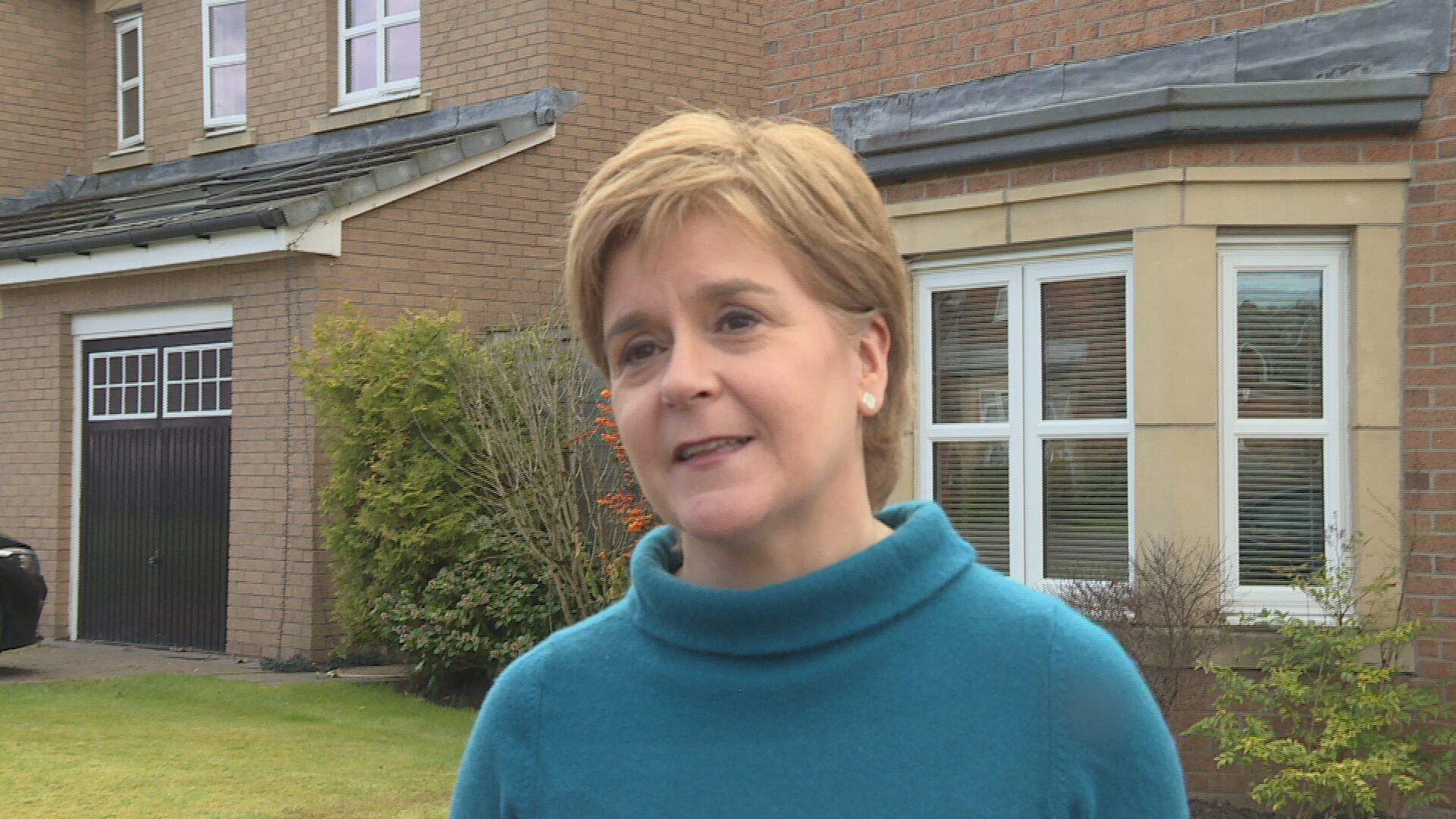 "The last few days have been obviously difficult, quite traumatic at times, but I understand that is part of a process," she told reporters.
The MSP said she understands the "scrutiny that comes on me as a public figure", adding: "But I'm also entitled to a little bit of privacy in my own home."
She asked journalists to "respect" her neighbours' privacy as well amid the "disruption and inconvenience" since Murrell's arrest on Wednesday.
"So that's really all I needed to say just now, other than I intend to get on with life and my job as you would expect me to," she added.
Asked if she had been questioned by officers, Sturgeon replied: "I haven't, but I will fully cooperate with the police as and when they request that, if indeed they do."
Auditors
The SNP has confirmed Johnston Carmichael had informed the party in September last year it would not be able to carry out the 2023 audit, with the decision coming following a review of its client portfolio.
The party contacted alternative firms late last year, but found they were "experiencing capacity issues" and were unable to take on new clients.
The SNP is required to prepare financial statements in accordance with the Political Parties, Elections and Referendum Act 2000. It has until July 7 to present their accounts to the Electoral Commission.
If there is no report and no reasonable excuse, the commission has the power to appoint its own firm of auditors.
The SNP's accounts for 2021 were published on August 16, 2022 and filed with the Electoral Commission.
In the accounts, the party said the special appeals had raised a total of £740,822 and it had "applied" £253,335 in spending "against this income".
The ongoing police investigation relates to £666,953 fundraised between 2017 and 2019, supposed to be used for an independence campaign. At the end of 2019, however, SNP accounts show the party had just under £97,000 in the bank.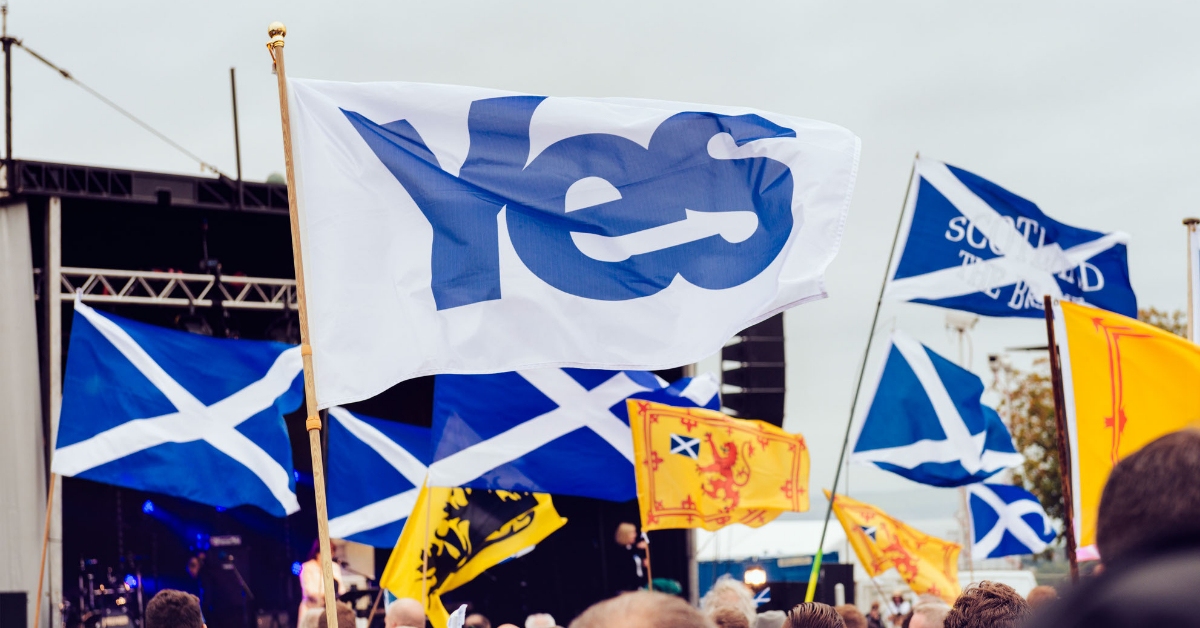 The balance was "earmarked" for "independence-related campaigning", it said, although its accounts reported it held cash and cash equivalents of under £150,000.
The party's total income was £4,510,460, total expenditure was £5,262,032, assets were £1,630,454 and liabilities were £1,055,689.
Electoral Commission rules state any party with income or expenditure of more than £250,000 is required by law to also independently audit their accounts and include this report in their submission.
The SNP insisted on Sunday that it was solvent even though its treasurer told the ruling council on Saturday that the party was "having difficulty in balancing the books".
Who knew the auditors had resigned last year?
Earlier this month, Yousaf said accountancy firm Johnston Carmichael had quit in "about October".
He also said he did not know about the firm's resignation until after he became the party's leader, saying it was "absolutely unacceptable" they had quit without members being informed.
Questioned on speculation the party could be bankrupt, he said it is "solvent" and bankruptcy had not been discussed at the NEC.
He said: "We're not close to bankruptcy. This is something I've read in some social media circles but, no, the party is solvent."
The SNP's National Executive Council agreed at the weekend to hold a governance and transparency review.
Questioned on the review, Yousaf said: "We will ensure we have external input, particularly around the issues of financial oversight.
"So, that may well be forensic accountants, it may well be some other means and method – but I think around the additional financial oversight, external input is really important."
He said an interim report on the review is expected in June, with a full report due in autumn and the latter will be made public.
Yousaf says he was unaware of the auditors resigning, but one SNP MP who says he knew is former Westminster leader Ian Blackford.
On Monday, he hit out at suggestions the party is in financial trouble, saying reports of quotes from treasurer and MSP Colin Beattie – which claimed it would be difficult to balance the party's books – had been the result of "selective reporting".
The MP for Ross, Skye and Lochaber also admitted he had been told of the resignation of the party's auditors near the end of last year, a fact that was only made public earlier this month.
"What happened was that Johnston Carmichael stood down as the auditors of the SNP and, as a consequence of that, as the auditors for the Westminster group," Blackford said.
"I was told in a timely manner that had happened … that was towards the tail end of last year after Johnston Carmichael had submitted their resignation."
Beattie arrested
The latest plot twist in the long-running saga came on Tuesday morning when Beattie was arrested as part of the ongoing police investigation.
Police Scotland confirmed on Tuesday morning that a 71-year-old man had been taken into custody as a suspect in connection with the probe.
Beattie, the MSP for Midlothian North and Musselburgh, is in custody and is being questioned by detectives, the force said.
Beattie has been an MSP since 2011 having previously been an international banker for more than 20 years.
He was the SNP's treasurer from 2004 until 2020, before being briefly replaced by Douglas Chapman.
Opposition parties called for Beattie to be suspended from the SNP as the police investigation continued.
Asked if Beattie has been suspended from the party, Yousaf said: "I've said already that people are innocent until proven guilty."
Beattie was released without charge pending further investigation on Tuesday evening.
On Wednesday, shortly before 5pm, Beattie resigned as SNP treasurer and said he would "step back" from his role on the Public Audit Committee.
He said he took the decision "to avoid further distraction to the important work being led by Humza Yousaf".
Joanna Cherry resigned from NEC over transparency concerns
Joanna Cherry, the MP for Edinburgh South West, was re-elected to the SNP's NEC in November 2020.
She said at the time she was "delighted" with her re-election.
But six months later she announced she was quitting the party's ruling body.
Her decision also came two months after Sturgeon told members the party was in a healthy financial position in the leaked video obtained by the Sunday Mail.
In making her resignation announcement, Cherry said that a "number of factors" had prevented her from fulfilling the mandate given to her by party members to improve transparency and scrutiny.
After Sturgeon resigned as FM in February, Cherry told the BBC: "I never thought it was healthy to have a husband and wife team running the government and the party."
Treasurer Douglas Chapman also expressed concerns
Cherry's resignation from the NEC in 2021 came just after fellow SNP MP Douglas Chapman announced that he had quit as national treasurer of the party.
Chapman tweeted on 29 May, 2021: "Despite having a resounding mandate from members to introduce more transparency into the party's finances, I have not received the support or financial information to carry out the fiduciary duties of National Treasurer. Regretfully I have resigned with immediate effect."
Several months previously, Champan was in a more ebullient mood, tweeting that the party had a budget for winning campaigns in 2021/22, partly thanks to £600,000 raised for independence purposes.
Sturgeon rejected allegations £600,000 has gone missing
In June, 2021, Sturgeon rejected allegations that £600,000 of SNP funds raised by activists had "gone missing".
The First Minister told MSPs she is "not concerned" about the finances of the party, insisting that every penny raised to support the campaign for independence would go towards that campaign.
Sturgeon said: "I'm not concerned about the party's finances. The finances of the SNP are independently audited, our accounts are sent to the Electoral Commission in common with other parties and of course published, so there's full scrutiny around that."
The First Minister continued: "Money hasn't gone missing.
"All money goes through the SNP accounts independently and fully audited.
"We don't hold separate accounts, we're under no legal requirement to do that, our accounts are managed on a cash-flow basis, but every penny we raise to support the campaign for independence will be spent on the campaign for independence."
What are opposition parties saying?
Scottish Conservative chairman Craig Hoy said Sturgeon's decision to work remotely this week "won't cut it".
He said: "If the SNP think they can pretend that all's well here, they're mistaken.
"The former First Minister's absence from Holyrood won't cut it – especially with big questions about the SNP's murky finances remaining unanswered."
Meanwhile, Scottish Labour's deputy leader Jackie Baillie said: "Try as she might to avoid the spotlight, it's clear that the former first minister is at the heart of the chaos engulfing the SNP.
"The failures and secrecy of the Sturgeon era are overshadowing Humza Yousaf.
"Nicola Sturgeon has a responsibility to represent her constituents in parliament regardless of the scrutiny she is under."