The UK could be facing 50,000 new Covid-19 cases a day by mid-October unless action is taken, the government's chief scientific adviser warned.
Sir Patrick Vallance said this could lead to 200 deaths a day by November, as he and chief medical officer Professor Chris Whitty held a televised briefing on Monday.
The UK Government experts believe the epidemic is currently doubling every seven days, with cases likely to soar without necessary measures.
New restrictions are expected to be announced over the coming days in a bid to curb the spread of Covid-19.
First Minister Nicola Sturgeon and other UK devolved leaders are due to have calls with Prime Minister Boris Johnson on Monday, ahead of a Cobra meeting on Tuesday.
"At the moment we think the epidemic is doubling roughly every seven days," Sir Patrick said.
"If, and that's quite a big if, but if that continues unabated and this grows doubling every seven days… if that continued you would end up with something like 50,000 cases in the middle of October per day.
"Fifty thousands cases per day would be expected to lead a month later, so the middle of November say, to 200-plus deaths per day."
He said changes are already in place, which should "slow" the rate of infection.
Sir Patrick added: "The challenge therefore is to make sure the doubling time does not stay at seven days.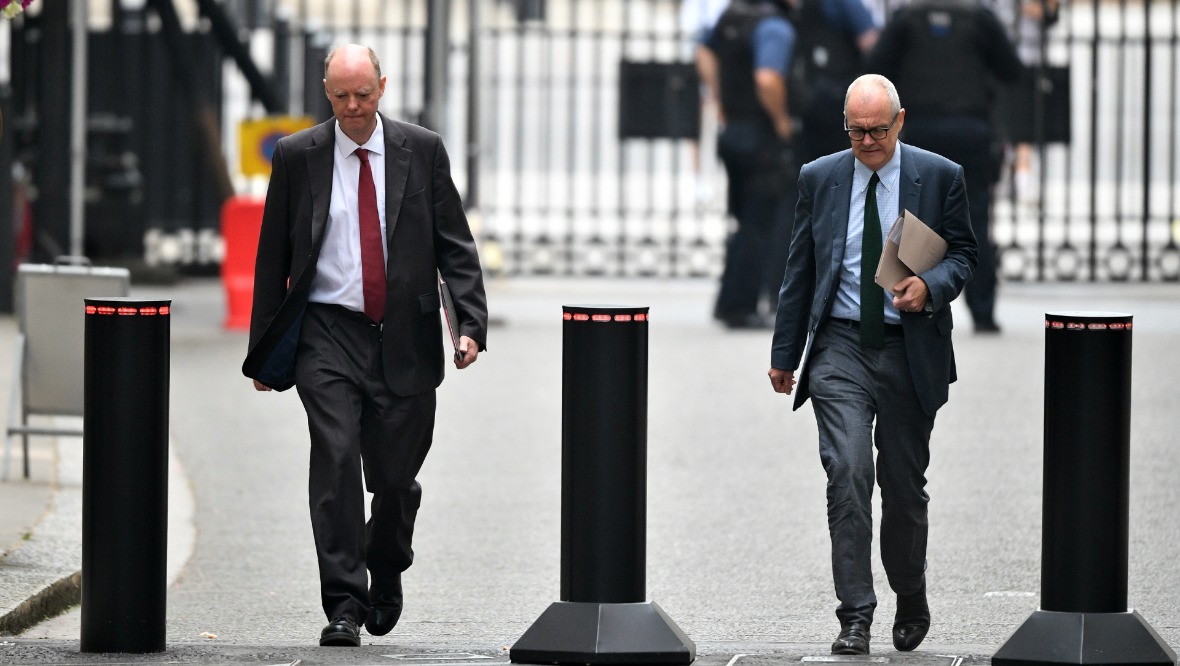 "There are already things in place which are expected to slow that, and to make sure that we do not enter this exponential growth and end up with the problems that you would predict as a result of that.
"That requires speed, it requires action and it requires enough in order to be able to bring that down."
Prof Whitty added there was now "significant rates of transmission" of coronavirus in parts of the UK.
He said: "What we've seen is a progression where, after the remarkable efforts which got the rates right down across the country, first we saw very small outbreaks, maybe associated with a workplace or another environment, then we've seen more localised outbreaks which have got larger over time, particularity in the cities.
"And now what we're seeing is a rate of increase across the great majority of the country. It is going at different rates but it is now increasing.
"And what we've found is, as we go through in time, anywhere that was falling is now moving over to beginning to rise and then the rate of rise continues in an upwards direction.
"So, this is not someone else's problem, this is all of our problem."
Humza Yousaf, the Scottish Government's justice secretary, described Sir Patrick and Prof Whitty's Covid update as "sobering".
He added: "Our own data in Scotland also showing concerning trends. Simply put, doing nothing is not an option.
"As Jeane Freeman said this morning, we will be guided by science and take action necessary to save lives."