A politician diagnosed with arthritis as a child has spoken of her experience living with the condition as part of efforts to raise awareness.
Pam Duncan-Glancy, a Labour MSP for Glasgow, was diagnosed as having Juvenile Idiopathic Arthritis at 18-months-old.
The condition is a form of arthritis in children and young people and affects around one in 1,000 under-16-year-olds in Scotland.
It is auto-immune, meaning that the body's immune system mistakenly attacks healthy joint tissue.
This leads to inflammation, stiffness, swelling and chronic pain, and can also affect other organs such as the eyes.
On June 13, the first ever Juvenile Idiopathic Arthritis (JIA) Awareness Week was launched by the Rheumatoid Arthritis Society (NRAS).
It seeks to raise awareness of the condition and to eliminate misconceptions by educating people about JIA.
Speaking to STV News, Duncan-Glancy, who became the first wheelchair user to be elected to the Scottish Parliament last year, explained that the condition did "a lot of damage" in the early part of her life.
But, she says that things have since come a "long, long way", with different drugs now available to help people with the condition.
"I was diagnosed with Juvenile Chronic Arthritis, it was called at the time, and Juvenile Idiopathic Arthritis, as far as I'm aware, is exactly the same thing, just a different name," she told STV News.
"I was diagnosed with Juvenile Chronic Arthritis when I was 18-months-old, I'm now 40. So that's a long time ago.
"And in those 40 years, it's always been something that people are really surprised to hear that firstly, young people get.
"Secondly, someone who's 18-months-old, so effectively babies can get, and thirdly, that it affects people in the way it does."
Duncan-Glancy said the condition affected her joints to the extent that many of them are now fused and out of shape.
She explained: "If you have a particularly aggressive form of it, it's when the immune system turns on your joints and attacks your joints instead of anything else, instead of the things that it should be attacking.
"And so it attacks the membranes in the joints and effectively makes it jaggy so that there isn't that kind of smooth surface for the joints to move across on one another.
"And so when you get that from a really young age, it has a significant impact and can be quite disabling and did do a lot of damage in the first 13 or 14 years of my life."
She continued: "It affected all of my joints to the extent that many of them are fused, a lot of them are out of shape, some of them… are quite out of shape and it can have a significant impact.
"It causes an awful lot of pain as well to a lot of people and I don't think it's something that we've spoken about all that much because people just associate arthritis usually in older age, but it really does affect a lot of young people and can be quite disabling."
The Scottish Labour MSP insisted that the work being done to help those with the condition means that those who are diagnosed can lead "promising and pain free lives".
"Since I had arthritis when I was young, things have come a long, long way and so there's a lot of different drugs that people can take now," she said.
"So, if you're diagnosed today as a young person with arthritis, your outlook will be far, far better than it ever was for me.
"And I know that there's a lot of good things that can be done now to effectively mean that a lot of young people will be able to lead really, really kind of promising and pain free lives, which wasn't necessarily the case even just 20 or 30 years ago."
The Scottish Labour MSP said that the condition can be "stark" in how it can vary in its impact on a day-to-day basis.
"Some days, you can feel really great, other days your joints are so stiff and sore and swollen that it's impossible to move them, it's really difficult to get out of bed, it can take an hour or so, sometimes more, in the mornings to be able to move your body and your joints," she said.
"It is really tiring at times, not just the effects of the JIA itself, but also of some of the drugs that you take to control it.
"So, the drugs I take for example, I take them at night but they can make it quite difficult for me to get up in the morning, so it can be quite sluggish.
"There are days when I'm just in a lot of pain and it's really hard to concentrate because of the pain.
"And then there are other days when you feel quite good and obviously there's a lot of factors in that.
"So, there's the drugs that you can take or there's the position that you're sitting in.
"So, for example, when I'm in Parliament, I've got a special seat that I sit in at my desk if I'm in the office and it's really supportive and helps me in different ways to what my wheelchair does because the wheelchair is for really getting around, but when you're at the desk and you're on a computer, you need different things.
"So, it's about having different things in place to support the environment that you're in.
"It also means for a lot of people living with JIA that they have to plan their day and their week really, really carefully because it does take a lot longer to do things.
"You also have to make sure you're going to have the energy left to do things by the end of the week because and so try and space things throughout the week.
"So, all of that really, really matters."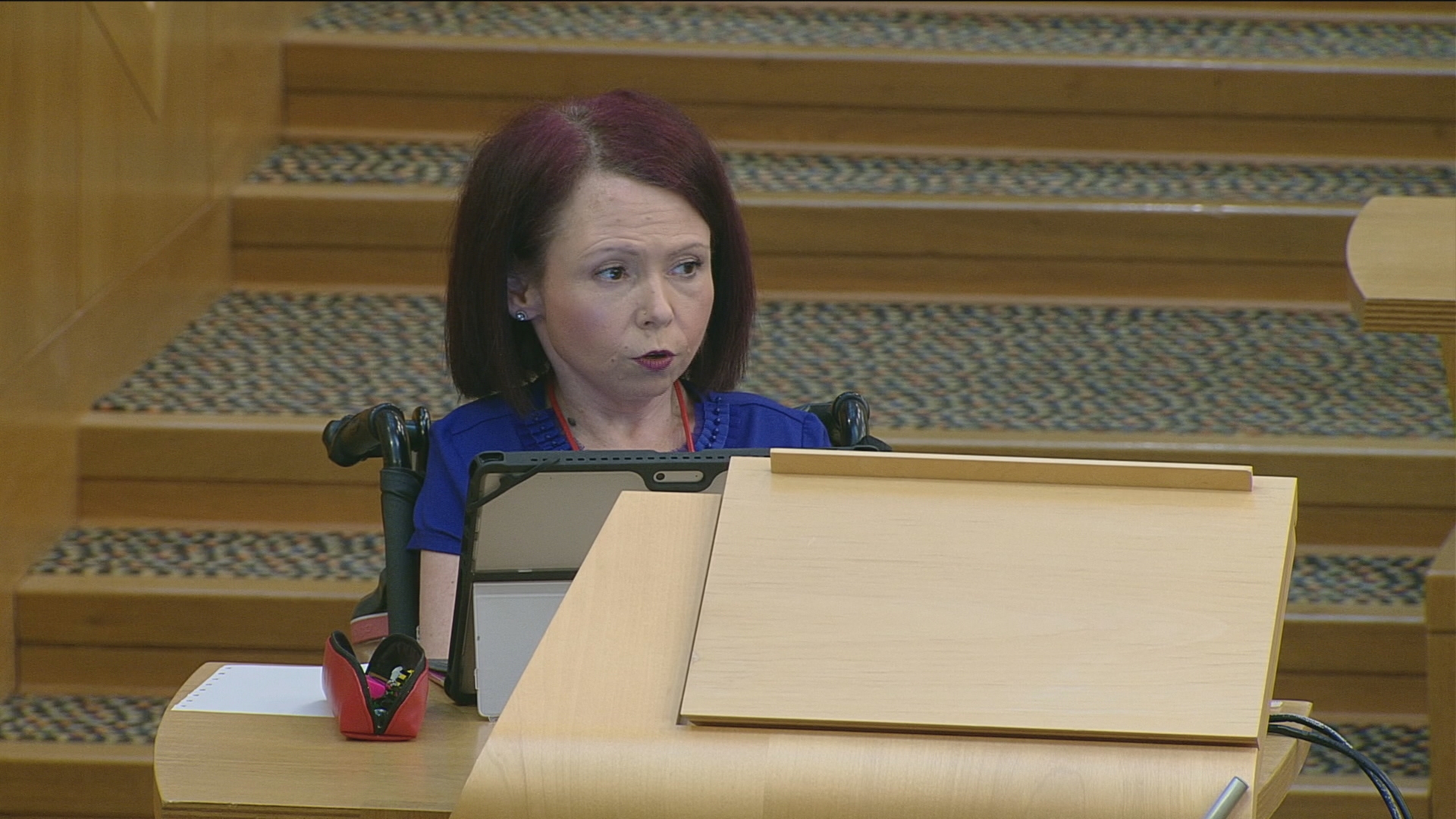 Duncan-Glancy praised the teams and people supporting those with JIA, particularly in Scotland, who she described as "incredible" and "some of the best in the world at what they do".
The Scottish Labour MSP acknowledged the support teams at the Scottish Parliament who have helped her since being elected.
However, she underlined the issues facing many others who are having to pull out of work because they are unable to access the support they need.
She said: "The Parliament have been outstanding, I must admit, they've been really, really good, and the facilities management team have been incredible the way that they've made sure that I've had all the support that I've needed.
"It really should be like that in every workplace, but it isn't and it shouldn't take someone to get to the position I have as an MSP to get what you need in order to be able to access work.
"There (was) research done recently by the British Rheumatology Society that shows that waiting times, for example, for people who have Juvenile Arthritis, but also other forms of arthritis.
"Whilst people are waiting for support, people are dropping out of the workplace because of the pain that they're in or because they don't have the occupational therapy, or they don't get the physiotherapy, or they haven't seen the podiatrist.
"So, all of these things are adding up and in some cases, people are pulling out of work because they've not been able to get the support they need.
"So, there's a huge amount of work needed to be done to make sure that rheumatology services and the multi-disciplinary teams that work around people with arthritis have all the support and resources that they need to be able to ensure that people get the support they need."
STV News is now on WhatsApp
Get all the latest news from around the country
Follow STV News
Follow STV News on WhatsApp
Scan the QR code on your mobile device for all the latest news from around the country