Nicola Sturgeon has said that even she is not as derogatory about Douglas Ross as his own Conservative colleagues south of the border.
Her comments come after Jacob Rees-Mogg described the Scottish Conservative leader as a "lightweight figure".
Ross had earlier called for Boris Johnson to resign after the Prime Minister admitted to having attended a gathering in the garden of Downing Street during the height of the pandemic in May 2020.
Rees-Mogg told LBC News that he did not think Ross was a big figure in the party, before later doubling down on his remarks in an interview on the BBC's Newsnight programme.
SNP MSP Audrey Nicoll raised the issue in the Scottish Parliament at FMQs on Thursday as she called for Scotland to become an independent country.
She said: "To ask the First Minister if she agrees that the unmasked disdain the UK Government has shown the last 24 hours for their own colleagues in Scotland, dismissing their Scottish leader as a lightweight, makes it crystal clear that Scotland needs to become an independent country so we can escape the sleazy, corrupt and criminal Westminster system for good?"
Sturgeon said that the insults directed towards Ross from his colleagues says something deeper about the "utter contempt" of the Westminster establishment for Scotland.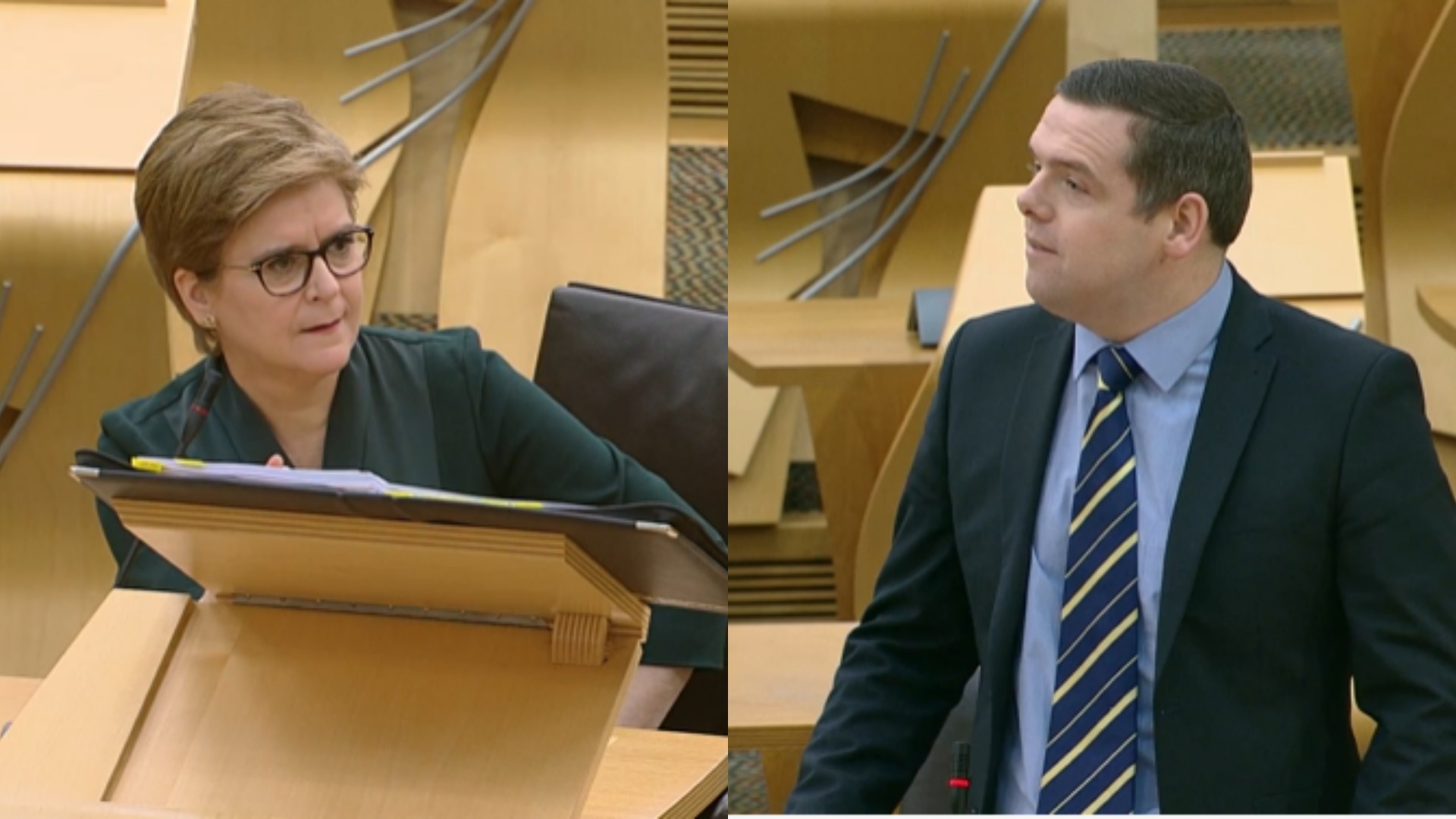 She responded: "I, I think as we've just seen, have big political differences with Douglas Ross, but even I am not as derogatory about him as his own Tory colleagues are being.
"'Not a big figure', 'lightweight', these might be personal insults directed at the leader of the Scottish Conservatives, but actually, they say something much deeper about the Westminster establishment's utter contempt for Scotland.
"If they can't even show basic respect for their own colleagues, what chance do the rest of us have.
"The fact is, Westminster thinks Scotland doesn't need to be listened to, can be ignored and now, we're being told we have to thole a Prime Minister that his own colleagues think is not fit for office."
The First Minister added: "Independence is fundamentally about empowerment and aspiration, but you know what, an added benefit of being independent is that we'll no longer have to put up with being treated like something on the sole of Westminster's shoe.
"And I suspect today even Douglas Ross finds that a really attractive proposition."
STV News is now on WhatsApp
Get all the latest news from around the country
Follow STV News
Follow STV News on WhatsApp
Scan the QR code on your mobile device for all the latest news from around the country