Nicola Sturgeon's successor as Scotland's first minister is set to be named later on Monday.
SNP members have been voting for a new party leader over the past two weeks, following Sturgeon's resignation in February.
Current health secretary Humza Yousaf, finance secretary Kate Forbes or former community safety minister Ash Regan will be declared the winner around 2pm.
The successful candidate is then likely to become first minister on Tuesday when MSPs vote in the Scottish Parliament.
A turbulent leadership race has seen rows over SNP membership numbers and the "integrity" of the election, as well as the resignation of chief executive Peter Murrell, which prompted his successor to describe the party as being in a "tremendous mess".
Several televised debates have seen Yousaf, Forbes and Regan clash over their records and their plans for achieving Scottish independence.
They have all faced questions over their views on controversial gender recognition reforms, abortion and same-sex marriage.
In their final pitches to voters over the weekend, the finance and health secretaries appealed to those still to cast their votes.
On Sunday morning, Forbes issued a video message urging undecided SNP members to trust her.
She said she was the only candidate who "can reach across the political divide and convince No voters to think again" and that "without achieving that conversion of No voters, Scotland is stuck in an endless constitutional loop".
"I have met so many people in the last weeks who have waited so long – for many a lifetime- to achieve Scottish independence. Give me your support and let's get this done."
Yousaf called on members yet to vote to ensure the party's progressive values are heard before the ballot closes at midday on Monday by voting for him.
"Momentum has been building behind my vision for a fairer, greener and more prosperous Scotland – where equal rights for all Scots are not just tolerated, but advanced and celebrated," he said.
"At this important juncture in the history of our party, and the wider independence movement, it is so important that we don't choose to throw away our winning strategy and the progressive values that have become the hallmark of the SNP."
Regan didn't take part in last-ditch campaigning over the weekend.
But on Friday, the former community safety minister said she was the only candidate with a clear route map towards independence.
"50%+1 in any [Holyrood] or [Westminster] election then we commence withdrawal negotiations from the UK," she said.
"No ifs, no buts. Independence, nothing less."
Ahead of the new leader being named, opposition parties said what the people of Scotland wanted was a focus of the cost of living crisis, not another independence referendum.
Scottish Conservative leader Douglas Ross said: "Whoever is elected as SNP leader today, Scotland loses.
"The trio of candidates have spent weeks attacking each other and even the party's president had to admit they are in a tremendous mess.
"People and communities across Scotland are crying out for Nicola Sturgeon's replacement as first minister to focus on the real challenges facing the country, not to push for another divisive referendum."
Scottish Labour leader Anas Sarwar urged the next SNP leader to address the Scottish Government's "overflowing in-tray".
"Nicola has left her successor to pick up the pieces of her woeful record," he said.
"Everyone agrees that the same old mediocrity, continuity and incompetence won't cut it – but no one in this dire race has shown they're up to the job.
"Scotland is crying out for change, but a new SNP first minister isn't going to be enough."
Sturgeon's emotional exit
Nicola Sturgeon was given a standing ovation as she made her last speech at Holyrood as First Minister, saying holding the post for the last eight years "truly has been the privilege of my lifetime".
In a statement made at the end of First Minister's Questions last Thursday, she thanked Scots for "placing your trust in me".
Three years to the day from the start of the first coronavirus lockdown, she told how she had "led Scotland through good times but also through the toughest period of our recent history".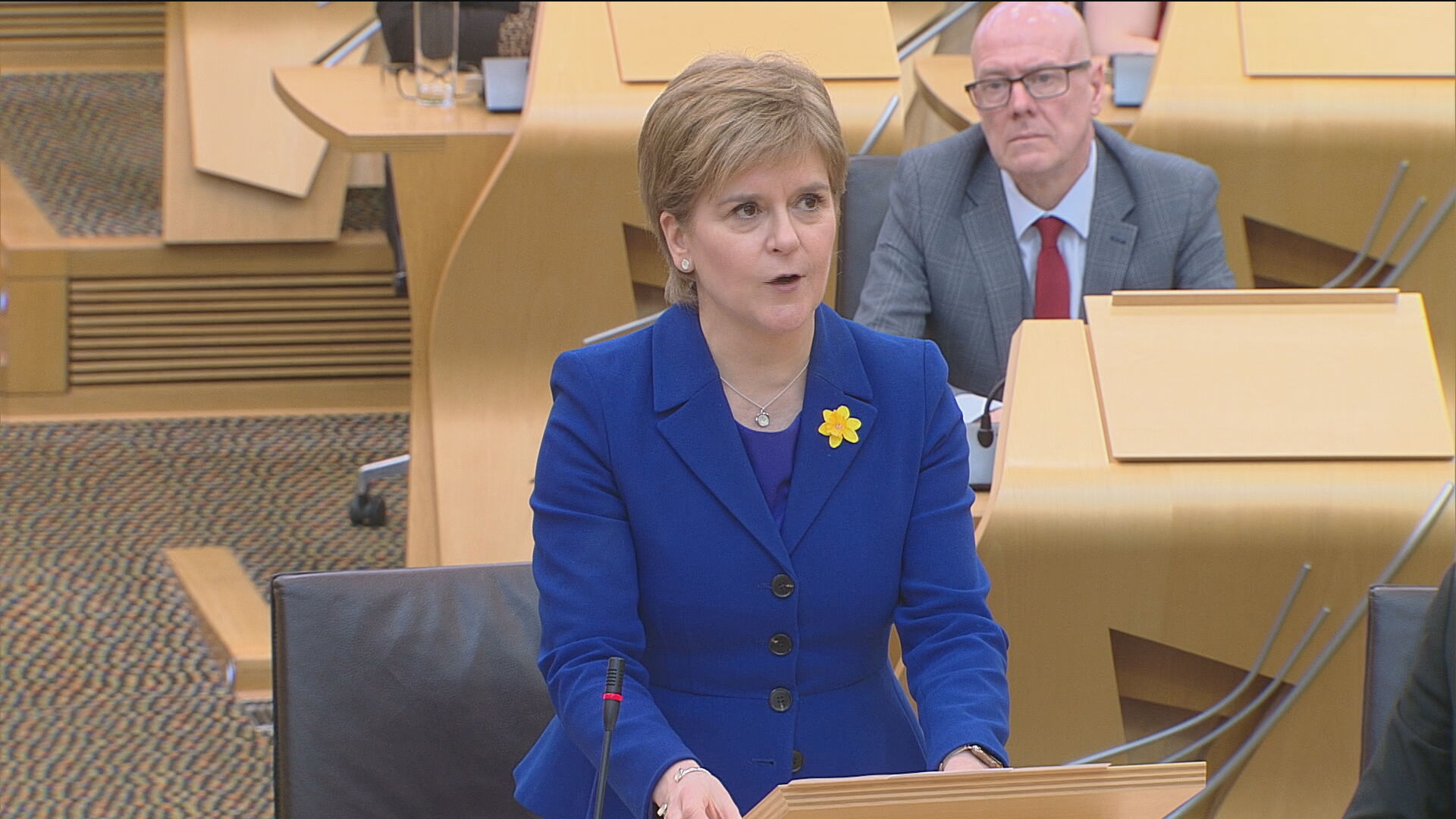 The experience of the pandemic "changed me", she said, telling MSPs that her thoughts "today and always are with those who lost loved ones to Covid" as well as others still suffering as a result of the virus.
Speaking about the experience of the pandemic, she said: "In the toughest of times, our country showed the best of itself with love, care and solidarity.
"That will live with me forever."
Sturgeon – Scotland's first female first minister and also the longest serving incumbent in the post – described the job as "challenging, exhilarating and exhausting".
But after 35 years in politics, including 24 as an MSP and 16 in the Scottish Government, she said it is the "right time" for her to step aside.
Scotland's first ministers
Yousaf, Forbes or Regan will become the sixth first minister since devolution. The others were:
1999-2000 – Donald Dewar (Labour – Died suddenly after collapsing outside Bute House)
2000-2001 – Henry McLeish (Labour – Resigned amid 'officegate' scandal)
2001-2007 – Jack McConnell (Labour – Left after losing Holyrood election to SNP)
2007-2014 – Alex Salmond (SNP – Quit after Scots voted against independence)
2014-2023 – Nicola Sturgeon (SNP – Said she was stepping down for personal reasons)