Keir Starmer has attacked the SNP for trying to "present nationalism as a bridge to the world" when it can "barely provide a ferry out of the Hebrides".
The Labour leader said Humza Yousaf's party would "wave away the lessons of history" as it regroups following a defeat to Labour at the Rutherglen and Hamilton West by-election.
Making his pitch to voters north of the border, Starmer promised that Scotland would be "at the heart of a Britain built to last".
"Scotland can lead the way to a Labour Government," he said. "But be under no illusions we must earn every vote, and we must understand that the Scottish people are not just looking at us; they're also looking at Britain.
"The challenge of change remains but nonetheless, for the first time in a long time we can see the tide that is turning. Four nations that are renewing.
"Old wounds of division exploited by the Tories and the SNP beginning to heal."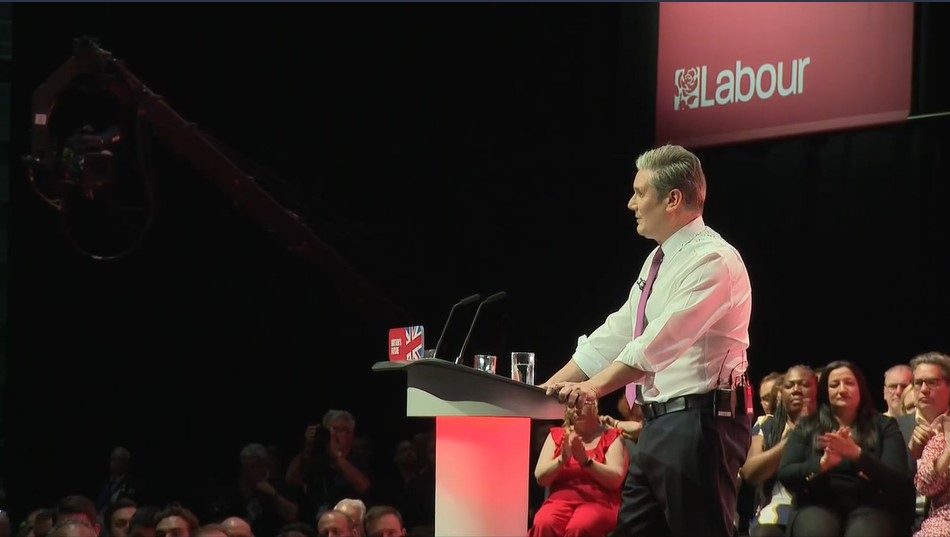 He said the victory by Labour's newest MP Michael Shanks – who won more than double the votes of the SNP last week in South Lanarkshire – would "ring out across Britain".
"Labour serves working people in Scotland because Labour serves working people across all these islands," he told party members.
He continued: "The SNP will regroup, of course they will. Once again they will wave away the lessons of history; try to present nationalism as a bridge to the world.
"We have to remind them it can barely provide a ferry to the Hebrides."
Starmer pledged a state-owned Great British Energy company based in Scotland if his party wins the next general election.
"Although Great British Energy will be a shared mission, Scotland has the skills, and the ingenuity and Scotland is at the heart of a Britain built to last.
"That's what the people of Rutherglen voted for."
Protester storms stage and throws glitter over Keir Starmer
Starmer was interrupted at the start of his keynote speech when a man stormed the stage and threw glitter over him.
The man was dragged from the stage before being taken away by police.
After being interrupted by the heckler, Starmer opened his speech by saying: "If he thinks that bothers me he doesn't know me.
"Protest or power, that is why we changed our party conference."
'I'll build 1 million new homes in the UK'
Speaking to the whole of the UK, Starmer promised to "bulldoze" his way through restrictions to build a new Britain, with modern homes and businesses and an English NHS "back on its feet".
Promising to reshape the UK with 1.5 million homes including new towns, modernised infrastructure and support for green industries, he said "the fire of change still burns in Britain" and it "lives on in Labour".
He said the scale of the challenge for an incoming Labour government would be unprecedented.
He told the conference: "If you think our job in 1997 was to rebuild a crumbling public realm, that in 1964 it was to modernise an economy left behind by the pace of technology, in 1945 to build a new Britain out of the trauma of collective sacrifice, then in 2024 it will have to be all three."
He said Labour provide a "decade of national renewable" as he accused the Tories of "kicking the hope" out of the UK.
He said Labour would create "a Britain built to last where working people are respected, crime is prosecuted, ambulances come, the minimum wage is enforced, infrastructure gets built, children feel safe in their classroom, business and workers unite in partnership".
"No more bonuses for people pumping sewage into our rives. No more pensioners freezing while energy firms make record profits.
"No more government contracts awarded via the back door. No more cleaners mocked as they scrub mess off the walls of illegal parties in Westminster."
'Empty rhetoric'
The SNP criticised Starmer's speech for what it said was a lack of action to reverse austerity in the UK.
The party's social justice spokesperson, MP David Linden, said: "For all the empty rhetoric, Sir Keir Starmer remains wedded to Tory austerity cuts, Brexit and the same damaging Westminster policies that got the UK into this mess.
"Families are suffering from the soaring cost of living in the UK and need help right now – but Sir Keir failed to outline a single policy to help households this winter, and his admission the Labour Party will continue to impose a hard Tory Brexit will choke off economic growth permanently.
"In stark contrast, the Irish government today introduced many of the bold measures the SNP has been demanding to help families with the cost of living, including mortgage interest relief and an energy bill rebate – showing what independent countries of Scotland's size can achieve.
"It's clear neither of the Westminster parties are capable of offering the change Scotland needs – showing why independence is essential to building a fairer and wealthier future."
Scottish Conservative Party chair Craig Hoy said: "Keir Starmer's speech conveniently avoided mentioning his policy of abandoning our North Sea oil and gas industry.
"That's because it's economically and environmentally illiterate to turn off the taps now, as it would destroy tens of thousands of jobs in the North East of Scotland and force us to import more costly foreign fuel with a far greater carbon footprint.
"It's little wonder the Labour leader hasn't dared to step foot in the North East of Scotland since announcing this reckless plan.
"On many issues – including oil and gas – he appears to agree with the SNP, which undermines his claim to offer Scotland change from the Nationalists.
"The Scottish Conservatives are the only party that can be trusted to stand up to the SNP at Holyrood and beat them in a number of seats across the country – to get the focus onto Scotland's real priorities, like the cost-of-living crisis and unacceptable NHS waiting times."
STV News is now on WhatsApp
Get all the latest news from around the country
Follow STV News
Follow STV News on WhatsApp
Scan the QR code on your mobile device for all the latest news from around the country