A crackdown on Holyrood protests will see those disrupting proceedings banned for six months, the parliament's presiding officer has said.
Alison Johnstone announced the new rules after Humza Yousaf's debut First Minister's Questions was suspended due to protesters five times in just 15 minutes.
That led to the public gallery being cleared but parliament was suspended again after MSPs agreed to let visiting schoolchildren back in.
Climate groups took responsibility for the protests which have been a regular occurrence at FMQs for months.
And one of the protesters involved had been thrown out of the public gallery just three weeks ago.
Police Scotland confirmed 11 protesters were escorted from the building on Thursday.
In an email to MSPs, Holyrood's presiding officer announced new rules to stop the disruptions.
She said: "I know you will all agree with me that the disruptions at FMQs today were wholly unacceptable.
"Parliamentary business cannot, and will not, be jeopardised by the actions of a small number of people.
"The SPCB met this afternoon to consider the Parliament's response.
"Under my authority, all those who disrupted business today will be issued with a ban from the chamber public galleries for six months.
"The SPCB was also clear that we must be in the strongest position possible to prevent further disruptions to business.
"With that in mind, we will introduce, at the earliest opportunity, more stringent measures to identify those who disrupt our proceedings.
"We will also amend our visitor access policy to explicitly state that anyone who wilfully disrupts business will be excluded from our public galleries."
That comes after the Scottish Parliament banned phones in the public gallery to deter demonstrators.
Johnstone continued: "Excluding individuals is not a step we take lightly – indeed this is the first time such action has been necessary in this way.
"Over the last 25 years, this Parliament has prided itself on its openness to the public and that is an ethos that we want to retain.
"However, the individuals who disrupted the Parliament today did not attend to observe parliamentary democracy but to disrupt.
"The Parliament must consider the impact on the welfare of others in the gallery where such action may result in alarm and distress.
"In such circumstances, we must act. "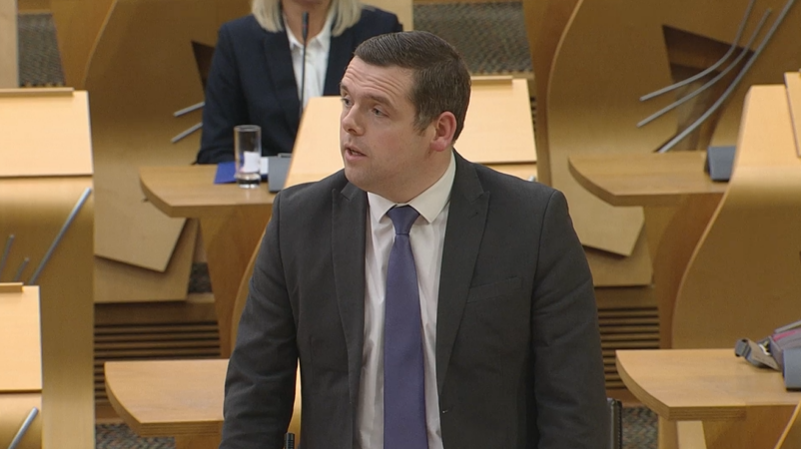 On Thursday, Scottish Tory leader Douglas Ross faced repeated interruptions as he quizzed the new First Minster.
After being interrupted, he said: "This shower have been doing this week after week, and the image of genuine constituents being forced out of our Parliament is one we will all regret and one none of us want to see repeated."
Speaking to journalists after FMQs, Yousaf said: "There is absolutely a right to protest in this country and nobody is ever going to deny that but disrupting members of the Scottish Parliament from asking questions that are important to their constituents I don't think is the right way to do that.
"So I'm fully supportive of the presiding officer taking the action and exploring the action that she can take to stop that disruption."
A Police Scotland spokesperson said: "Around 12.20pm on Thursday, 30 March 2023, 11 protestors were asked to leave the public gallery for breach of the code of conduct at the Scottish Parliament.
"There were no arrests and there is no further police action."