Scottish health secretary blames £11,000 iPad roaming charge on sons watching football
Michael Matheson fights back tears as he apologises to parliament for not revealing the information sooner
Minister's iPad used 6GB of data during a week in Morocco last year
He said he found out his kids had used the iPad last Thursday – but told journalists on Monday there was no personal
Scottish Tories accuse Matheson of misleading parliament and vow no-confidence vote
First Minister Humza Yousaf backs health secretary during row
The Scottish minister at the centre of a row over an £11,000 roaming bill has blamed his sons saying they had used his official iPad to watch football on holiday.
Speaking to the Scottish Parliament, Michael Matheson – who choked back tears as he spoke – apologised and said he had not revealed the information before because he wanted to protect his family.
"In my statement issued last Friday I made no reference to the use of data by my family," the health secretary said.
"As a parent, I wanted to protect them from being part of the political and media scrutiny associated with this, something I believe any parent would want to do.
"I am a father first and foremost – that was a mistake and I am sorry.
"I can see now that it just isn't possible to explain the data usage without explaining their role.
"Presiding Officer, the simple truth is they watched football matches."
The Falkirk West MSP said he had only found out about the £10,935.74 bill after returning from his Christmas holiday in January.
He insisted he had used the iPad only for constituency matters.
However, he said that on Thursday last week – after the bill drew media scrutiny – he discovered that others in his family had used data on the device.
That's despite telling journalists this Monday that there was no personal use of the iPad.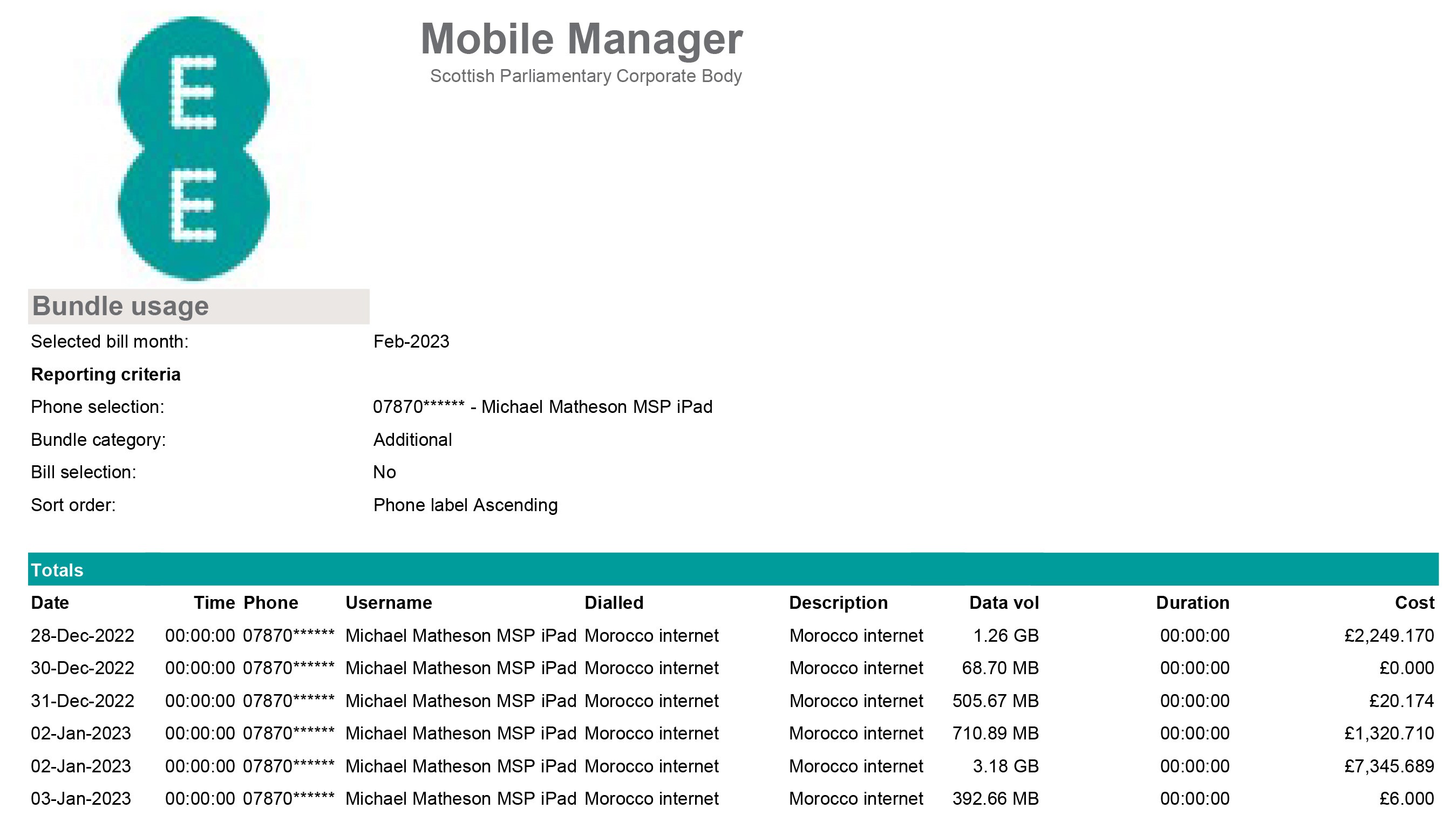 During his emotional statement to MSPs he revealed that his two teenage sons had used the data to watch football matches.
On December 28, the iPad used 1.26GB of data at a cost of £2,249.17 – about £1.79 per MB.
On January 2, 3GB of data was used costing more than £8,000.
On both days, there were league matches in Scotland – including Rangers v Celtic.
Matheson said he would refer himself for investigation to the Scottish Parliamentary Corporate Body (SPCB) under the code of conduct as a result of the bill.
He also admitted that "mistakes have been made – by me, by my family".
"I should have sorted the SIM card and I should have investigated what happened more thoroughly," the minister said.
"I accept that, take full responsibility and apologise unreservedly. That is why the costs have now been fully reimbursed to parliament.
"And it is why I have today asked to refer myself to the SPCB under Section 7 of the MSP Code of Conduct so that they can consider whether to investigate the matter further to address any remaining questions to this parliament's satisfaction."
Watch
Scottish Conservatives target no confidence vote on Michael Matheson
Under questioning, the Scottish Health Secretary said the iPad itself had not been used by his children, but rather been used as a hotspot to allow internet access for other devices.
There is a requirement to notify the Parliament's IT office before travelling abroad and outwith Europe so that the appropriate roaming package can be applied.
But Matheson failed to do so and, with no cap on data charges, the health secretary was charged additional fees.
An urgent review into mobile devices and roaming charges has been launched by the SPCB.
Scottish Tory leader Douglas Ross accused Matheson of misleading parliament and said that questions remain unanswered.
He said his party will bring forward a vote of no confidence against the minister – expected to fail due to the SNP-Green majority at Holyrood.
He said: "During that statement, Michael Matheson said he could not understand how he had racked up so much data roaming charges.
"He went on to say he could not explain the data usage.
"But of course, he did explain the data usage. He told this parliament when he claimed for expenses that it was a legitimate expense.
"He promised the parliament it was a legitimate expense. He gave this parliament written assurances, it was a legitimate expense.
"If it has now transpired that his son was watching football why did he claim he was doing parliamentary work?
"Can he say if he cannot understand at the time or could not explain the data usage, how he could 100% say to the parliament when claiming £11,000 of taxpayers' money that he was doing parliamentary work? The two stories do not align."
STV News is now on WhatsApp
Get all the latest news from around the country
Follow STV News
Follow STV News on WhatsApp
Scan the QR code on your mobile device for all the latest news from around the country