Council tax in Scotland will be frozen next year, First Minister Humza Yousaf has revealed.
The SNP leader made the announcement during his keynote speech as he closed the SNP conference in Aberdeen.
The three-day event comes as the SNP faces declining polling numbers, a by-election loss in Rutherglen and Hamilton West and a defection to the Tories by one of their MPs.
He said the party must look to the future to regain the trust of Scottish voters.
"People rightly are interested in what we have done for them," he told party members at the P&J Live Arena.
"But if we are going to earn, and re-earn their trust, what we are going to do in the future is far more important.
"So let me tell you what we are going to do. I'll start with that most pressing of issues – helping people through these difficult times.
"Nobody in Scotland caused this Westminster cost of living crisis – but almost everybody in Scotland is suffering because of it."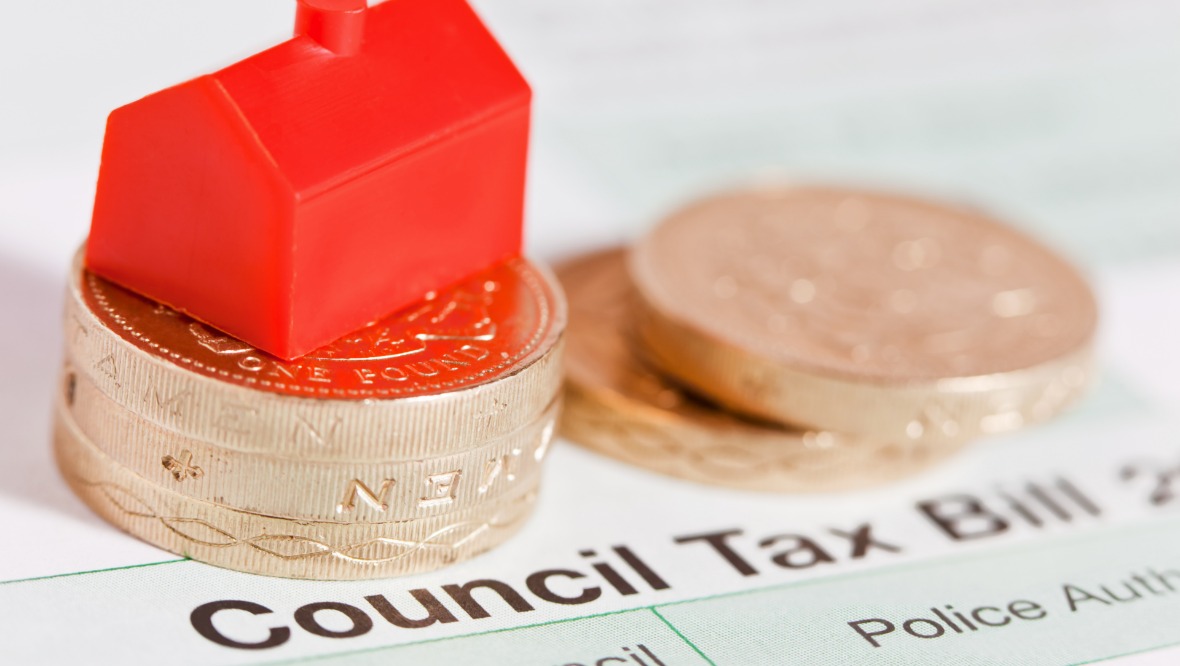 Yousaf said Scots were filled with "dread" as bills continued to go "up and up".
He continued: "We can't stop all the bills rising – but where we can act, we should. I've considered carefully what steps we can take to help.
"Council tax bills in Scotland are already hundreds of pounds a year lower than they are in England.
"We're committed to fundamentally reforming local taxation and we will re-energise our work to do that. We have consulted on what level the council tax should be next year.
"And conference, we have reached our decision. I can announce to the people of Scotland that, next year, your council tax will be frozen."
The Scottish Greens warned Yousaf that "vital services must not pay the price" for the tax freeze.
The party, which is in government with the SNP, said local authority services are already suffering.
MSP Ross Greer said: "We are concerned about the effect this freeze could have on already-strained frontline public services if it is not properly funded.
"Our local councils and people who rely on services like social care, schools and early years centres must not lose out as a result of this announcement."
Scottish Liberal Democrat MSP Willie Rennie said: "People trust Humza Yousaf's SNP on tax as much as they trust Liz Truss.
"One day the SNP are the evangelists for tax hikes, the next the stout defenders of a real-term tax cut.
"Just like Liz Truss this is an unfunded tax cut. There is no explanation as to how already broken public services will be funded.
"The government is split too with the Greens opposing the measures.
"This government is divided, volatile and incompetent just like Liz Truss's was."
Earlier in the year, local authorities across the country hiked tax by as much as 10% while cutting services as they sought to close multi-million-pound holes in their budgets.
Ministers said they had given a fair settlement to councils in challenging circumstances – stating that funding will increase by £570m in cash terms next year.
But Cosla, the umbrella body representing Scotland's 32 local authorities, said this drops to just £71m when ring-fenced funding set aside for Scottish Government priorities is taken into account.
In July, ministers in Edinburgh had also published plans to increase council tax for a quarter of Scottish households.
The proposals, which were under consultation, would have seen those in band E or above households pay up to 22.5% more.
That would amount to a £700-a-year increase for the most expensive houses.
But that is now effectively scrapped.
'Thank you, Nicola'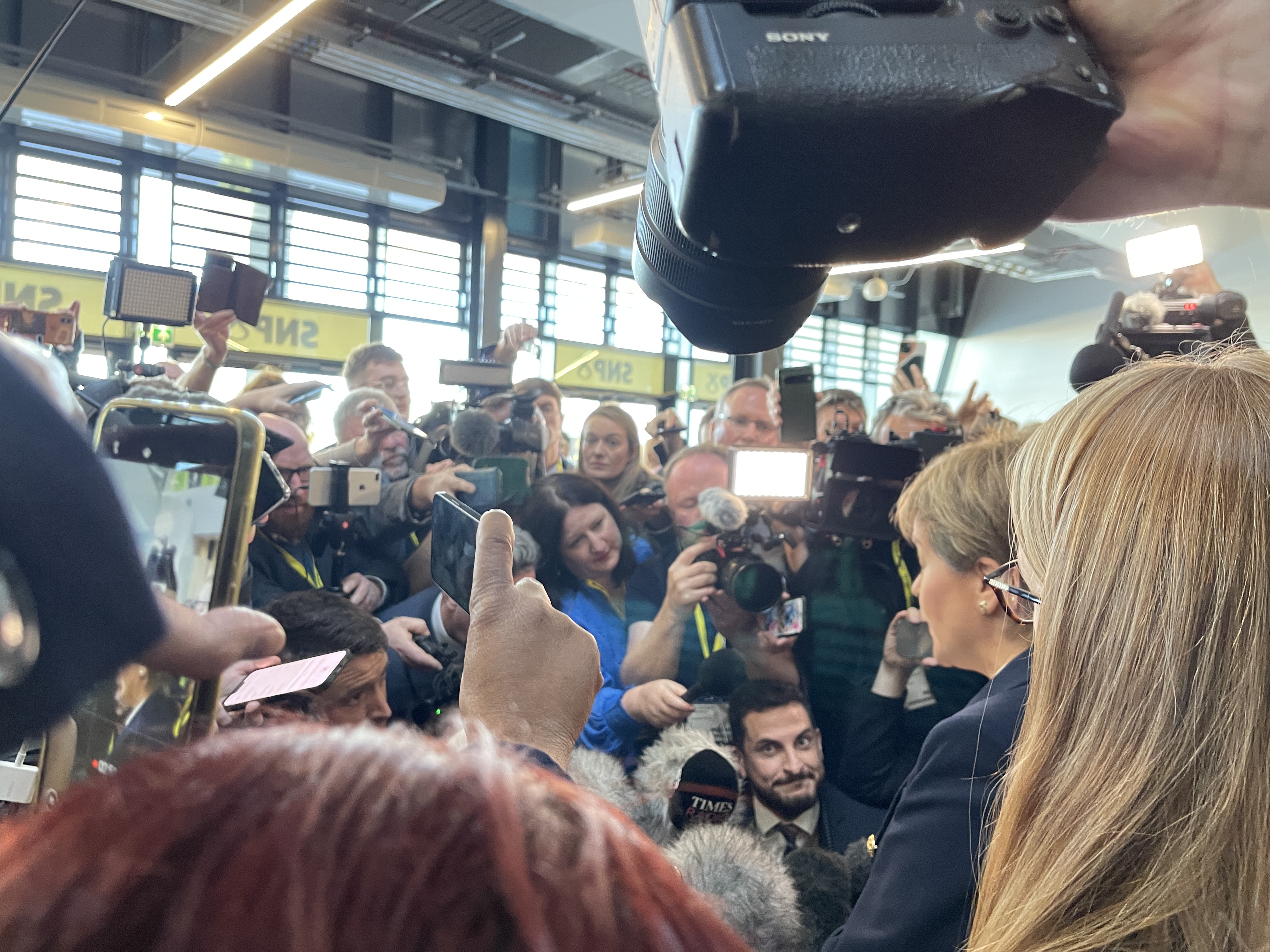 During his speech to SNP members, Yousaf paid tribute to Nicola Sturgeon who he said "transformed" Scotland.
"She reformed Scotland's public services," he said. "She improved the life chances of thousands of Scotland's young people.
"And we will never forget that in the toughest of times our country faced, Nicola was the calmest of voices and the coolest of heads.
"So for all of this and more, we say thank you, Nicola."
Resettlement scheme for Gaza
Yousaf called on the international community to commit to a worldwide refugee programme for the people of Gaza.
He urged the UK Government to begin work on a refugee resettlement scheme for those in Gaza who are able to leave.
Scotland, he said, would become the first country in Britain to offer "safety and sanctuary" to those impacted in the region.
The First Minister pointed to similar schemes that were set up for Ukraine following the Russian invasion.
The First Minister said his brother-in-law, a doctor in a Gaza hospital, had described scenes of "carnage" there with medical supplies running out.
He called on the UK Government to support the medical evacuation of injured civilians in the area.
"Scotland will play her part," he said, and help treat those injured where it can.
His announcement came as his wife revealed her family had been hit by shrapnel in Gaza following a drone attack.
Nadia El-Nakla's parents travelled to the region before Hamas' surprise attack on Israel and have been unable to leave following the country's siege of the territory.
Scottish Government to issue its own bonds 'for the first time'
The Scottish Government plans to issue its own bond for the first time, Yousaf revealed.
The SNP leader told his party's conference that the Scottish Government will go directly to the international bond market in its own right by the end of the current Scottish Parliament term.
He said this would be "subject of course to due diligence and market testing" and would enable the Scottish Government to fund "vital infrastructure" such as affordable housing.
He said: "In doing so, we will show the world not only that we are a country to invest in today – we will also demonstrate the credibility to international markets that we will need when we become an independent country."
£300m investment for the NHS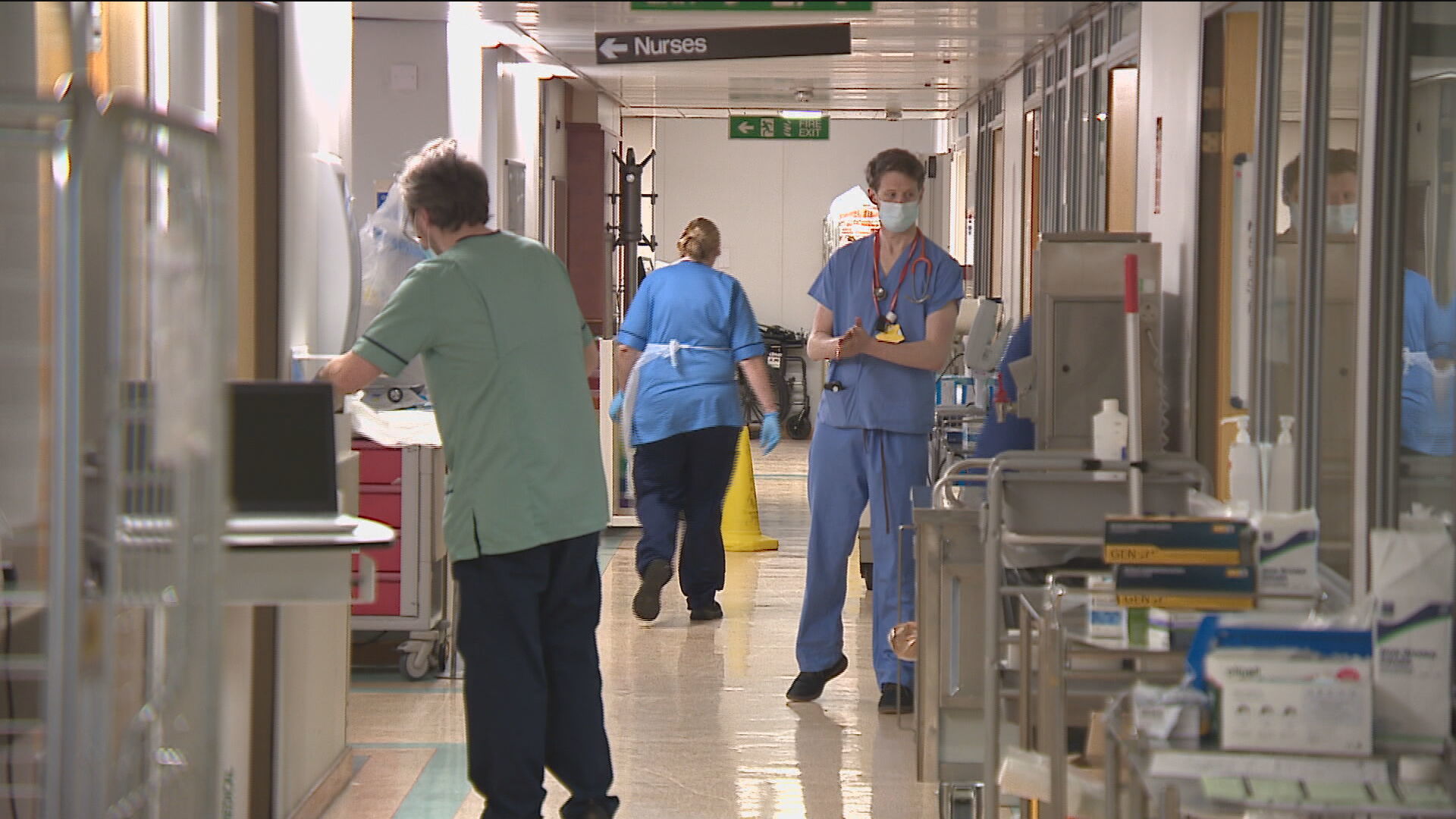 The First Minister confirmed the Scottish Government will invest a further £300m across three years to cut inpatient waiting lists by an estimated 100,000 patients by 2026.
"Too many people are still waiting too long for treatment," he told the SNP conference.
"That is why I am announcing today that in each of the next three years, we will provide an extra £100m to cut waiting lists in our NHS.
"This additional £300m investment will allow us to maximise capacity, build greater resilience into the system and deliver year-on-year reductions in the number of patients who have waited too long.
"That will reduce waiting lists by an estimated 100,000 patients by 2026."
Investment in culture and arts to double
The First Minister said the Scottish Government will double its investment in Scotland's arts and culture sector over the next five years.
"This means that by the end of the five years, our investment will be £100m higher than it is today," he said.
"This is a huge vote of confidence in the future of our culture sector and in the vital work of bodies like Screen Scotland, Creative Scotland and our festivals."
The announcement comes a few weeks after the Scottish Government announced it would cut Creative Scotland's budget by £6.6m.
£500m into offshore wind
The Scottish Government will invest up to £500 million in the next five years for the offshore wind supply chain in Scotland.
Announcing the investment, First Minister Yousaf said it would "send a clear message to global investors – Scotland means business".
He told the SNP conference the cash would be "a catalyst for additional private investment in our ports and harbours, supporting inward investment and encouraging domestic companies to seek new opportunities".
He said it would also cut emissions and create sustainable jobs.
£1000 for domestic abuse victims to escape partners
A new pilot scheme will offer the victims of domestic abuse up to £1,000 to escape their relationships, the First Minister announced.
Yousaf said the Fund to Leave will send £500,000 to Women's Aid organisations initially in Glasgow, South Lanarkshire, North Lanarkshire, Edinburgh and Fife before its effectiveness is assessed.
The cash can be used to buy the essentials needed for a victim to be able to leave their abusive partner.
The Scottish Government has said that nearly a quarter of homelessness presentations among women in Scotland were due to abuse.
STV News is now on WhatsApp
Get all the latest news from around the country
Follow STV News
Follow STV News on WhatsApp
Scan the QR code on your mobile device for all the latest news from around the country