Voters in Scotland are set to decide on who will represent them in their local councils.
A number of postal votes have already been submitted ahead of Scots going to the ballot box on May 5.
But how is voting taking place and what can you expect when you go to cast your vote?
STV News provides a rundown on what you need to know.
When does the election take place?
The council elections in Scotland will be held on Thursday, May 5 this year.
It will take place five years after the last council election in the country.
The last vote on May 4, 2017, saw the SNP remain as the largest party across Scotland.
The SNP also replaced the Labour administrations in Glasgow and Edinburgh.
What am I voting for?
There are 32 Scottish councils across the country with a total of 1227 councillors due to be elected.
They hold responsibility for a range of local public services in your area.
These include education, social care, roads and transport, economic development, housing and planning, environmental protection, waste management, and cultural and leisure services.
Councils also have powers and duties set out to them under the law.
How can I vote?
You have until 11:59pm on Monday, April 18, to register to vote in the council election on May 5.
If you wish to make a postal vote, the deadline to register for doing so is Tuesday, April 19.
The first postal votes were sent out last week so a number of people will already have filled out and returned these over the Easter weekend.
Meanwhile, the deadline to register for a proxy vote is on Tuesday, April 26.
People living in Scotland over the age of 16 will be able to vote if they are registered.
Although they must be a British citizen, an Irish or EU citizen, or a qualifying Commonwealth citizen.
You are also be able to vote if you are registered and are a citizen of another country living in Scotland who has permission to enter or stay in the UK, or who does not need permission.
How does the vote work?
When you go to your local polling station, you'll be asked to give your name and address, before you are handed your ballot paper.
You'll then be directed to a polling booth where you'll be able to fill out your ballot paper.
Each council is split into smaller areas called wards, with each ward electing between one and five councillors.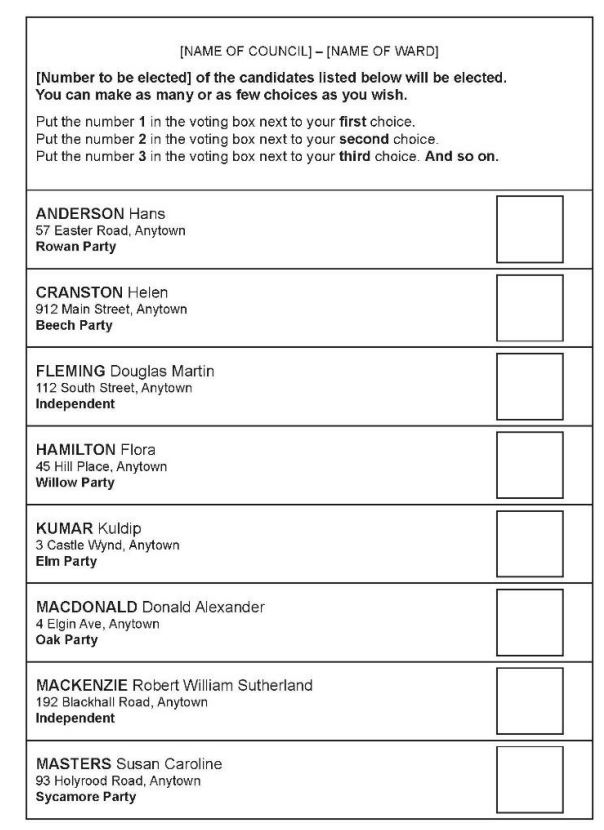 In Scotland, the Single Transferable Vote (STV) system is used in local elections, having been introduced in 2007.
This means that you'll have more than one vote to make when you fill in your ballot paper.
Instead of putting an X next to the name of your preferred candidate, you'll be asked to rank the candidates in order of preference.
So for example, for your top preference, you'd write a "1" next to their name on the ballot paper.
Then for your second choice, you would write a "2" next to their name, and so on.
However, you can do not need to rank every candidate that is on the ballot paper – you can choose as many as you like, even if that is only the one candidate.
If you make a mistake on your ballot paper, you can ask the staff at your polling station for a new one.
What happens after I've voted?
Under the STV system, your later preferences could be transferred to other candidates.
This will happen if the candidate your vote is with is eliminated from the count for having the fewest votes.
Your vote will then move at its full value to the next preference candidate on your ballot who is still in the count.
For example, if your number "2" preferred candidate is eliminated before your number "1", your vote will move to your number "3" candidate.
Additionally, if the candidate you voted for is elected with more votes than they need, your vote will move with a partial value, known as a "surplus".
This is aimed at ensuring that all votes count in the election, rather than having additional votes for a candidate who had already met the threshold to be elected.
After you've voted, counting across the country will take place between 8am and 9.30am the day after election day, on Friday, May 6.
The results should become known on the same day, with an electronic counting system being used.
What about Covid-19?
Polling stations will be safe places to vote in the Scottish council elections.
Measures such as physical distancing, face coverings and hand sanitiser may be in place in order to help.