Scots could save thousands of pounds in energy bills if their homes were retrofitted to make them more energy efficient, a study has found.
More than half of homes with energy performance certificates (EPCs) in Scotland fall into the lower D to G grades, according to the BBC's shared data unit.
Of the 903,000 homes with an EPC, around 531,000 (59%) are rated D to G, meaning the properties have higher energy costs likely as a result of poorer insulation and other inefficiencies.
As part of its aim to make Scotland carbon-neutral by 2045, the Scottish Government has a target of making all of the country's more than two million homes grade C or higher by 2040.
Only a small number of homes in Scotland meet the A grade, meaning the property is very energy efficient with a low carbon footprint.
However, if band D to G properties were retrofitted so they met grade A standard, homeowners could make hundreds or even thousands of pounds in savings over three years, the study suggests.
Broken down by council area, the highest amount of potential savings is in the Western Isles, where only around 700 of the more than 4000 EPC-rated homes are rated A to C.
Upgrading to A for those in D to G-rated homes could save homeowners in the Western Isles an average of £2064 over a three-year period in combined energy costs (including heating, lighting and water bills).
A further 14 local authority areas would see savings of £1000 or more per homeowner if their properties were retrofitted, particularly in rural parts of the country and the islands.
Argyll and Bute residents could save around £1700 over three years, while the figure is about £1600 in Orkney and more than £1400 in Dumfries and Galloway and the Highlands.
The most energy-efficient part of country is West Dunbartonshire, where nearly half of homes are graded C or higher, with potential savings through retrofitting for D to G-rated homes of only £590 over three years.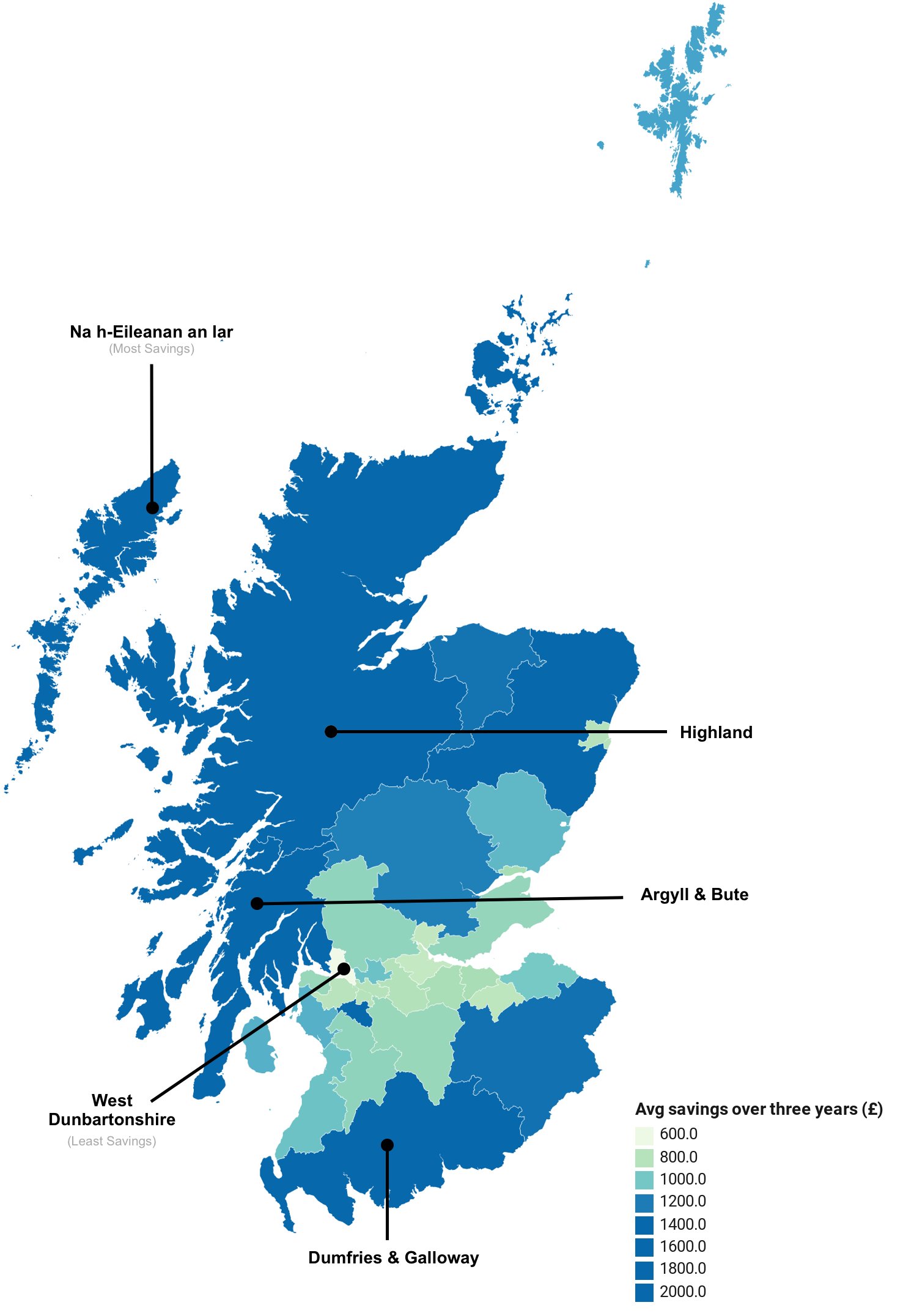 Local authority
Potential savings
Aberdeen City
£805.36
Aberdeenshire
£1,245.73
Angus
£1,046.48
Argyll & Bute
£1,704.67
Clackmannanshire
£759.06
Dumfries & Galloway
£1,418.23
Dundee City
£854.05
East Ayrshire
£925.99
East Dunbartonshire
£1,019.09
East Lothian
£993.88
East Renfrewshire
£1,254.40
Edinburgh
£849.27
Falkirk
£748.31
Fife
£910.92
Glasgow
£802.46
Highland
£1,415.59
Inverclyde
£899.85
Midlothian
£776.27
Moray
£1,218.47
Na h-Eileanan an Iar
£2,063.90
North Ayrshire
£1,070.71
North Lanarkshire
£810.94
Orkney Islands
£1,603.51
Perth & Kinross
£1,192.21
Renfrewshire
£795.32
Scottish Borders
£1,224.71
Shetland Islands
£1,107.04
South Ayrshire
£1,015.34
South Lanarkshire
£896.27
Stirling
£919.81
West Dunbartonshire
£589.66
West Lothian
£844.06
This year's Scottish Budget sets aside £162m for energy efficiency projects administered by councils to insulate homes and lift people out of fuel poverty.
Housing minister Kevin Stewart said: "By defining fuel poverty more closely with income poverty and setting challenging yet realistic targets towards eradicating it, we have passed the most ambitious and comprehensive legislation on this in the UK.
"Our current review of building regulations will further improve energy efficiency in new homes from 2021, and will be accompanied by a £30m investment in renewable heat projects.
"The recent budget also announced a Heat Transition Deal totalling £120m.
"We will ensure that, from 2024, all new homes consented from that date must use renewable and low carbon heating.
"We have also proposed clear, long-term energy efficiency standards for existing homes, set out how these will be achieved in different building sectors, and will have allocated more than £1bn by 2021 towards making people's homes warmer and cheaper to heat.
He added: "This investment has already lowered bills, reduced CO2 emissions and supported the creation of jobs, training opportunities and innovations."
Peter Smith, policy and research director at fuel poverty charity National Energy Action, said: "Each winter 11,000 people (UK-wide) die each year due to cold homes.
"During the Beast from the East, Brits were ten times more likely to die from a cold home than from a road traffic accident.
"There is some degree of overlap between low income earners and those living in low energy efficient homes.
"People that have an income of 60% of the median income (equivalent to around £12,000) are often living in the most expensive homes to heat.
"Energy efficiency also brings added benefits including public health, air quality and lower pollution.
"There's definitely a rural/urban split, especially in rural off-gas areas – they tend to live in the least energy efficient housing ,which tends to be older and uses fuels like LPG or solid fuels.
"They are also more likely to have solid walls which are difficult to insulate."